Best hiking in Greece – the historic trails of Andros
Looking the best place for hiking in Greece? Andros is the answer!
This July we were lucky enough to be invited to visit the lovely island of Andros in Greece. I have to admit that I'd only heard of the island in passing before this so I didn't know quite what I was in for, however, Andros turned out to be a real surprise destination, full of natural beauty!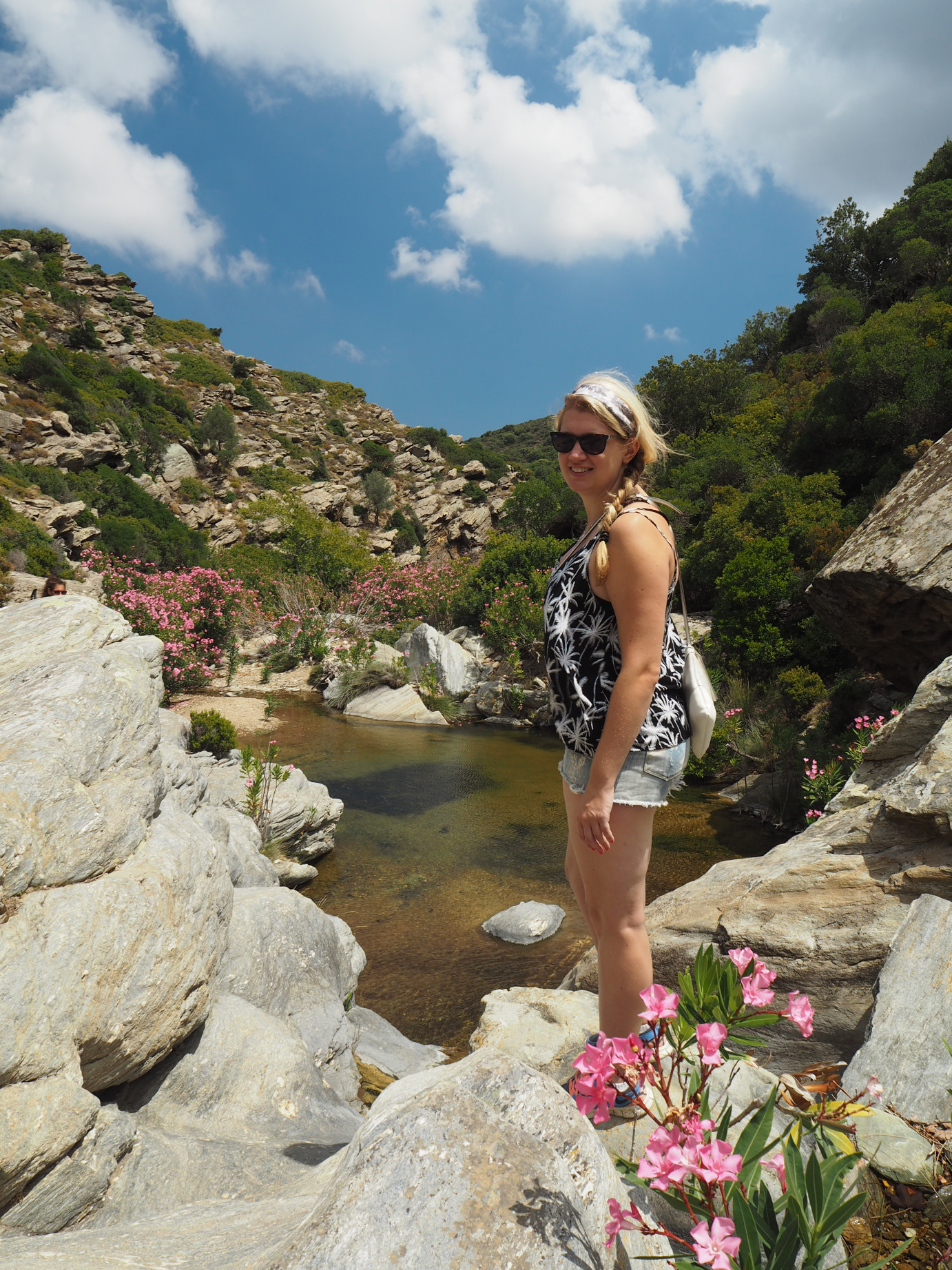 Our trip ticked all the boxes for a great summer holiday; we stayed in an incredible luxury villa, ate loads of tasty meals, and chilled on the beach. Possibly the most surprising activity of the trip was all the walks we did and how well equipped for hikers of all levels Andros really is.
We went in the middle of summer and though we just about coped ok with the hike I think you would be more up for hiking further if you went in Spring or Autumn. It would still be much warmer than UK but perhaps a bit fresher when hiking long distances.
Hiking Through Andros' History
Andros has been inhabited since antiquity, and it's only in the last 50 years or so that cars have been used to get around on the island. Before this it was on foot (or with a donkey to help with your duffel bags, if you were lucky), and the island's communities were connected with a network of around 300km of narrow paths.
These routes were well trodden for thousands of years until, after the second world war, many of the inhabitants emigrated to Athens and over time these old routes became overgrown or lost.
In recent years however, the paths are making a resurgence, due to the sustained hard work of those behind the Andros Routes project and an army of dedicated volunteers. Not only are they rediscovering and clearing the old routes, they have been meticulously mapping and way-marking them so they can be enjoyed by all.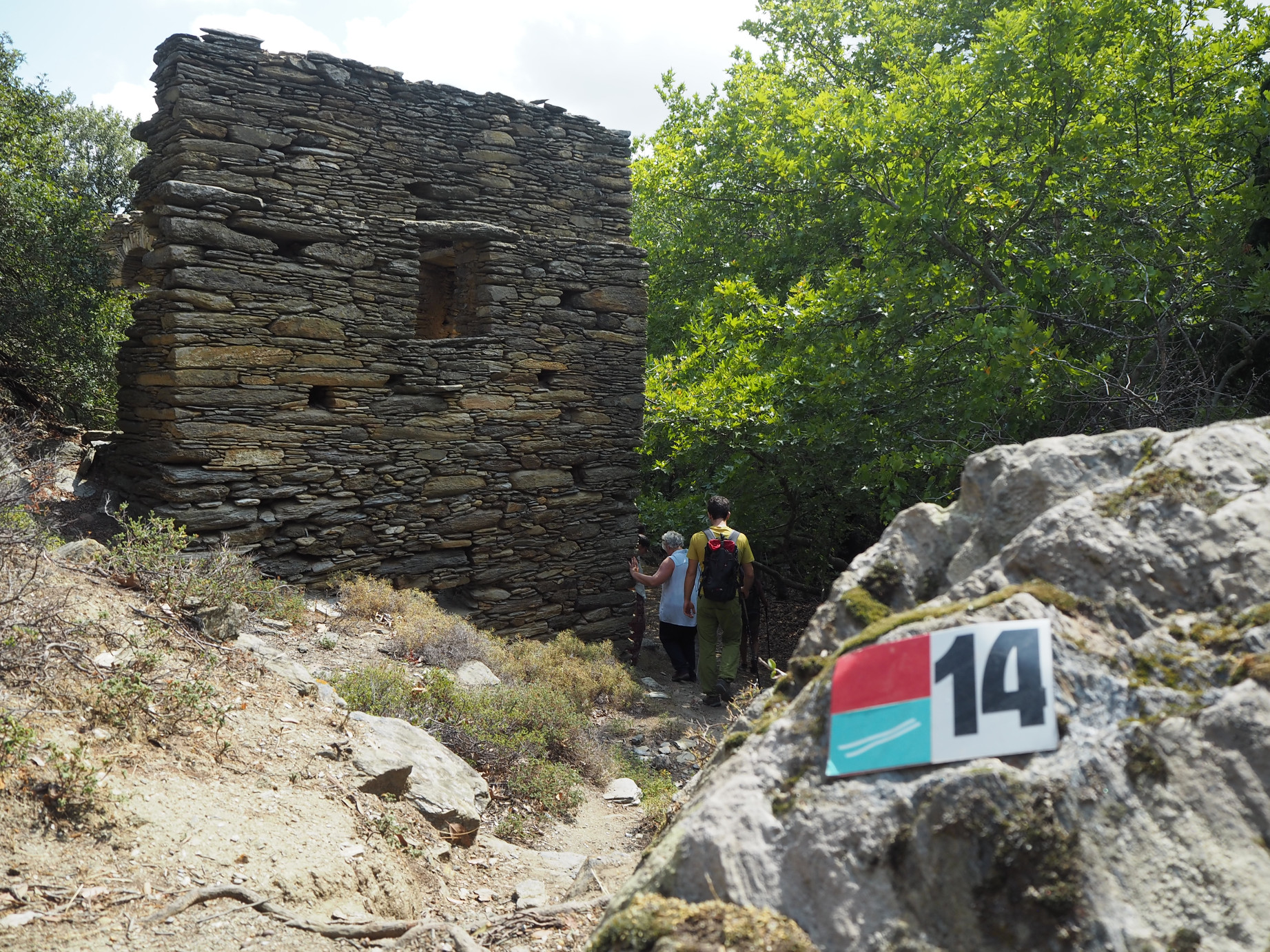 Their efforts have even been recognised by the European Ramblers' Association, who certified the 100km "Andros Route" as one of its Leading Quality Trails.
We were lucky enough to experience a couple of the routes with super knowledgeable guides. You can find all the trails on the Andros Routes website or read on to see how we found the two hikes we did.
The Watermills of Frousei
On our third day on Andros we took our first hike, guided by Ariana Masselou of Trekking Andros. We followed part of route 14, which took us down a lush green valley past the picturesque ruins of more than a dozen watermills which line the banks of the trickling river (one of around ten flowing all year round on the island).
I'll admit we were apprehensive about our hike, not being the most seasoned ramblers and especially doing it in the summer sun. While it was a hot day, the route took had plenty of shade from the different trees found in the valley and a gentle breeze (not uncommon on Andros) helped too.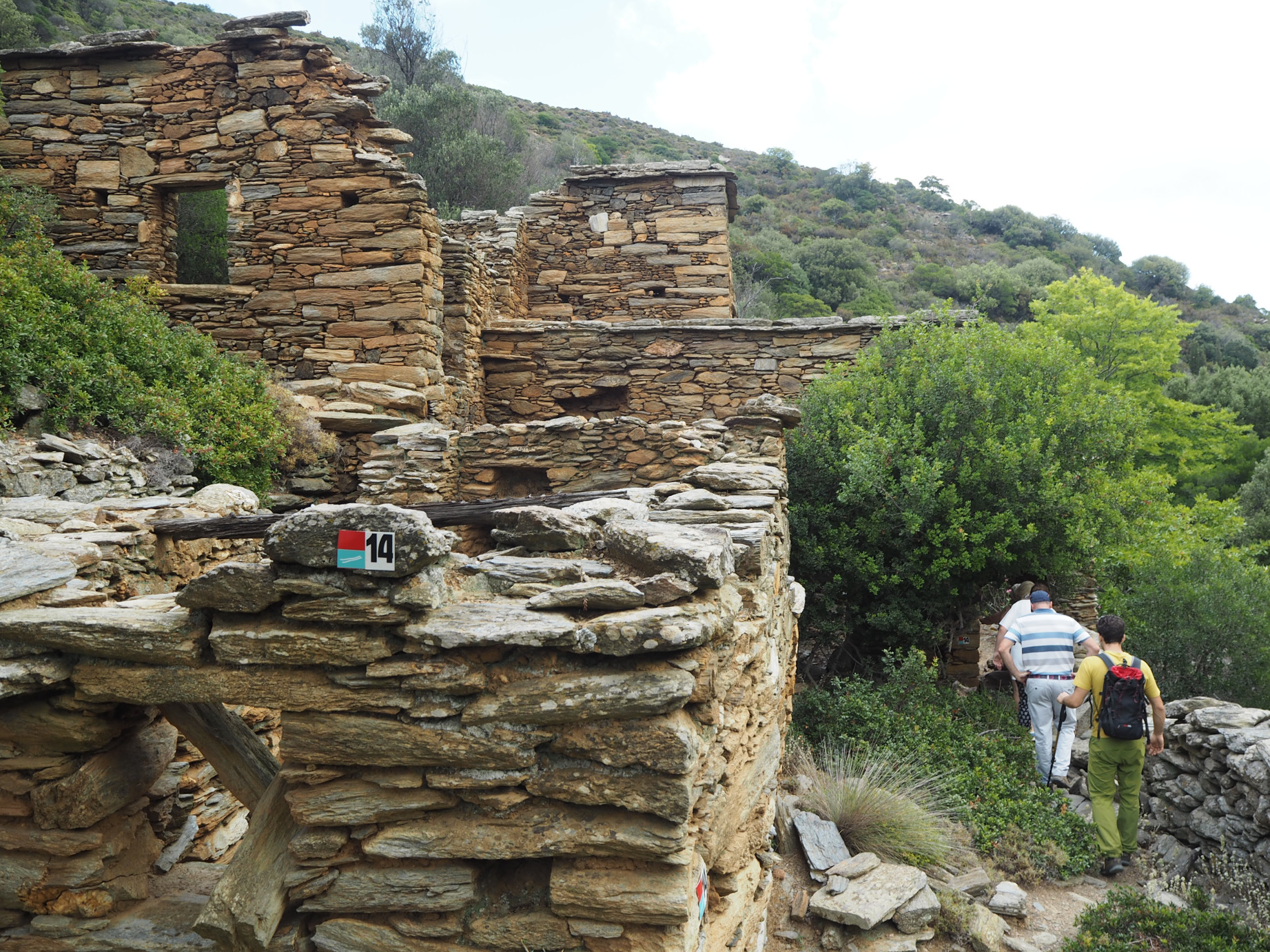 The walk was still quite taxing and I think we were all a little disappointed at the end when we found out we'd only gone about 3km! Still, we had earned our trip to Zorkos beach, but perhaps weren't deserving of the huge meal we had at Kóssēs restaurant later.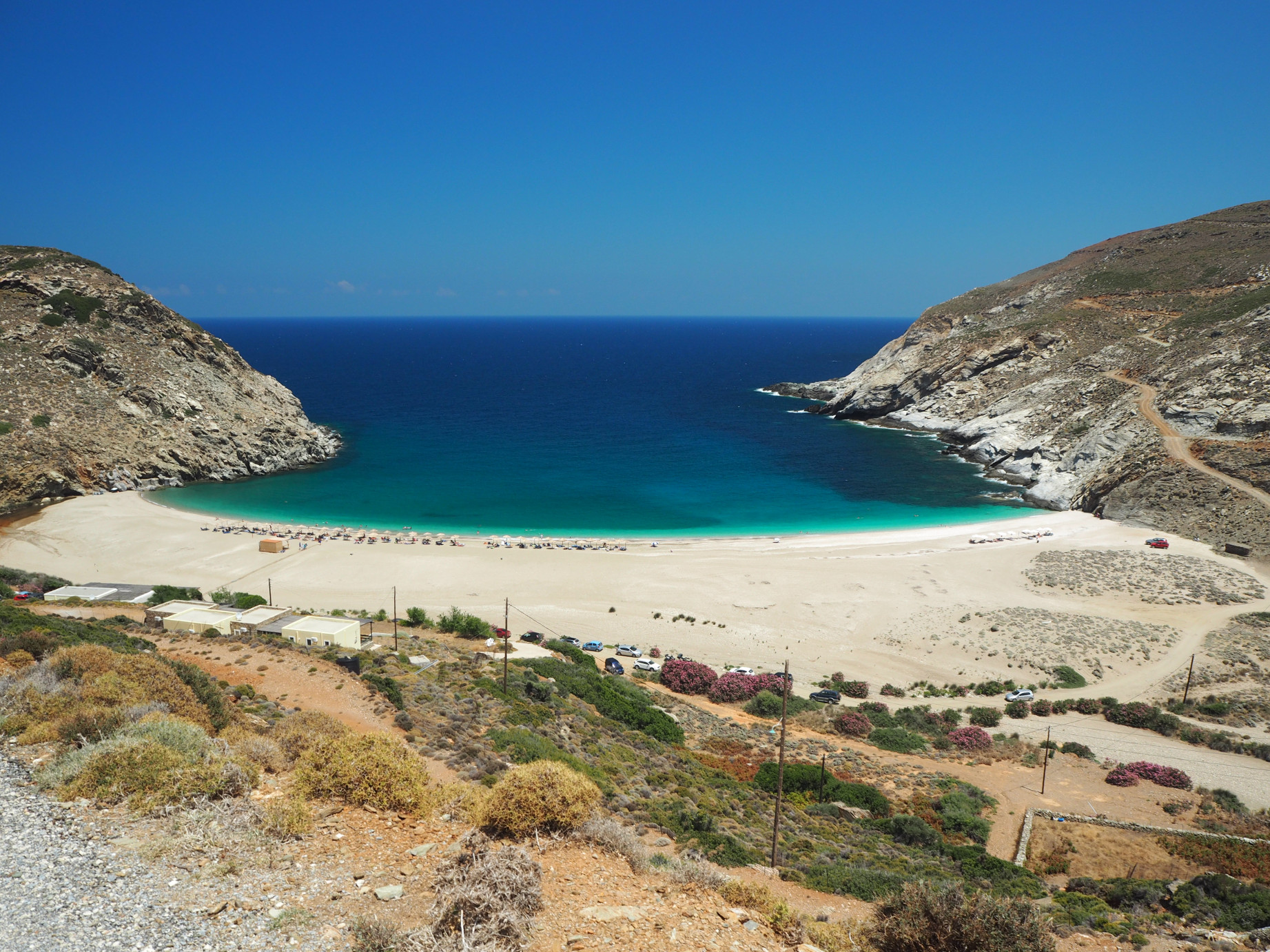 Ariana turned out to be a fountain of knowledge on all things Andros, from the plants to the history of the mills and even some geology! She and her assistant really did add to the experience, and I would certainly recommend getting in touch with Trekking Andros if you want to make the most of your time on the island.

Agios Petros
Our second hike was quite a bit shorter, and a good job too as the heat really was stifling on this day.
We were joined by Richard and two more volunteers from Andros Routes who were kind enough to be our tour guides. Agios Petros is just a few minutes drive east of Gavrio (where the ferry port is located).
Our walk took us in the hills above the village and beach, starting near the ancient tower. It's really hard to convey the scale of a tower which has stood for thousands of years thanks to its thick walls and precise construction. It's a lovely spot which is fairly accessible and well worth a visit.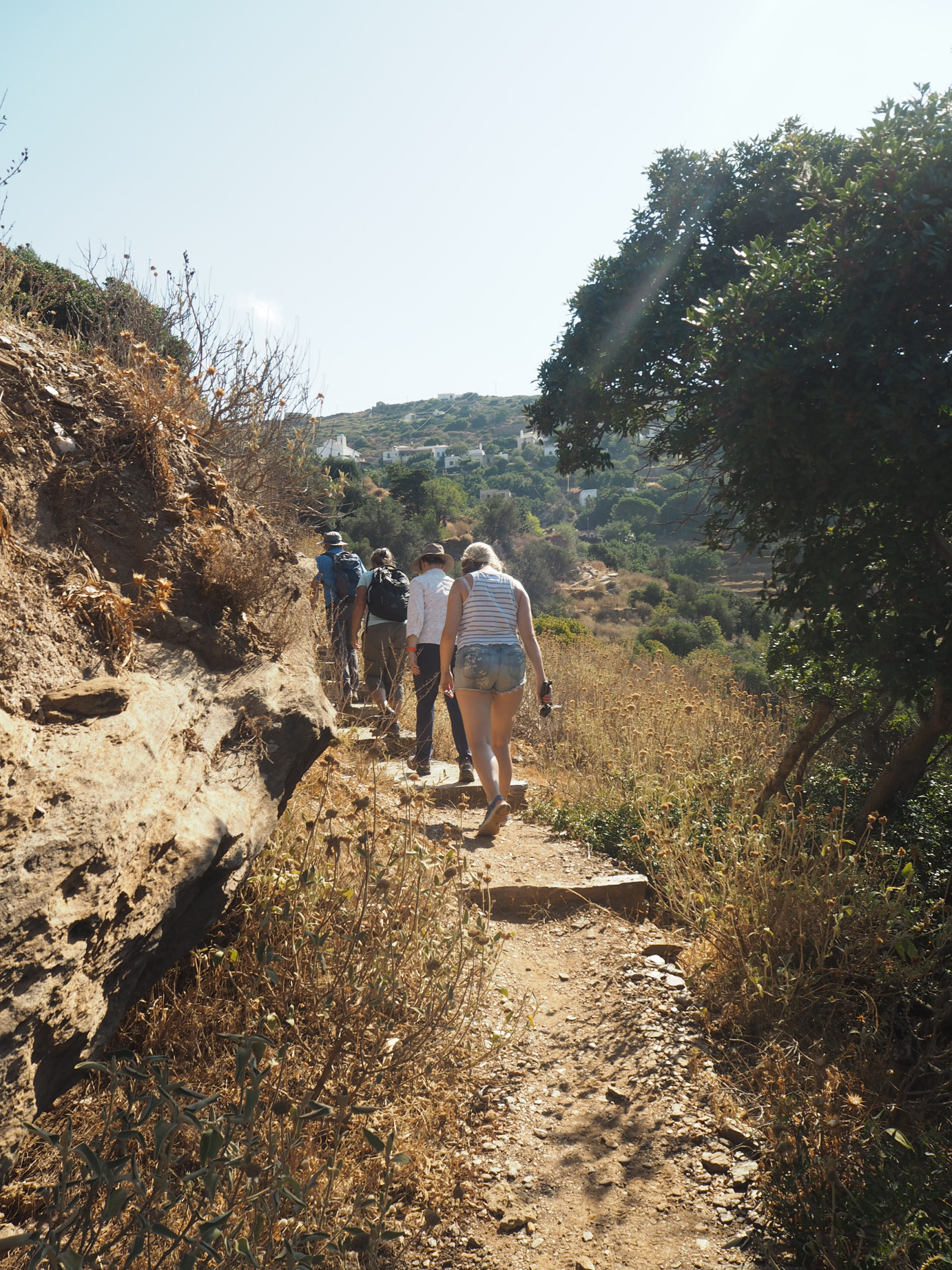 From there we continued up the hill through the old village until we reached our destination; the home and workshop of local Hagiographer Rallou Koussis.
Rallou creates beautiful Byzantine religious icons in her idyllic workshop overlooking the valley. She clearly enjoys her work and was a real fountain of knowledge on the subject, which combines history, art and religion. Rallou creates copies of ancient hagiography art work for churches, monasteries and people's personal collections.
Though Rallou isn't officially open to the public she is very friendly and I'm sure if you get in touch or speak to the lovely folk at Andros Routes she would be willing to show you her artwork if you were interested.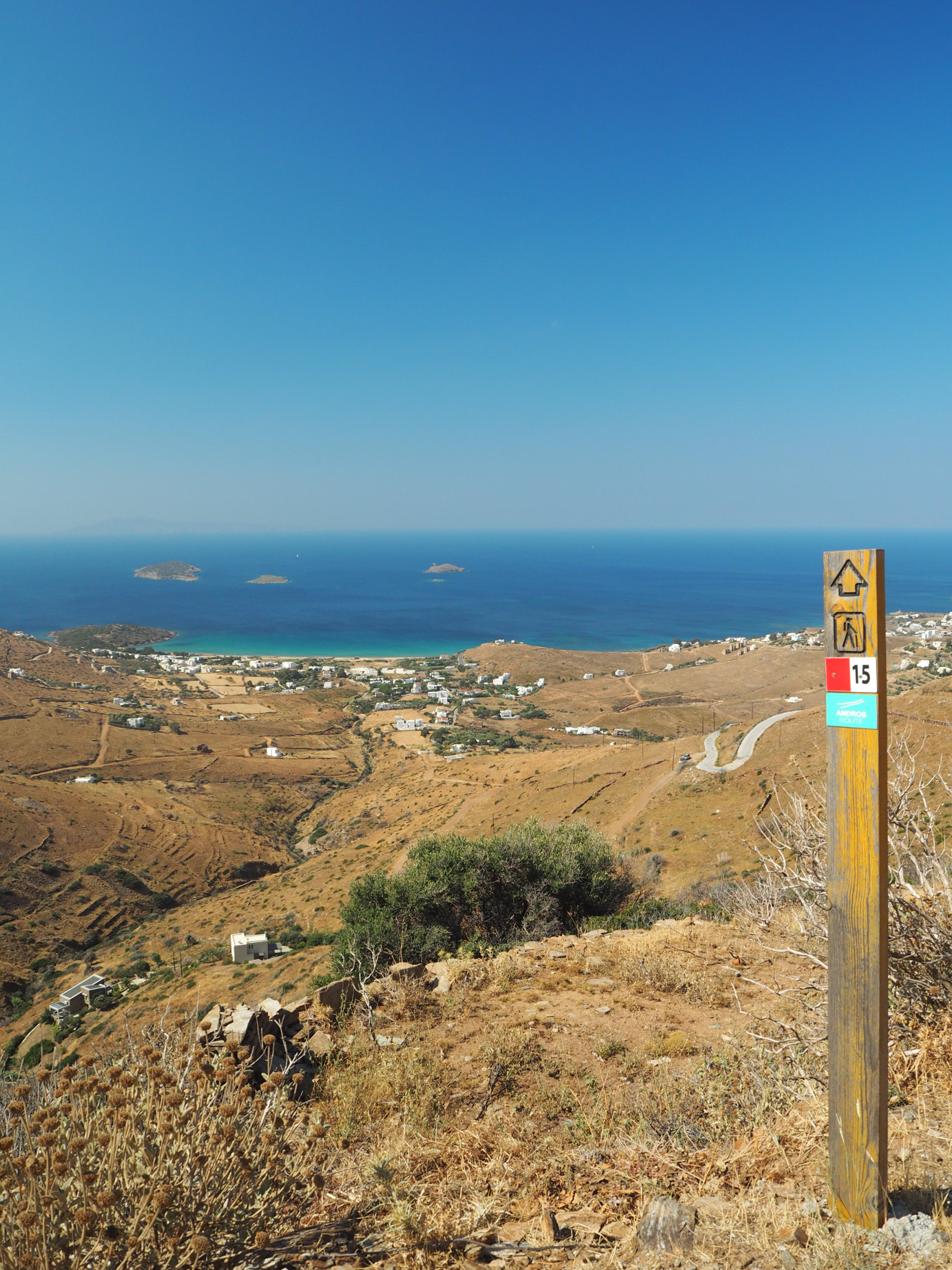 After bidding our host farewell, we took almost the same route back down the valley through the village to where we'd parked, and were VERY grateful for the air conditioning!
Andros as a Hiking Destination
We saw very few other hikers during our time on Andros, presumably because of the season. During Spring and Autumn I'm told the hiking routes get a bit busier and the area is popular with hikers from across Europe.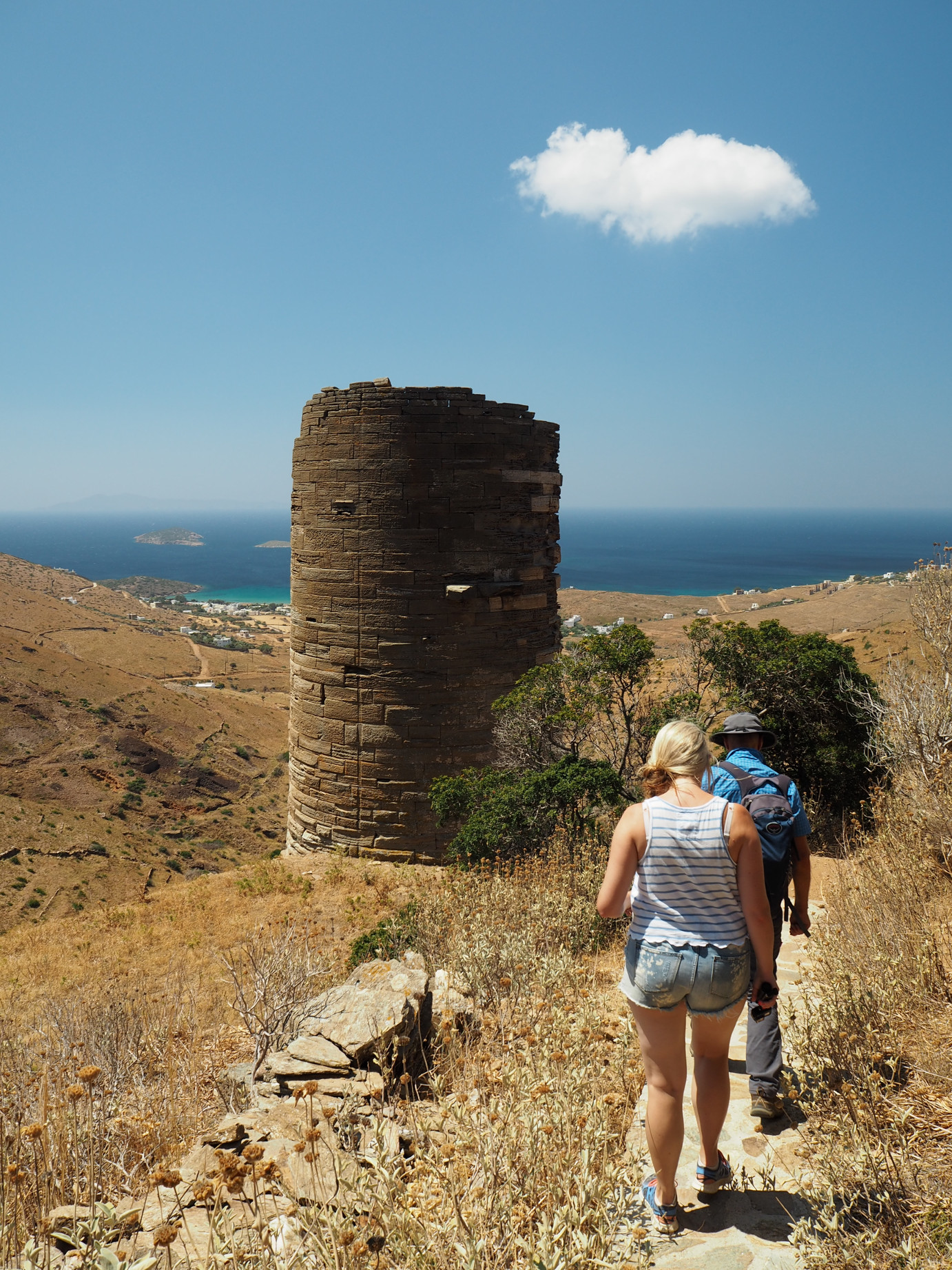 The volunteers of Andros Routes have done an incredible job of unearthing all the old paths to make it one of the best destinations for hikers in Europe. Made even better by being able to go back to a luxury villa like Heliades at the end of a long hike, of course!
We saw only a tiny fraction of what the island has to offer in terms of hiking, and hope to one day go back for more, just maybe not at the height of summer!
If you want to try another great part of Greece for hiking then Discover Santorini .
I was invited to Andros by Heliades Villas as part of a press trip. Korinna from Heliades organised our itinerary of hikes and adventures but as always everything is 100% my truthful honest opinion.