The Lake District Three Peaks Challenge – Everything you need to know
Last summer I did the Lake District Three Peaks Challenge over a weekend in August. It was fun, it was hard and here is everything you might need to know if you're thinking of doing the three peak's challenge yourself.
The Lake District Three Peaks Challenge is different to the 'traditional' three peaks challenge, in that it all takes place in the Lake District. The traditional, well known, three peaks challenge is when people hike the highest peaks in England, Scotland and Wales in 24 hours. Utter madness! I've got close to doing it a couple of times, but haven't quite managed to get it organised.
So when the opportunity to do the three highest peaks in the Lake District came up, I thought that was a good middle ground. I thought it would still be a tough challenge, but not quite as extreme as three mountains plus travel in 24 hours.
The Lake District Three Peaks Challenge was over a weekend, climbing Scafell Pike, Helvellyn and Skiddaw over two days. We did our hiking challenge with Belinda and the team from Explorers Connect. I met Belinda as she was just starting Explorers Connect a few years ago, when on a canoeing adventure in the Lake District.
It's been great watching the business grow and seeing so many explorers and adventurers meet through her network and business. I recommend signing up to her newsletter list or checking out her website to find adventures she runs or fellow adventurers looking for people to do amazing challenge with. The Lake District Three Peaks Challenge is just one of several organised group adventures Belinda runs. There are some amazing looking Kayak and canoeing trips too!
Everything you need to know before hiking the Lake District Three Peaks Challenge
We did the Lake District Three Peaks Challenge as part of a large group tour. There were about 30 of us and 4 guides. It is entirely possible to do this without guides, but I would not recommend it unless you are a seasoned hiker, with the right kit and good map reading skills.
The big group of adventurous lovely people means there is always someone helping you through the tough moments too. 'You can do it Jen' Thanks everyone!
Where should I stay in the Lake District?
There are so many places to stay in the Lake District. From camping to hostels to luxury hotels. We stayed in a hostel as part of the group with our dinners and breakfasts cooked for us which was a lovely treat.
It really depends on your luxuryometer (made up that word!). Though I don't mind the odd spot of camping, especially wild camping, these days I am partial to a hot shower and a comfy bed. We stayed at Denton House Hostel in Keswick. They have a range of different sized shared rooms with bunk beds and communal bathrooms.
If you're looking for something fancier we drove past Lodore Falls Hotel and Spa and watched people enjoying a heated outdoor pool looking out over the lake. I don't think there was a single one of us who didn't imagine being in that pool rather than setting off to climb another mountain!
If I was to do something similar again, I would definitely book myself in for a spot of luxury when the hiking ended, a massage would have gone down really well after three big mountains!
If you're on a budget there are plenty of camping options too!
How much training do I need to do?
This really depends on how hard you want it to be. If you have done zero training or have a very low fitness level you are definitely going to struggle. I am probably of a medium fitness and at the time I had been doing a lot of short but steep hikes near home the months leading up to the weekend, but I still found it difficult!
There were people in the group who were clearly well practiced in doing long hikes, walks and runs and at times it felt like they practically skipped up the mountain.
If you don't have any experience of hiking mountains, mountain safety, map reading etc then I would not recommend hiking three mountains in a weekend on your own. The weather can change in an instant and the paths are certainly not always clear. You can quickly get lost or hurt! At one point there was driving rain and fog and we could barely see a couple of metres in front of us and were quickly soaked to the bone, even with the right kit!
That was one of the great benefits of doing the Three Peaks Challenge as part of a group, you knew the guides were all properly mountain guide trained and had all the right equipment should anything happen.
So, I would recommend at least doing a few practice walks and making sure you are able to keep moving up some pretty steep hills for a good few hours. It will still be tough, but the fitter you are the more you will enjoy it.
How high are Scafell Pike, Helvellyn and Skiddaw?
The three mountains we hiked for the Lake District Three Peak Challenge are the three highest totalling over 9300 feet. Still pretty small when compared to my hike to Everest Base Camp.
Scafell Pike at 978 metres (3210 feet)
Helvellyn at 950 metres (3114 feet)
Skiddaw at 931 metres(3053 feet)
Like most hikes there is often bits of up and down as you weave your way around to the top and thankfully the odd bit of relatively flat too which is always good for a bit of a rest
In other metrics Scafell Pike is the height of 223 double decker buses or 2.5 Empire State Buildings. In case you were wondering…
What route do I take for the Lake District Three Peaks Challenge?
This is where my knowledge isn't great. I'm actually a pretty decent map reader, but having guides I just followed the leaders and didn't do much of my own map reading.
There are several different routes you can do up Scafell Pike, but less options for the other two. There are always easier and more difficult routes, so I recommend doing your research and working out what is best for you. They aren't all that close either, so without adding a lot more hiking time you may need to get taxis or find a driver to take you to the best starting points and pick you up at the end.
There are some great route maps on the Lake District website. Do you research, take your maps with you and get planning!
What do I wear when hiking in the Lake District?
A very important question and the answer is always… layers! and… it depends on the weather.
Be aware though, the weather can change fast. We were hiking in August, but we still had little visibility at points, the need for a woolly hat and coat and other moments where I was sweating and only had a T-shirt on.
This kit list was sent to us by Belinda from Explorers Connect and I used pretty much everything on the list!
Waterproof jacket and trousers
Walking boots with good ankle support – preferably ones you have worn in, new shoes on a big hike is a terrible idea
Long-sleeved thermal tops – ideally quick dry ones
Thermal leggings / sports leggings (to use as a base layer) – some people just wore leggings as trousers as it's what they were used to. We didn't really need leggings in Autumn, though did feel a slight chill at a couple of points when resting at the top of the mountain.
Light fleece or wool jumper
Heavy fleece or wool jumper
Non-cotton long trousers (no jeans)
walking socks & underwear
Two spare sets of clothes
Woolly hat
Sunhat and sunglasses
Scarf / buff /gloves
Anything you would add to the what to wear list?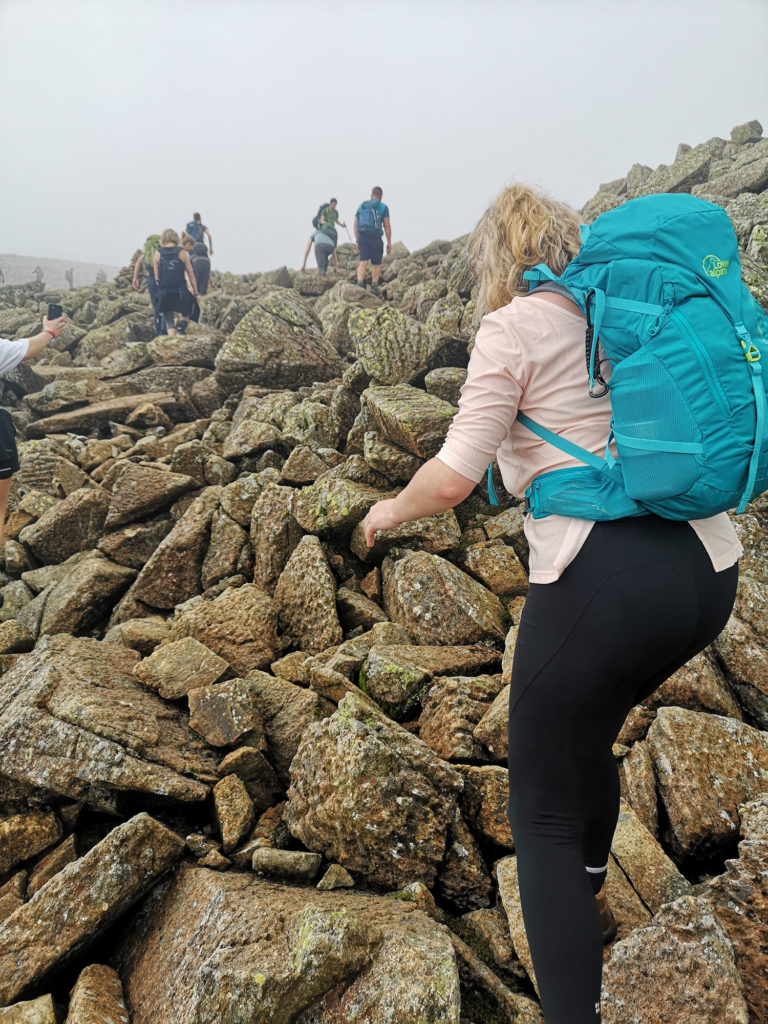 What should I pack in my daypack?
During the hot days of 2020, when we were first allowed out from lockdown there were thousands of people who flocked to the Lake District. Many had never hiked before and were heading up the mountains in flipflops, without even a water bottle on their person.
Needless to say there were a lot of mountain rescues! It is not clever or fair to hike a mountain without the proper clothing, kit and knowledge. You put yourself and others who may need to rescue you at risk. Sometimes for a day hike just taking a water bottle might seem enough, but I really do recommend going prepared. Carrying a small day pack is easy enough and I promise you won't regret it.
Here are a few things I recommend you have in your daypack:
Lunch and Snacks – Obviously. Hiking is hungry work. I particularly enjoyed my hot tea and oreo cookie breaks and having a big tasty lunch to look forward to too. Take more than you think you might need, plenty of snacks, a big lunch and a flask with a hot drink.
Water – The amount of water Belinda recommended seemed huge, four litres for a day hike! But it is always better to be safe and as you don't know how the weather might change, on a hot day you can easily get through that. It's always good to have some spare in case of emergencies too.
Layers – From the clothing kit list above, you might not be wearing it all, but it's good to ensure you have layers and waterproofs for when needed. We had waterproof trousers and jacket, which soon went on, plus additional layers for warmth, which are really handy when you stop for a break and your body temperature suddenly drops!
A personal first aid kit – Our guides had full first aid kits with them, so we just made sure we had things like pain killers, blister plasters and rehydration salts with us, but if you're hiking without a guide you may want a few more supplies.
Walking Poles – I really need to invest in some walking poles. My knees have never been the same since I hiked up to Everest Base Camp and boy did they hurt on the way down from mountain three. If you get knee and joint pain a pair of walking poles can really help, especially on the way down! I was able to borrow a pair for the final descent!, and they really helped.
Emergency supplies – a head-torch, sunscreen and emergency snacks are all good things to have with you in case of emergencies or being stuck on the mountain longer than you planned.
You might also want a camera, but these days your phone is often more than enough.
What is hiking the Lake District three Peaks in a weekend really like?
Good question, thanks for asking! It is hard! As I said from a previous question, how hard depends on your training. But I am going to be honest I really struggled. We did two mountains (Helvellyn and Skiddaw) on day 1 and Scafell on day 2.
At one point we were close to sacking in day two and spending our time in coffee shops in Keswick, but we did it and I am really pleased we did. Getting down Scafell on Sunday afternoon was really tough for me and I think I was the last person to make it down the mountain, but I did it and I am proud of myself for that.
It was hard on my joints, my mental stamina and personal strength, but I am so glad I did it! We may not have always had the best weather or views from the top of the mountains (thanks clouds!) but it was an incredible weekend. I look back on it perhaps with slight rose tinted glasses (that was easy enough), but then everything seems easier once you have done it. A good lesson for life!
We stepped across giant boulders in the rain, scrabbled up scree slopes and battled through torrential driving rain, but we also passed incredible waterfalls, saw views for miles across the Lake District National Park, met some amazing inspiring people and achieved something not many can say they have done. Climbing the three highest mountains in England in one weekend!
Would you do the Lake District Three Peaks Challenge?
If you have any more questions about the Three Peaks Challenge drop me a message or comment below and I will answer what I can 🙂 Happy Hiking!
The Adventure Revolution
Belinda has written a book too all about adventure and why it is good for our wellbeing and how it can transform our lives! Couldn't agree more. Adventure means meeting new people, realising you can achieve great things and having lots of fun along the way.
The Link above is an affiliate link. If you buy through this link I will earn a small commission. You also support small local bookshops!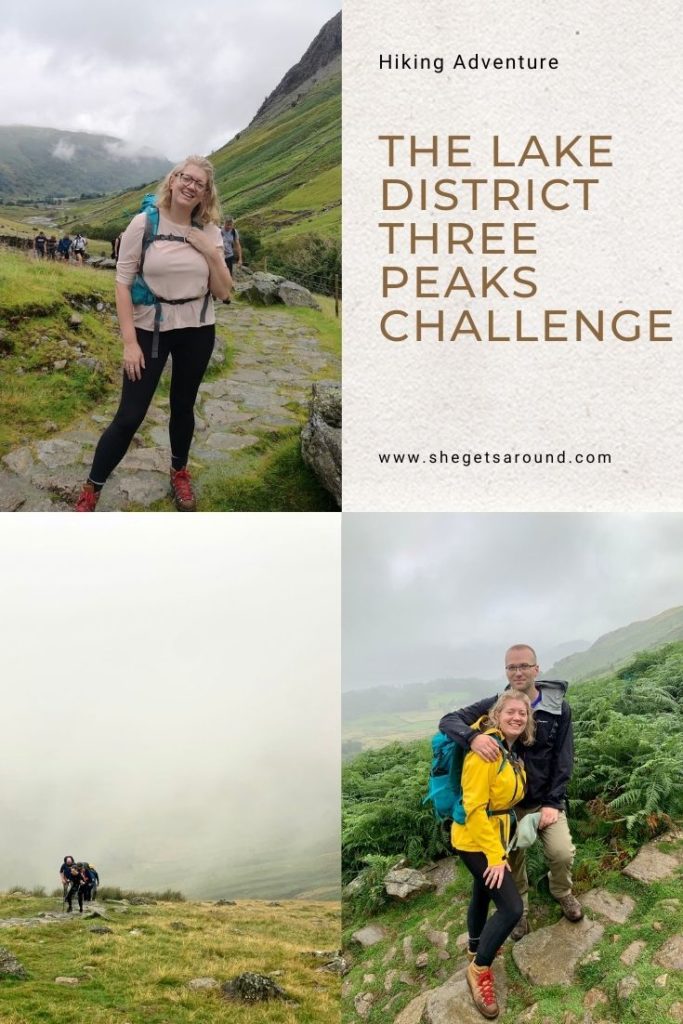 Other Posts You Might Like