All the Best Places to Eat and Drink in Darley Dale, Derbyshire
Darley Dale is a little Derbyshire town, perched on the edge of the Peak District, and just a 5 minute drive (or 40 minute walk, if you're feeling sporty) away from Matlock. So, what better addition to the blog, than a roundup of the best places to eat and drink in Darley Dale?
I wrote a post about the best places to eat and drink in Matlock last year, which is always a popular post, so have enlisted Jose to write a follow up with the best places to eat and drink in Darley Dale and Rowsley, where she is from, so expertly placed to write this.
I've lived in Darley Dale for about two decades, so it's fair to say that I've eaten my way around its restaurants.
And, as you'd expect from Derbyshire, there's plenty of friendly cafes and cosy country pubs to visit. Whether you're a local or a tourist stopping by, there's no shortage of places to eat.
All the Best Places to eat and drink in Darley Dale and Rowsley
So, let's get stuck into it – here's the spots I'd name as the best places to eat and drink in Darley Dale, including the best restaurants in Darley Dale, unmissable cafes in Darley Dale, and my favourite pubs in Darley Dale.
The best restaurants in Darley Dale and Rowsley
The Chatsworth Kitchen
The Chatsworth Kitchen has recently opened at Peak Village, since Chatsworth took over the shopping centre. I visited recently and it was an absolute pleasure, so it has jumped right to the top of my list.
The decor was dreamy, the staff brilliant and the food absolutely delicious. It was a really interesting menu, with some great brunch options available until 3.30 each day and some tasty main meals and oh so many lovely cakes.
The shops sells a variety of some of the amazing interior products the Chatsworth gift shop is famous for. From candles and cookery books, to plates and presents, a gorgeous array of things to make a dreamy home.
I will definitely be returning, for the delicious mushroom ragu and to try everything else on the menu. Oh and The Chatsworth Kitchen is dog friendly too!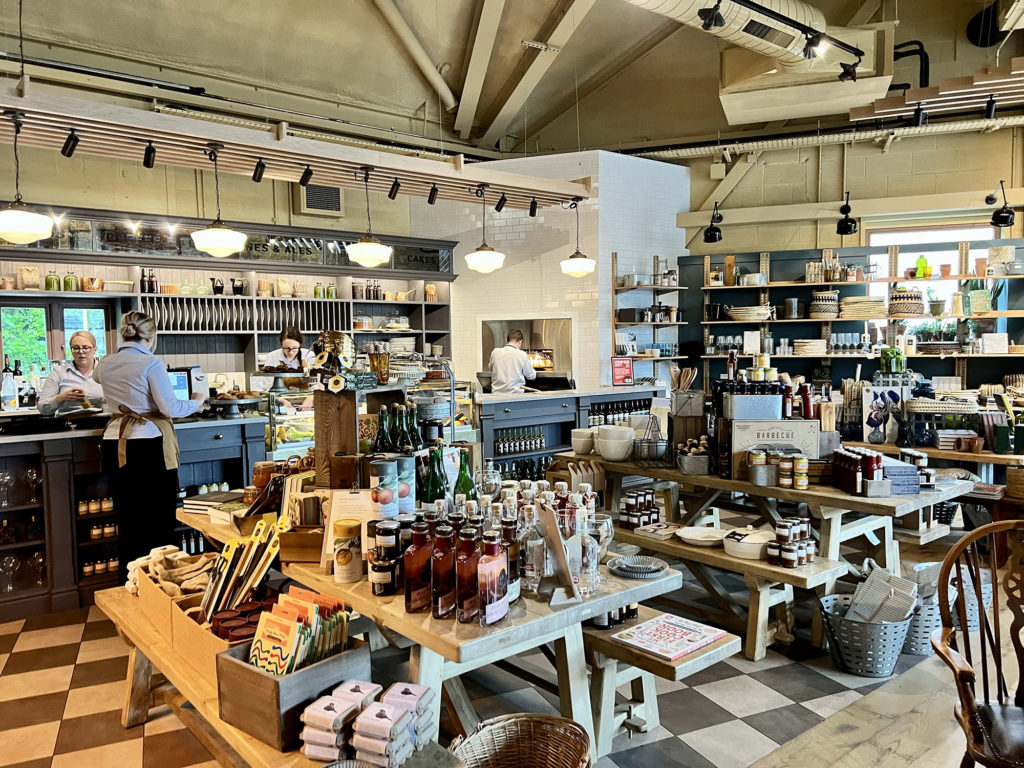 Barringtons at The Whitworth
If you're after proper pub grub, you've come to the right place.
Barringtons' menu contains all your favourite pub classics, served in generous portions with plenty of veg and chips.
The prices are also super affordable – particularly if you make the most out of their offer nights.
They've also got a stunning bar menu, but we'll be coming back to that later…
Inside, the vibe is friendly and cosy, with great staff and plenty of locals game for a chat. In fact, the restaurant is set within the historic Whitworth Institute. This grand Grade II listed building was funded by Sir Joseph Whitworth's estate. Ever since, the hotel and its expansive park have been the epicentre of Darley Dale.
The Devonshire at Beeley
The Devonshire is a quintessential English country pub. It's been an inn as far back as 1747.
Set in Beeley (right round the corner from Darley Dale, and situated in between that and the Chatsworth estate), this rural restaurant is a must-add to your Derbyshire holiday itinerary.
This restaurant is a member of The Devonshire Hotels & Restaurants Group, which pride themselves on their use of the flora, fauna and scenery of their local country estates.
Don't be fooled by its cosy, rustic interior – this is far more fancy than your ordinary pub. In fact, it's been awarded an AA Rosette, five-stars and received recognition in the famous Michelin Guide.
The Peacock at Rowsley
The Peacock at Rowsley is a luxury restaurant, set in a former manor house. It's part of the Haddon Estate, owned by Lord and Lady Edward Manners – the same Manners family and peacock emblem as you'll see at Lady Manners School (if you're not local, you'll probably have no idea what I'm on about).
Their restaurant has established a reputation for being one of the best examples of fine dining in the entire county.
Their menu showcases seasonal and local ingredients, sourced and prepared by the Head Chef Dan Smith (who was trained by Tom Aiken, no less).
Thanks to Dan's talent (and the top-quality produce of our local area), The Peacock has received extensive awards, including the coveted three AA rosettes. It is also a beautiful building and setting next to the river.
Take note, however, this isn't one for a cheap night out. But, if you want to treat your other half to a fancy date spot, it's well worth a visit. Undoubtedly one of the best places to eat and drink in Darley Dale or indeed Derbyshire.
The best cafes in Darley Dale and Rowsley
Hlaf Cafe – Caudwell's Mill
Caudwell's Mill is a unique heritage site in Derbyshire, as a rare example of a water turbine-powered, roller flour mill, which was built by John Caudwell in 1874. In fact, it continued to run right up until 1978.
Even if you're not hungry, this site is well worth a visit. But, if you are feeling peckish, the Caudwell's Mill cafe is the perfect place to stop for a bite.
The Hlaf Cafe offers a wide range of fresh, homemade food, including cakes, pies, scones and other baked goodies. They're also known locally for their delicious salads, which can be made to cater to any dietary requirement.
Kuma-San Bakehouse
Although not technically a cafe, the Kuma-San Bakehouse is a wonderful experience for foodies in Darley Dale. It'd be impossible to miss this one from our list.
The Kuma-San Bakehouse is run by Miyo, a master bread baker, originally from Tokushima in Japan.
Now, every week, she bakes a changing menu of breads, which include full loaves, little rolls and sweet buns. All reasonably priced and completely homemade, you can simply reserve your slot, then pick up your bundle on a Saturday morning.
The great thing about the Kuma-San Bakehouse is that there's always something new to try. Whether it's a homemade version of a traditional sourdough, or her famous Japanese Pullman loaf (which brought home a silver award at the 2019 World Bread Awards), your curiosity can't help but be piqued.
The Pickled Pear in Darley Dale
Set in Darley Dale's former bank (then chemist, before turning cafe), The Pickled Pear is a specialty cafe, which proudly makes everything on site.
The hearty sandwiches (you'll never leave hungry) and rotating cake menu are all made in house. The menu is one of cafe classics, done with care and quality.
For the drinks, the teas and coffee beans are all sourced locally, from the nearby Chesterfield Tea Merchants and Sheffield-based Smith Street Coffee Roasters. Trust me, you'd be mad to leave without tasting their cappuccinos.
The best pubs in Darley Dale and Rowsley
The Plough
There's few better ways to spend a Sunday afternoon than walking through Two Dales, and stopping off for a pint at The Plough.
This pint-sized (literally) venue may be small, but what it lacks in size, it more than makes up for in charm.
The Plough Inn has got a proper local feel, with loads of local beers, quiz nights (although my team came joint last when we tried it) and the friendliest staff you could ever ask for.
Inside, the decor is at once modern and timeless, with a cosy roaring fire and chic furnishings. Or, on sunny days, you can head outside to the lush beer garden. Take note – don't leave without trying one of their delicious, homemade pizzas.
Barringtons
Our brief was to find the best places to eat and drink in Darley Dale, and Barringtons ticks both those boxes!
Although we know it's a repeat entry, Barringtons definitely belongs in two categories. And, it's technically not cheating, because their bar and restaurant areas are kept separate.
When the sun's shining in Darley Dale, the whole town flocks to Barringtons beer garden. The bar has a lengthy list of drinks, including shelves stocked with gins to taste, and all the classic cocktails you could wish for (for a great deal, head down for happy hour!).
Complete the pub crawl with a trip to the nearby Plough, and you've got yourself an evening.
Barringtons is also famed for its live music events, where tribute acts play in the beer garden. Over the years, we've seen Queen, Take That, ABBA and Oasis tributes all take the stage.
The Grouse and Claret
If you're looking for a laid-back pub, with a sunny beer garden and a cheap drinks menu, The Grouse and Claret is the venue for you.
It's situated right by the Peak Village shopping centre, so you can easily make a long afternoon out of your visit.
There's even a kids' play area on site – perfect for keeping the little ones entertained, while you enjoy some well-deserved me-time.
Looking for more pubs to add to your list? Check out this list of The Best Fine Dining Pubs in the Peak District
---
Do you have any other spots to add to our list? If we're missing your best places to eat in Darley Dale, tag us in your recommendations on the She Gets Around Instagram page.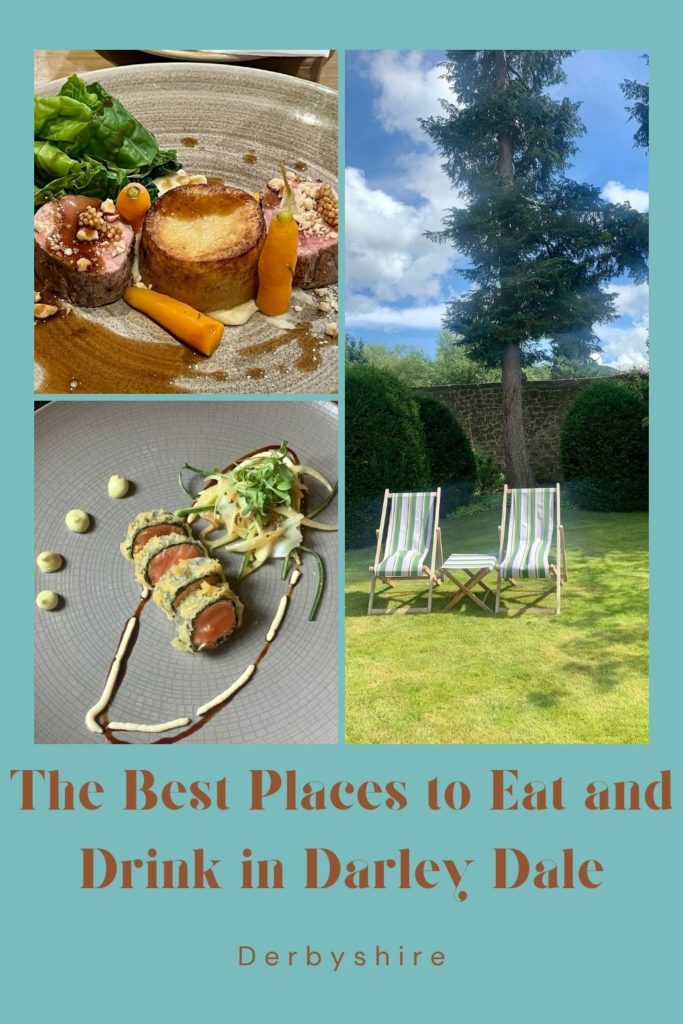 Other Posts You Might like