Everything I Ate During a Long Weekend in Rome
If I tell you that I recently got back from Rome, the first thing that you'll probably want to know is a comprehensive list of everything I ate during a long weekend in Rome and the absolute best food to eat across the city. At least, that's the first question that I'd be asking. 
When you think about a holiday in Rome, there's two things that'll probably come to mind first: 
History and food.
At least, that was definitely the case for me.
I am, to my core, a girl who loves carbs. So, the idea of four days where it was acceptable to purely eat pasta and pizza was an absolute dream.
And while, yes, there's the stereotypes of loads of pizza and pasta with tomato sauces (which, don't get me wrong, we heartily indulged in), it was fascinating to see how authentic Italian cuisine differed from what I was expecting.
So, without further ado, here is a list of everything that I ate during a long weekend in Rome, Italy. Keep reading to find the best gelateria in Rome (in my humble opinion), and the best places for pizza in Rome (again, at least we thought so).
All the best food to eat on a long weekend in Rome
Our favourite Gelateria – everything I ate during a long weekend in Rome
MARAVE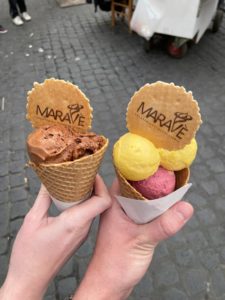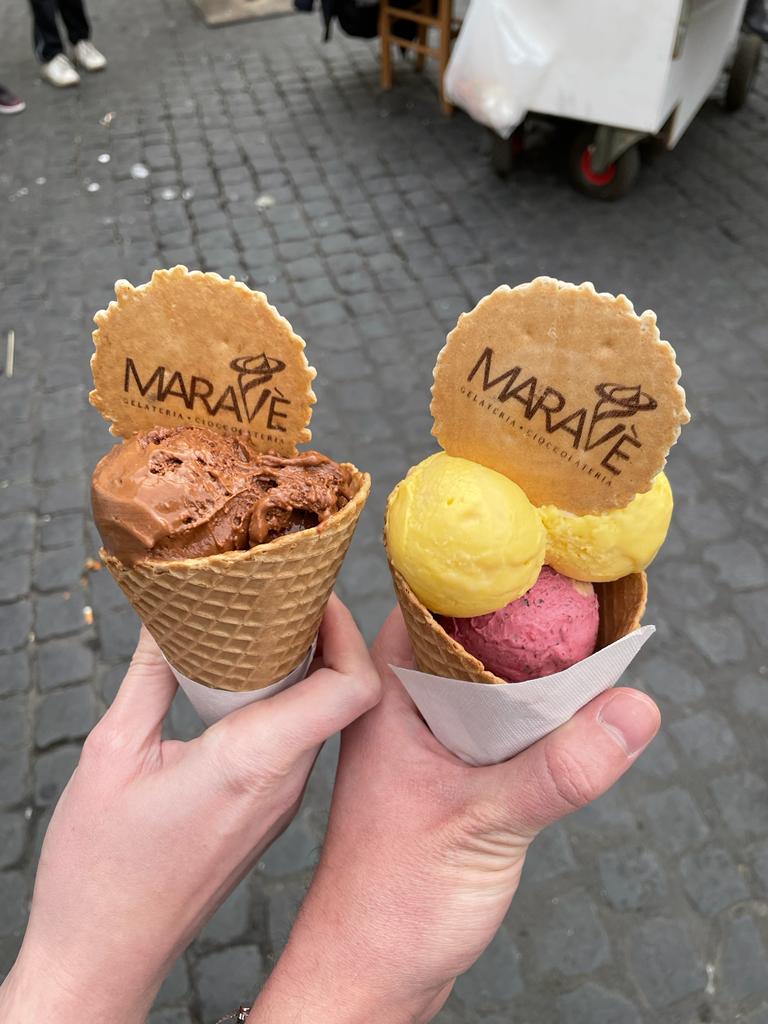 Without a doubt, this was one of my favourite foodie stops in the entire trip.
As you can imagine, Rome is absolutely brimming with gelaterias. Each of these (unlike the Mr Whippy vans that we're used to in the UK) look like they've hopped off the cover of a food catalogue.
They offer a huge variety of different flavours, many of which are made fresh, right there.
Although there was certainly some hefty competition, if I could only go back to one gelateria in Rome ever again, I'd have to pick MARAVE.
MARAVE is a stunning luxury gelateria and chocolatier (quite literally a double threat), and their ice cream is absolutely extraordinary.
I opted for tiramisu and dark chocolate, both of which were extremely chocolatey. The dark chocolate was proper 90% stuff, and it made for an uber-rich gelato.
My partner went for forest fruits and mango (I can never understand how anyone would choose fruit over chocolate in that scenario), as MARAVE also offered plenty of flavour choices for those who were less chocolate-oriented.
Plus, MARAVE is based right by the Trevi Fountain, which is the perfect spot to sit and people-watch with your snack.
Our favourite Pizzerias – everything I ate during a long weekend in Rome
Leon Bistrò
On night one – after the first flight either of us had taken in two years – we ditched our bags, and went out to get a pizza and a celebratory glass of wine.
We stumbled upon Leon Bistrò (address: Via Messina, 17, 00198 Roma RM), which had a brilliant vibe throughout the evening. The bistro-come-bar was filled with people chatting, the fairy lights were twinkling outside, and the pizza was a knockout.
The pizza was food on sharing boards, brought out one by one. This created a lovely tapas-style sharing concept, where you could each go through one pizza bit by bit, trying each other's and enjoying several varieties.
The base – as you can imagine – was flavourful and super authentic. And everything (since it's a little bit out of the centre) was very reasonably priced. Would highly recommend for a laid-back, romantic date night spot.
Pizzium
Another favourite pizza spot was Pizzium – a pizza restaurant which was, as with Leon, filled with buzz and chat.
We walked past the restaurant a few times during our holiday, as it was en route from our hotel to the centre of Rome – and it was always busy, with both tourists and locals.
The pizza menu is varied, and super authentic. There's all the classics, and a great range of new combinations to try (I'd highly recommend their 'Puglia' pizza, which is topped with yellow datterini tomatoes, capocollo, burrata from Puglia, pitted olives and crumbled tarallo).
There's even an open-plan kitchen, with a vast, proper wood-fired pizza oven at the centre. This activity definitely adds to the energy of the restaurant, and it really makes you appreciate the quality of what you're eating.
Thinking of visiting Florence in Italy, here is a beautiful luxurious hotel worth a visit.
Our favourite restaurants – everything I ate during a long weekend in Rome
Sushi Sun
After an almost constant stream of breads and pizzas, on night 3, we were ready for a meal that wasn't bread-based.
So, we opted for Sushi Sun – a sushi restaurant, which we'd heard a lot of good things about.
We were expecting some good sushi, at a bit of a higher price point ('cause it did look pretty fancy) and a chilled night.
What we got, was a whole lot more fun.
What we hadn't realised when we made our booking, was that this was an all you can eat sushi restaurant. So, we were taken to our table, shown how to use the iPad, and left to it.
Through the iPad, we could order absolutely anything off the long menu of sushi classics. This included seasonal dishes, tartare, sashimi and poke bowls, all made fresh by the chef.
These were then brought to our table by a tiny little robot. As you can imagine, we got super excited.
It was a great laugh, and it's fair to say that we got a little bit giddy with power.
The whole concept of being able to order whatever we fancied straight to the table was fantastic, and something we never got tired of.
The drinks were also super affordable – I was delighted with 5 euros for a glass of bubbly, especially when I'm used to London prices. And we were able to enjoy unlimited sushi, for the entire two and a half hours that we were there (yep, we're greedy people), for 25 euros each.
In addition to the food being delicious and of a brilliant quality, the vibe of the venue was also really special. The restaurant has a dynamic feature media wall, which is made to look like a fish tank, a forest and a painting, in that order.
If you're visiting Rome, and you want to take a pause from the carbs for a while, I'd highly recommend the experience.
---
We hope you enjoyed this round-up of everything I ate during a long weekend in Rome! What food have I missed for the best food to eat in Rome?
And this is just a starting point – obviously we were only there for a short visit, but Rome is filled with the most incredible places to eat.
There were so many more places that we would have loved to try, but there was only so much that we could squeeze in!
So, if you've got any other places that you think we need to visit on our next trip to Rome, we'd love to hear them! Get in touch with us in the comments, or through our socials.
Other Posts you might like