5 Amazing day trips from Split in Croatia
The town of Split in Croatia has everything you need for a perfect holiday, but if you're wanting to explore a bit further afield here are 5 amazing day trips from Split in Croatia.
AD I visited Split in Croatia as part of a press trip with Jet2 Holidays. Everything in this post is my honest opinion.
I've always thought of Croatia as being somewhere quite far away, but in reality the flight to Croatia with Jet2 was only 2 hours! It's somewhere you could easily go for a long weekend, though there is so much to do I recommend at least a week.
We stayed at the absolutely incredible 5* resort Hotel Le Meridien Lav, booked through Jet2Holidays. I would quite happily fly to Croatia just to spend a week at this gorgeous resort. It is about 15 minutes from the centre of Split and has so much you don't even have to leave the hotel if you don't want to.
There are several restaurants and bars, two private beaches, an infinity pool, a kids club and even its own marina. It was such a luxurious hotel.
I always feel so torn on these kinds of holidays. Do I want to spend my week at the hotel chilling with a book and a fruity cocktail or do I want to explore?! For this trip it was all about exploring and though I would have relished some relaxation time at the hotel, I am so glad we got to explore so much with different day trips from Split in Croatia.
If you're thinking of visiting Croatia, Split is a brilliant base to see more of the country, including some of Croatia's sun soaked islands and beautiful beaches. Here are my top 5 places to visit that are a short drive away from Split.
5 amazing day trips from Split in Croatia
Soak in the history in Solin and Klis
Croatia has so much history. Split itself is home to Diocletian's Palace, an ancient palace built the turn of the fourth century AD. Much of the Old Town is made up of the remains of this palace, including the original entrances and the basement that is almost fully intact.
Once you've enjoyed the history in Split it is definitely worth getting out of town to visit some of the other ancient ruins around the edges of the city.
The fortress ruins of Klis were most recently made famous for being used for multiple scenes in the famous TV show Game of Thrones. If you are a Game of Thrones fan this is an absolute must visit to see which locations you recognise.
The medieval fortress is above the village of Klis and is remarkably well kept. Its strategic position played an important role during medieval invasions. Klis fortress looks out over Split and the Dalmatia coast and you can enjoy reading about some of the history that played a part here, both in reality and in Game of Thrones.
Klis Fortress Top Tips
It costs €10 to get in and you can explore at your leisure. It is not often hugely busy so no need to book in advance
You can drive there or you can get the 22 bus from the National Theatre bus station in Split and walk up from Klis village
There is very little shade so if it's a hot day, make sure you take sunscreen and wear a hat!
After visiting Klis it is a short drive to add on a visit to Salona on the edge of the village of Solin. The archeological park shares the Roman history of the area and is worth spending an hour or two exploring the full park.
There is a small indoor museum and walk down the hill and you will see the remains of a full town. Complete with Roman Baths, a church and huge amphitheatre.
Salona Top Tips
Make sure you take some time to visit the beautiful garden to the right of the indoor museum. A perfect spot for a picnic
Entrance is €4
You could tie this and Klis in with a trip to Trogir, but I think Trogir could be a day in itself
Visit the historical town of Trogir
Trogir is about a 30 minute drive from Split and well worth a day trip. It is a designated UNESCO Worth Heritage site and its history began as far back as 3rd Century BC with Greek settlements.
Trogir is actually a very small island, with a population of just over 10,000 and is only 500m long and 250m wide. I really loved this little town and could have easily spent a day wandering around the narrow streets. It really is easy to get lost with narrow winding streets. It reminded me a bit of Venice in Italy.
Make sure you visit the Cathedral of St Lawrence that took over 400 years to build and enjoy the impressive Romanesque, Renaissance and Baroque architecture across the town.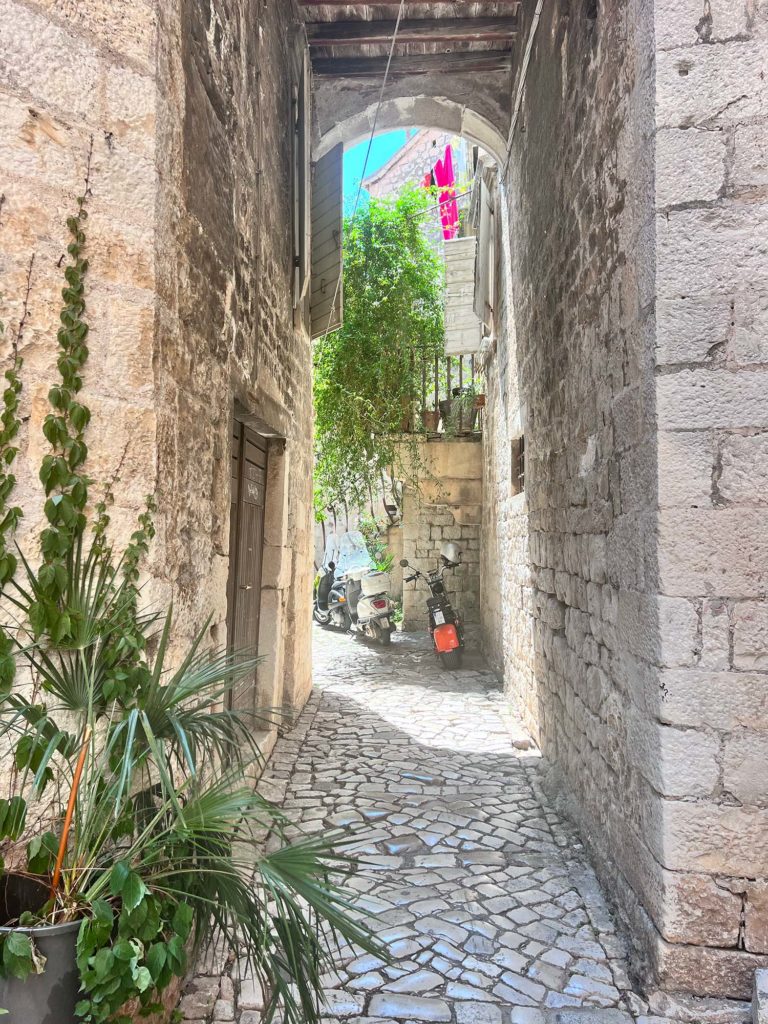 Trogir Top Tips
Get an ice cream from the family run Gelateria Europa
Let yourself get lost in the city walls, it is only small so you will soon find your way back to the water again
Visit Trogir market across the bridge, it is on daily and you will find fresh meats, fruit and veg amongst locally made gifts, olive oils and honeys
A visit to Makarska and the skywalk Biokovo
Makarska and the Skywalk Biokovo are a bit further away, but still worth the 1.5hour journey to enjoy something a bit further afield. There are organised tours to Biokovo, or you can drive.
Start your day with a visit to the Skywalk. Set in the Biokovo Nature park. You could spend a day just here, taking a hike around the park and enjoying the incredible views out to sea, before walking up to the skywalk.
The skywalk protrudes out 11m from the cliff edge and is 1228 metres above sea level. When the weather is clear you can see down to the coast and for miles out to some of Croatia's 78 islands. The Skywalk is part of a project that promotes sustainable use of the natural heritage of Biokovo Nature Park.
Skywalk Biokovo Top Tips
Tickets are €8 with discounts for different groups and children under age 7 are free
The road up to the Skywalk is quite bendy and narrow so drive carefully and look out for cars coming the other way
After a visit to the Biokovo Skywalk it's time to head back towards Split but with a lunch stop at the gorgeous town of Makarska.
The views from the town up the mountains above are breathtaking. I love a town with both beaches and mountains only a stone's throw away. Makarska is particularly well known for its infamous shell museum. The Malacological Museum is part of the Franciscan Monastery and home to over 3000 different shells. It is quite a mesmerising museum, it is only small, but worth a visit.
After the museum head into town and enjoy a wander through the beautiful streets, enjoying an iced coffee in the square by St Mark's Cathedral. There is a beach if you want to relax in the afternoon and there are plenty of tasty places to eat too.
Makarska Top Tips
Enjoy an interesting and delicious menu for lunch at Tempera Street Food
Look our for the fishermen's parties on evenings in the summer to party with the fishermen and eat fresh locally caught fish
Horseback riding in Podstrana
Horseback riding in Podstrana was possibly my favourite activity on a day trip from Split and this one was only 15 minute's drive from our hotel.
I'm not usually a horsey person and have only been horse riding once before as a child. I was a bit apprehensive, but it was such a special and beautiful experience.
The horseback riding experience takes about 1.5 hours and our guide Evan was really supportive and knowledgeable. We arrived to the horses already kitted up and we had some time to get to know the horses before we jumped on their backs. Don't worry there was a stool to help you up.
I was on Nuba the horse, who was friendly and did as he was told. They are well trained and once we were comfortable we headed off on a beautiful ride along a dusty coastal track in the mountains. We trotted gently up and down with views across the ocean before returning back to base. Evan took photos which he shared with us at the end too.
Once we were back and off our horses he brought out a little brunch feast that included homemade wine, bread, meats and cheeses. It's amazing how hungry horse riding makes you!
Horseback riding Top Tips
Wear long trousers, even if it's hot to prevent any rubbing from the saddle
Don't eat too much before as they provide substantial snacks at the end of your ride
A visit to the island of Brač
We spent a day on the Island of Brač during our visit. It is less than an hour on the boat from Split to the town of Supetar on Brač and a one way ticket is £5.
There are lots of different options for things to do on Brač but a visit to Bol and the Golden Cape Beach is an absolute must! The beach changes shape depending on the weather and though it was once relatively unknown and is now a top tourist attraction, it is still worth visiting.
If you have a car you can park at the beach, though it isn't cheap at €20 euros for the day. You can take cars on the boat from Split or when you get to Supetar you can get a bus over to Bol. Once you get to the beach it has everything you might need including changing areas, toilets and lots of options for food and drinks. You can also rent a bed and umbrella for the day if you don't fancy lying on the stones.
While on Brač we also visited the Olive Oil Museum which is a member of the European Culinary Heritage. A visit includes a short tour of the olive oil museum, learning how they used to make olive oil, followed by a tasting with delicious fresh nibbles and wine.
Top tips for the island of Brac
Have lunch at restaurant Kopacina for traditional lamb dishes
Bring swim shoes for the beach as it is difficult to get in an out the sea without them
Go hungry at the olive oil museum as the snacks you get to try the olive oil with are mega!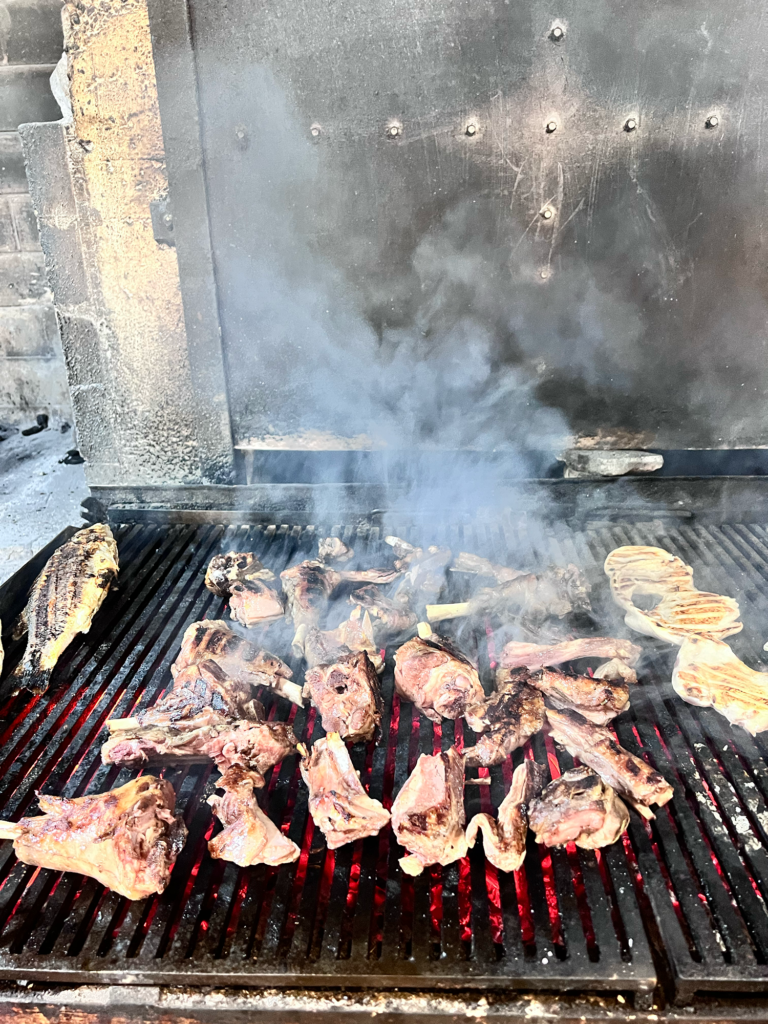 Book with Jet2 Holidays
Who wants to visit Split now? Let me know where else you recommend in and around Split.
Other posts you might like.