10 best places for a cheap lunch in Derbyshire
This blog is all about celebrating the independent businesses and talented local producers in Derbyshire. So, what better way to show you what makes our county special, than sharing our round-up of the 10 best places for a cheap lunch in Derbyshire.
For me, the perfect Sunday looks a little something like this – a long walk, followed by a very generous but affordable lunch. Of course, with plenty of dessert options to choose from.
Within its network of small, rural towns, Derbyshire boasts a huge range of gorgeous cafes and restaurants, featuring local talent and fresh regional produce. Plus, they represent fantastic value for money, and can easily be slotted into your walk, as a well-deserved pitstop! 
So, whether you're planning your upcoming holiday itinerary, or you're a local looking for your new favourite spot, this is the blog for you.
Keep reading to find our pick of the 10 best places for a cheap lunch in Derbyshire.  Obviously there are a couple in Matlock that feature, because I know the best places to eat in Matlock better than anyone.
10 Best Places for a Cheap Lunch in Derbyshire
1. Chatsworth Kitchen, Rowsley
Chatsworth Kitchen is one of the newest additions to Rowsley's Peak Village. But, it's already become a firm favourite, amongst locals and visitors alike.
This intimate restaurant is the perfect place to see what Chatsworth has to offer. It has a seasonal menu, featuring a wide range of fresh, local produce, and some of the tastiest cakes that you can find in the Midlands. 
The kitchen has a wide range of lunch options, all at a very affordable price point. These include brunch and lunch dishes, freshly baked cakes, and your choice between coffee, wine, local ales and creative cocktails.
Another fun feature of Chatsworth Kitchen is the unique decorations selected for its interior. Inside, there is a brilliant collection of artefacts, which have come straight from Chatsworth's stores. These include authentic Victoiran pots, pans, jelly moulds and a grand old oak table.
Best for: anyone on a whistlestop tour. The Chatsworth Kitchen offers a fantastic opportunity to sample a wide variety of local produce, and explore products and homeware made by the region's talent. 
2. Zinc, Matlock
Situated in the heart of Matlock, Zinc achieves the perfect hybrid of relaxed shopping and a cosy, friendly cafe.
The shop itself offers an extensive collection of hand-picked homeware and gifts, each thoughtfully chosen, and exhibiting the work of passionate local creators.
Then, after you've had a leisurely browse through the shop, you can take your seat in the adjoining cafe. Zinc's lunch options are freshly made, nutritious and very affordably priced.
I may have a sweet tooth, but I don't think I'm alone in saying that you can't leave Zinc in Matlock without trying one of their lemon and blueberry scones. 
Best for: lunch followed by a shop. This charming little cafe is the perfect place to meet a friend for a leisurely afternoon.
Looking for things to do alongside lunch in Matlock? Check out my list of the best things to do in Matlock.
3. Scarthin Books
Speaking of shopping, Scarthin Books offers another favourite cafe-shopping hybrid. But, this shop is less 'elegant homewares' and more 'wonderfully chaotic, book-lover's dream'.
Scarthin Books is set in the heart of Cromford, and is a much-loved independent bookseller. In fact, it was recently awarded the accolade of being one of The Guardian's 'World's 10 Best Bookshops'. It is the best of a few different great bookshops in and around Matlock.
It has stacks and stacks of books, in floor-to-ceiling bookcases, spanning the entire property. The shop spans multiple floors, and contains enough books to keep you busy for a lifetime.
Then, once you've (eventually) chosen your books, you can take them upstairs to the little cafe.
In true countryside form, Scarthin Books' cafe features fresh homemade cakes and bakes, and ample cosy seating. What better place to curl up with your new books?
Best for: bookworms! With its endless shelves of books and cosy cafe, Scarthin Books offers the perfect place to spend a long afternoon. 
If you love nothing better than a cafe trip with a good book, check out our selection of the best bookshops with cafes in Derbyshire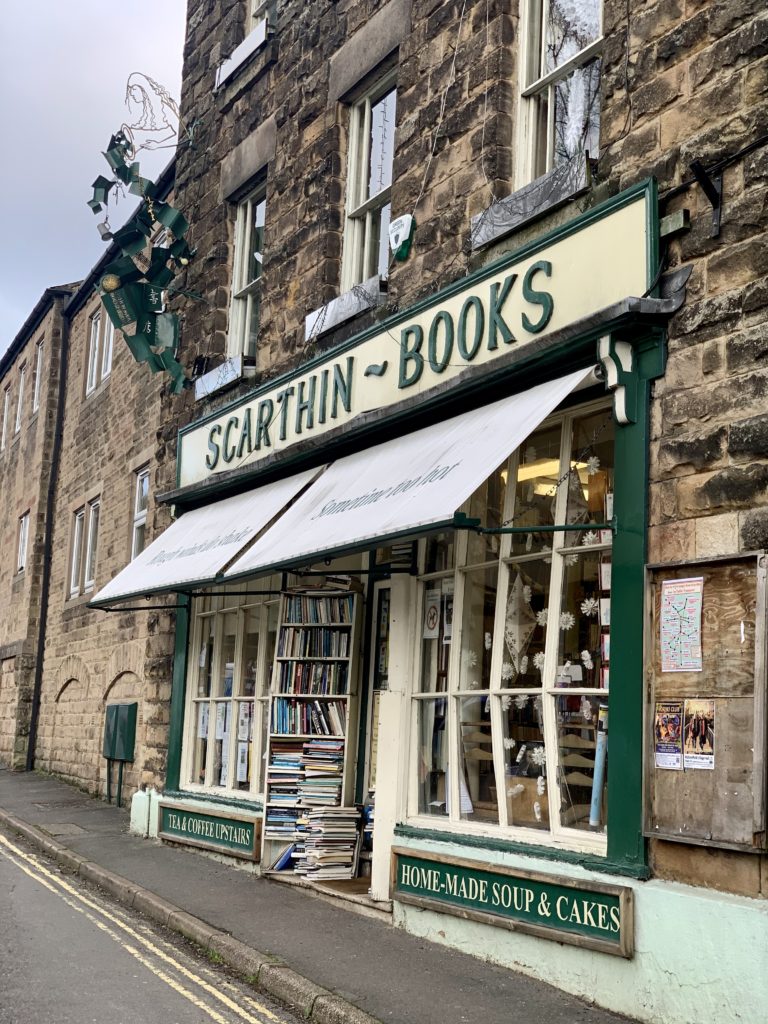 4. Lombardi's, Chesterfield
Lombardi's restaurant is bringing authentic, rustic Italian cooking to the heart of Chesterfield – and we couldn't be happier. 
These classic Italian dishes are (as you'd expect) packed full of flavour, and prepared by Lombardi's passionate team, who 'are proud to be 100% original to our roots'.
As you might have already guessed from its name, Lombardi's is a family-run restaurant. In fact, the family moved from the small town of Maddaloni to set up the restaurant.
These include freshly made wood-fired pizzas, pastas, risottos, traditional meat and fish dishes, and a generous list of signature Italian desserts.
Best for: hearty portions, served in a warm, vibrant atmosphere.
5. Chakra Lounge, Bakewell and Buxton
Not only does the Chakra Lounge serve up some of the most delicious, traditional Indian food that you can find in the entirety of Derbyshire, but its warm, joyful atmosphere have made this one of the most beloved lunch spots in the area.
The Chakra Lounge started out as Buxton's first-ever lounge cafe, centred around the ethos that 'food is, by all means, a conversation of life'.
The talented team create innovative Indo-Western cuisine, which unites both culinary heritages in a series of bold, flavour-packed dishes. The pioneering menu features enticing dishes like Batata tikki (a popular Indian street food, made with potatoes, herbs and spices, and served with tamarind chutney), Mama tiffin (a vegan dish, consisting of four layers of curries, flat bread, rice and salad), and Mast garden bagel burger (a homemade vegetable burger, served with vegan slaw, salad, a fruit chutney and rainbow fries).
Best for: stand-out drinks. In addition to its unique food menu, The Chakra Lounge also has a stunning selection of drinks. These include everything from authentic dirty chai to a blue sandalwood latte, and an iced matcha and cardamom latte, to an orange espresso.
If you're big on brunch, check out our round-up of the best brunch places in Derbyshire and the Peak District.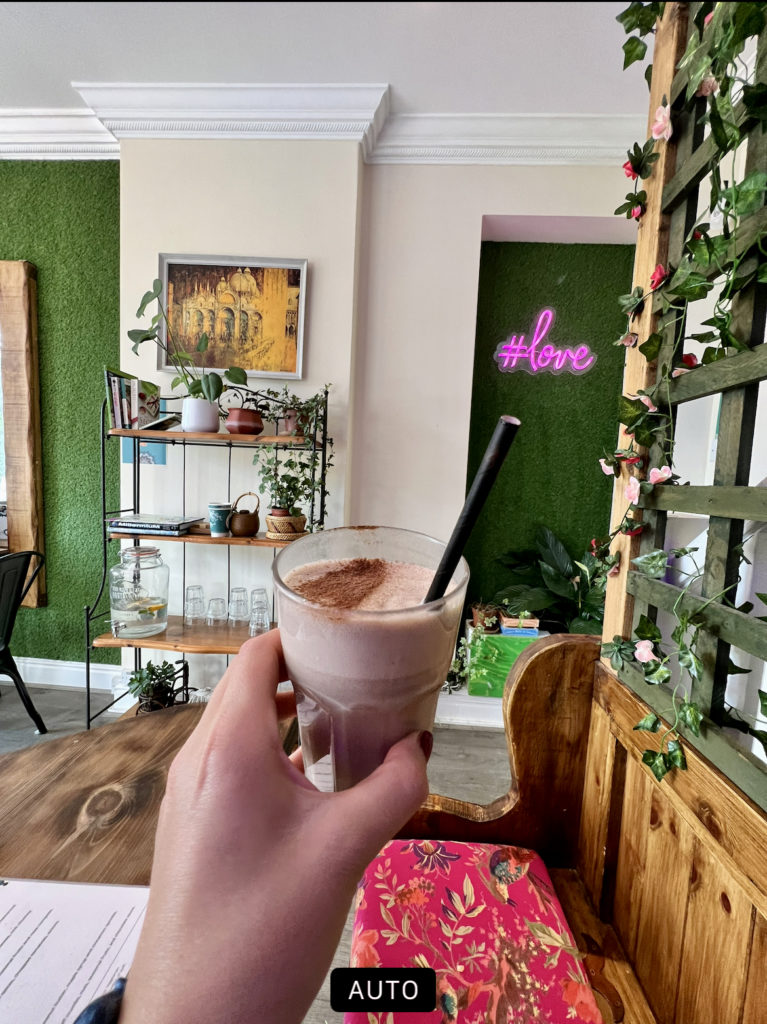 6. Madhatter Matlock 
Madhatter in Matlock is a cafe by day and a bar by night. They offer the most incredible milkshakes, or freakshakes as they are best known.
They offer a selection of savoury and sweet treats. From burgers and afternoon tea, to delicious cakes and hot brownies.
They also have one of the best seats in town on a sunny day with seats right by the river. A glorious sun trap.
Best for: People with a sweet tooth or for a chilled afternoon with beer and burgers by the river.
7. Butter Fingers, Matlock
Butter Fingers is an ode to all-things-sweet. 
Every day, the display counter is loaded with freshly made cakes, and every sugary, chocolatey flavour profile that you could hope for.
Think indulgent brownies and blondies, thick cookie pies, freshly made Battenberg, stacked layer cakes, and you get the idea. I am slightly obsessed with their milkshakes too… especially the banana and nutella one!
They do offer a lunch menu full of toasties, soups and sandwiches. And while yes, they are also delicious, you can tell what I gravitate towards.
Best for: a cake lunch. You'd be mad to leave having only tried one!
For more foodie recommendations in Matlock, check out our pick of the best places to eat in Matlock, Derbyshire.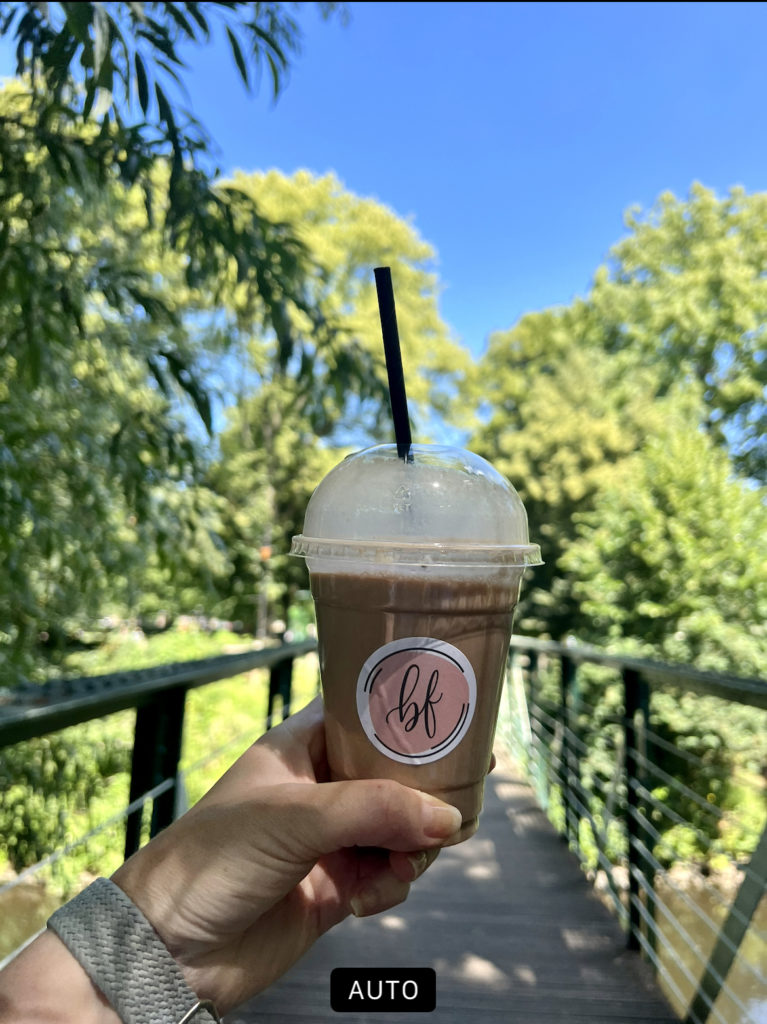 8. Sour Cow, Wirksworth
Sticking with the dessert theme, Sour Cow prides itself on no-frills cakes and bakes, made with skill and creativity.
So, if you're a sweet tooth, you're in very good company here.
Fill your boots with one (or two) of Sour Cow's freshly baked cakes and cookies, and a piping hot cup of tea – simplicity at its finest. 
Best for: a bit of respite during your visit to the historic village of Wirksworth. This quaint village is the embodiment of rural Derbyshire charm, and is full of other independent businesses for you to explore.
9. Edensor Tea Cottage
It's hard to imagine a more picture-perfect place for lunch than the Edensor Tea Cottage.
This hidden gem is located right in the heart of Chatsworth's extensive grounds, and nestled amongst the characterful little cottages of Edensor. 
Their menu reads like a who's-who of Chatsworth produce, and offers all your classic cafe lunch go-tos, alongside a number of creative signature dishes. My personal favourite are the stuffed Derbyshire oatcakes.
Best for: a tasty lunch, during your day trip to Chatsworth. 
10. Hackney House, Barlow
Hackney House Cafe is a charming, bustling little cafe, located right in the centre of rural Barlow.
The building itself is 300 years old, and is believed to be among the UK's oldest tea rooms.
Hackney House is the perfect stop if you're looking for classic British cafe food, done beautifully. The menu features a wide range of fresh soups and salad, plus sandwiches, pies and paninis.
Then to finish, treat yourself to a generous slab of homemade cake, or a freshly baked scone.
Best for: a treat-yourself lunch, after a long walk around picturesque Dronfield.
We hope you enjoyed this selection of the best places for a cheap lunch in Derbyshire. If you're looking for something a bit fancier check out these fine dining pubs in Derbyshire.
If you're planning a holiday to Derbyshire, what other recommendations would you like to see from us?
Or, if you think there's anywhere we've missed, we'd love to hear your favourite local spots!
Either way, you can get in touch with us in the comments, or through our socials.
Other posts you might like