Wild Swimming at Three Shires Head – Peak District
If you're looking for one of the best wild swimming spots in the Peak District, then Three Shires Head is the place to go.
Three Shires Head is on Axe Edge Moor and is where three counties meet; Staffordshire, Derbyshire and Cheshire. It had been on my list for wild swimming in the Peak District for months and I finally visited earlier this year.
It is a beautiful walk from start to finish, with a perfectly mid placed swimming spot, with a collection of pools and waterfalls. Both me and the dogs enjoyed a relaxing (or not so relaxing) dip.
I absolutely love wild swimming, though find some of the best places are just a bit too far for a quick dip, which is why it took me so long to make it to Three Shires Head. So in May on a sunny spring morning, my friend Sian and I took our dogs for a little walk.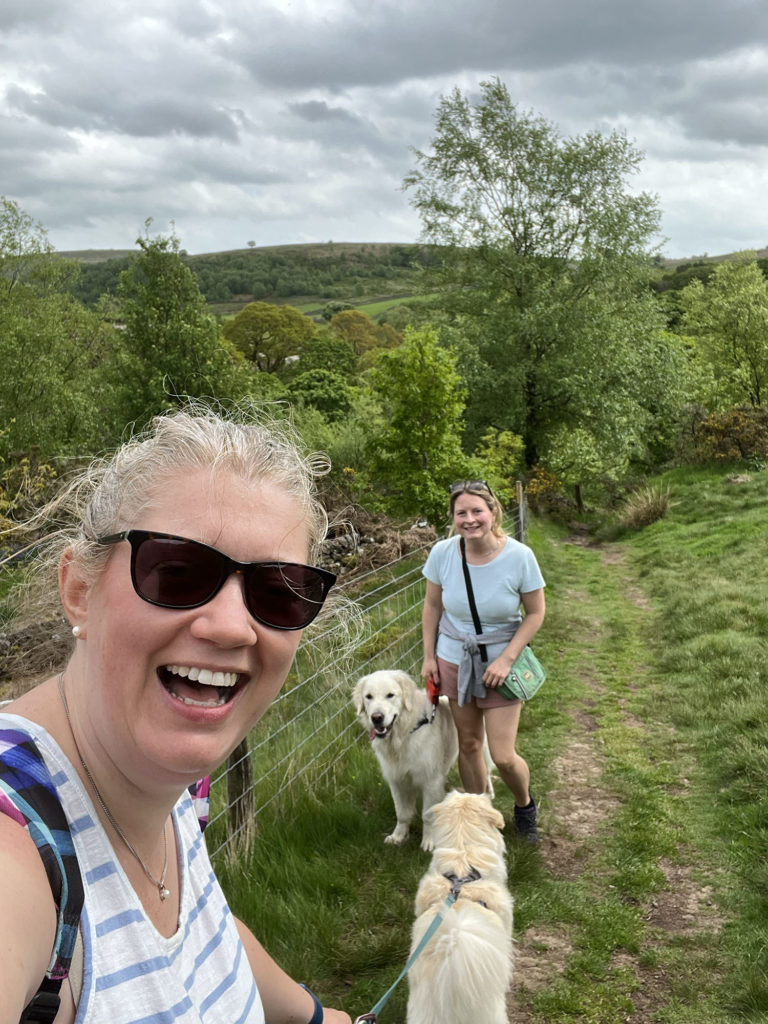 I absolutely loved it, so here are my tips, tricks and how to get there.
You might also love my post on wild swimming Youlgreave in the Peak District too!
Wild swimming at Three Shires Head – Everything you need to know
Below are answers to a few questions I often get asked about wild swimming, specifically at Three Shires Head. If there is anything I have missed let me know and I will add it on.
Is it busy at Three Shires Head?
First things first, is it busy at Three Shires Head. Well, of course that depends on what time of day and year you are going, so I would really think seriously about the best time to visit, both for yourself and the environment.
I went a midweek late morning in May and there were still about 15 people by the pools. I thought that was quite a lot considering it wasn't summer holidays or a weekend. I have been reliably informed that it does get REALLY busy. So if it's a hot day in the holidays, maybe think about trying to find somewhere a bit quieter.
Not only will you have a better experience when you can enjoy the pools yourself, or with just a couple of others, but you also won't be contributing quite so much to the degradation of the area.
I often get nervous sharing wild swimming spots, feeling there is an unwritten rule that you really shouldn't share them. I see both sides, why shouldn't we let more people enjoy the absolute pleasure of wild swimming? But, let's try and make sure we respect and look after these beautiful parts of the Peak District.
Find out more about how you can contribute towards looking after the Peak District.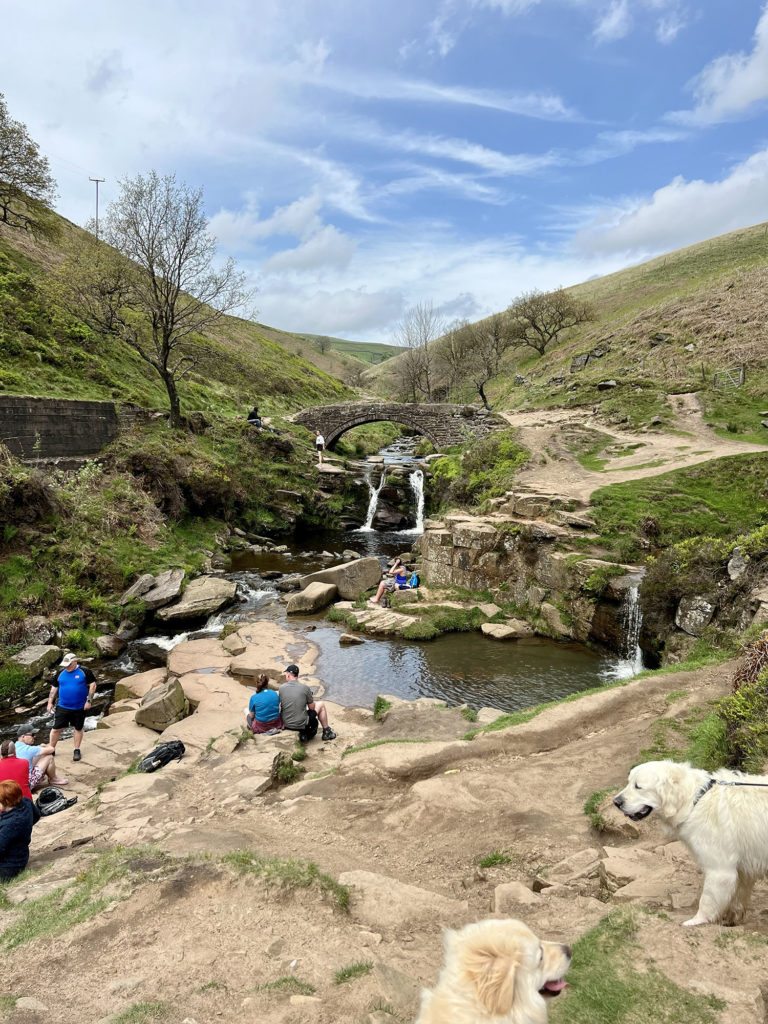 Where should I park for the Three Shires Head Walk?
For this circular route we parked at the Gradbach carpark. It is important to note that this carpark is very small. It probably fits about 15 cars and fills up quickly. When we visited midweek we just managed to squeeze into the last couple of spaces. So arrive early to avoid disappointment.
I imagine on a rainy day it wouldn't be so bad.
There are no toilet facilities here.
How to find Gradbach carpark.
There is an alternative route from Clough House carpark. This would mean a different walk to the one I am detailing below.
Is this walk accessible?
No, this walk involves walking across and up hills and across narrow and rocky paths. Part of it is on a road, but it would not be easy to get to Three Shires Head with a wheelchair or pushchair.
If you are after a paddle and picnic in the Peak District though, the stream right next to the carpark is beautiful and there are some picnic tables there too.
What is the wild swimming at Three Shires Head like?
Once you get to three shires head, there are about three small pools and a couple of short waterfalls to swim in, along with the stream that runs down into the valley, offering more spaces for a paddle.
The main pool sits under the double waterfall from the bridge and is beautiful and breathtaking.
You won't be swimming lengths here, but you can certainly fully submerge yourself in the water and enjoy the waterfalls. There are plenty of spaces to sit on the edge and get your feet wet if you prefer.
For the start of the warmer seasons in May I didn't find the water particularly cold, I've certainly been in colder. It gets the sun so warms up a little bit. However, if you're not used to wild swimming you might find it a small shock to the system.
The pools are also in a valley so it can be quite sheltered and a lovely spot for a picnic and dip.
If you're looking to get used to swimming outdoors and in cooler water then I can highly recommend the New Bath Hotel Lido in Matlock Bath. It is naturally heated by an underwater spring (which means it's not that warm) and is beautiful clear, non-chlorinated, water and I absolutely love it there.
How do I get to Three Shires Head? – Circular loop walk
So there are a few different walks you can take to get there, but for me a circular walk of about 4 miles walk a perfect little loop walk, with the Three Shires Head wild swimming spot falling perfectly in the middle of the walk.
Start at the carpark – from here walk to the opposite end to the car entrance and follow the path towards the road and back across a small footbridge. Here you follow the stream on your left across a field to the road 'Love Lane' and turn right and follow it up and round the corner.
Turn left into the private drive – straight off Love Lane turn left into the private drive and home and just up on the right you will see a gate into a field.
Walk up across the fields – You will walk straight up through numerous fields with a wall on your left, two thirds of the way up the wall ends for a bit and you will just keep walking straight through the fields, through another gap and up to a gate at the top with a house to your right. Just keep going, this is the only steep bit, the rest of the walk is either pretty flat or down. it is a gentle slope so not too difficult.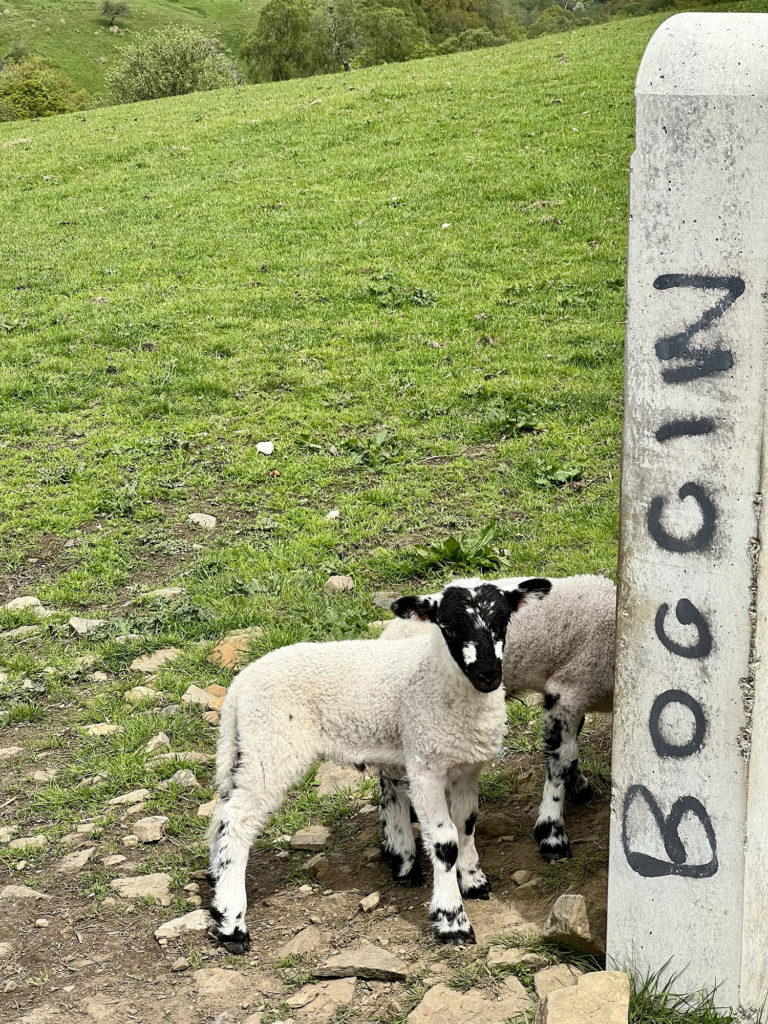 Walk left down the rocky driveway – Once you get to the top of the fields you will come to the drive of the house on your left, walk down that and then turn off onto the path on your right which continues downwards. You are almost there!
Arrive at Three Shires Head – as you walk down this path you will see the valley drop down to your left and see the stream that runs from the waterfalls. Soon seeing this perfect swimming spot up ahead.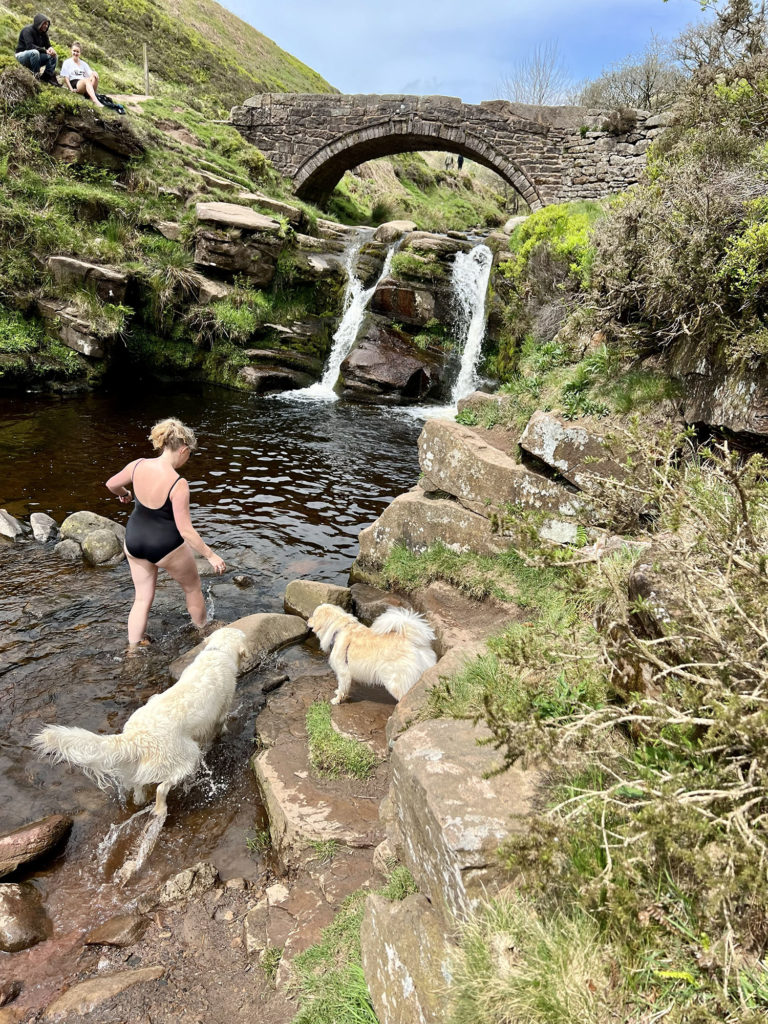 Head back across the bridge above the water – Once you have enjoyed your swim head across over the bridge above the waterfalls and turn left heading back along the opposite side of the valley. Follow this path for about 5 minutes until you see a path heading down through bracken and fields to your left. Follow the path diagonally down and forward through a couple of fields, until you get to a gate onto a small road by a farm.
Follow the road to the left – at the gate turn right and follow the road to the left (not right upwards). You will see the track ahead turning to the left and there will be a slight incline. Follow this road around. Follow this road for a while, you will pass another two farms/houses on your left and after the second one start looking out for a path to your left. It had a sign on it saying 'watch out lambs about'.
Take the path back towards Love Lane – you will take this path downwards, it can be quite narrow and overgrown, but eventually you will get back to Love Lane near where you started. You should recognise where you are now. Turn left onto Love Lane and look for the original gate you came through to walk back through the field alongside the stream and into the carpark.
And there you have it, did you make it? Let me know if anything is unclear and I will update. I have shared a few of the key points on the walk on this Google Map.
I absolutely loved this spot, as did the dogs!
If you're looking for somewhere to eat after your swim I recommend the High Peak Bookshop and Cafe.
A few things to remember…
There are often sheep in the fields (potentially cows too) so do keep your dogs on leads when walking and be careful
Remember this is in our beautiful National Park. Take all litter with you and try and keep to the paths to lower erosion
Wild swimming can be dangerous, be sure you can handle the cold water before jumping in, especially if the weather isn't that hot
Visit at off peak times to avoid overcrowding
Absolutely NEVER have a bbq here, it is too dangerous for wild fires, often even when you think you've put a fire out it can keep burning, even burning underground causing irrevocable damage to trees and plants!
I would love to know if you visit Three Shires Head for wild swimming and what you think. Honestly the most invigorating and refreshing thing you can do. And, so good for your mental health.
Other posts you might like