6 Places to Visit in Australia in 2018
I visited Australia back in 2012 as a little 'holiday' from backpacking around South East Asia to visit my friend Catherine. It was a break from backpacking to some normality, with home cooked food, films in front of the telly and gossiping with my best mate. I didn't actually expect to love Australia but I did. It could have been the weather, the people, the views (those beaches!) or just hanging with my friend, but I left wanting more… lots more!
In 2018 I am hoping to return en route home from another bestie's wedding in New Zealand… yes 2018 could see a visit to New Zealand AND Australia! Woohoo!
So when Flight Centre got in touch asking me to share their latest infographic with tips for visiting Australia it couldn't be better timed! To add to their handy tips in the infographic below I have listed my top 6 places to visit in Australia for 2018 (basically the places I want to go!)
1. Canberra
This is where I spent most of my time when I was last in Aus and probably where I will spend most of my time next year too. My friend Catherine lives there and though Canberra seems to have a bad rep for being boring, I had a great time and it seems Lonely Planet do too as they have named it Best Australian City for 2018 and in the top 10 Best Cities in the World for 2018!
I'm excited to return and see what else this city has to offer since I last visited (other than my friend's little boy Owen who I can't wait to hang out with!
2. Tasmania
Not sure I will make it to Tasmania this time as it means more flying (which I might be sick of after flying to NZ and Aus) but since hearing all about this find island off the coast of Australia I have been super keen to visit. It has some epic looking white beaches, lush mountains and natural 'blowholes' that erupt with water every few minutes.
3. Mornington Penninsula
This scenic, wine hub just south of Melbourne is a must-visit if you enjoy and appreciate wine. The region is most popular for its light and fruity reds (think Pinot Noir) but it's also home to some great craft beer breweries, too. If you're feeling a bit more adventurous, you can swim with dolphins and do some incredible scuba diving here, or just chill out in the mineral hot springs! Sounds like a dream.
4. Uluru, Ayers Rock
I think this is possibly one of the most awe-inspiring views I can think of. A huge, 600 million-year-old rock which used to be underwater but now sits over 350m above the ground. Wow. It looks absolutely incredible at sunrise and sunset, and the best times to visit are apparently between May and September when the colours of the rock are more vibrant. It's also got some hidden gems too, waterfalls, stunning plants and exotic animals so plenty to explore making it an ideal road-trip stopover.
5. Sydney and the Northern Beaches
Sydney is a vibrant, exciting and stunningly modern city. The food and drink scene is thriving (check out Sophie's round-up of cheap eats in Sydney) and there's all the regular tourist stuff you can do. But, head out of the city and you're in beach heaven. And the best bit? Each beach has its own 'ocean pool'. The ocean pools are unique to Sydney an are usually Olympic sized, seawater pools, as at times the sea itself is too dangerous to swim in. Join the locals and take a refreshing dip whilst the waves crash over you, there's really nothing quite like it! Some of the Northern Beaches also have boardwalks that connect them, so you can combine 2-3 beaches into one day if you pack light and trek from beach to beach along the joining paths. Just keep the sun cream topped up!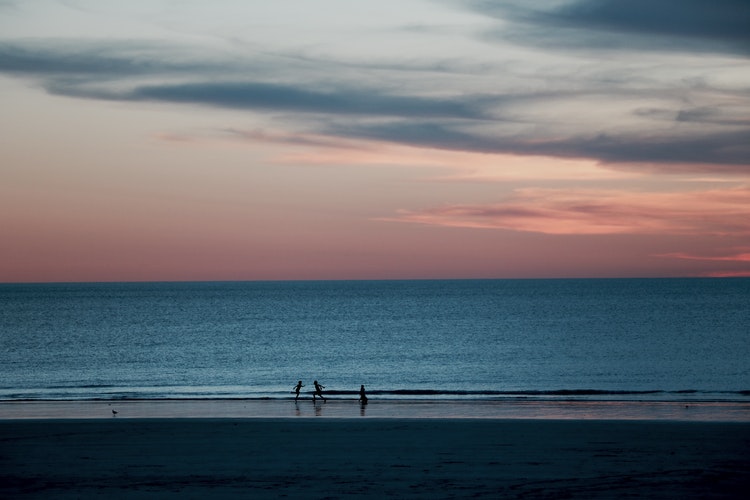 6. Broome
One thing that catches my eye about Broome is the views of the Indian Ocean against the red-earth colour of its beaches. There are two main areas, Broome Town and Cable Beach, both which have their own distinct vibe and things to do and see. The stunning sunset options are literally endless and you can join photography tours, wander around the Broome Markets and also learn about the Japanese history from WWII at the Japanese cemetery.

Brits Abroad: Tips For Visiting Australia from the UK courtesy of Flight Centre
This post was in partnership with Flight Centre so I could share this lovely and helpful infographic. Hope you find it useful too. 
Other posts you might like:
Love this post? The Pin It for later!