Tips for a gap year at any age and WIN a backpack!
Whether you are coming to the end of your official gap year between school and university or you are coming to the end of your youth, or even the end of your working years… It's never too late for a gap year!
I've had two gap years… so far, and I am sure there will be another gap of sorts at some point in my life. Gap years can be anything, they don't have to be typical backpacking across South East Asia… though I do recommend that. Here are a few ideas for Gap Years for people of all ages… and make sure you read to the bottom where you can enter to win a backpack from the Gap Year Travel Store.
Go back to school
I did just this back in my first gap year between finishing school and starting university. Many thought I was crazy, but I genuinely had the best gap year I thought possible … spending a year studying at an American High School.
I went through the English Speaking Union Secondary School Exchange Scholarship, who paid for my whole year in the USA at one of the top boarding schools in the country. The Lawrenceville School was everything I dreamed it would be, I made lifelong friends, had some of the best teachers I had ever had, took part in school plays, travelled and possibly the best of all, spent many a weekend in New York City, just one hour away by train.
If you are currently in 6th form and wondering what to do next I recommend looking into the ESU Scholarship.
If you're a bit older, it's still not too late to go back to school… live in another country and take classes to learn the language, or study for a masters abroad or take a few classes in something you have always wanted to learn about. I am great believer that no education is a waste of time and you're never too old to learn!
Volunteer
Naturally I am going to encourage you to volunteer in your GAP year. Whether it is for a full year or a few months, I recommend going for longer than a few weeks to make the biggest impact to the project you volunteer with.
VSO, where I used to work have some great opportunities from 2 years to a few months. They are currently recruiting for project leaders age 23+ for their International Citizen Service programme. I highly recommend them as an organisation, I'm sure you will be well looked after.
They also do some great sponsored treks, like this one to Myanmar, if you are wanting a shorter gap!
Travel 
Well duh, of course you should travel. In fact the options above all involve travel too. Whether it is a full on long term travel or lots of shorter trips I can't recommend a travel gap year enough. I could write several posts on tips for this alone… but for now how about you just enter my travel competition to win a backpack and then step one (win a backpack) is already sorted 🙂
*This competition is now CLOSED
and the winner is… Alice Megan Wooo congratulations!
This backpack is the perfect size for a long travelling adventure or shorter trips abroad and includes a small rucksack you can zip off for day trips.
To enter to be in with a chance of winning this backpack simply answer the question below in the comments:
What would be your dream gap year adventure?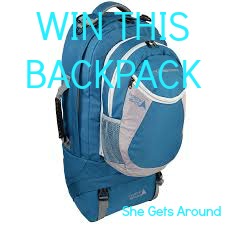 For extra entries you can follow me on social media and share the competition with your friends and followers. See the rafflecopter links below…
Rules and Guidelines
This competition is open until midnight on the 30th May, 2015.
Entries must be from the UK
The winner will be announced on the blog on or shortly after June 1st 2015
The backpack will be posted to the winning entry by GapYear Travel Store
One entry for commenting on the blog and extra entries for using Rafflecopter to follow and share on social media
The winner will be picked at random by me, Jen 🙂
Good luck everyone and I can't wait to hear about your travel adventures.