A Winning Weekend – A lot of love for Brighton and Traverse
I am still on a high from the jam packed tiring but incredibly fun filled weekend I have just had. It isn't normal for me to go through my weekend meal by meal, drink by drink but I had so much fun, in so many great places I think they all deserved a mention… Here is how it went.
Friday night I was sad to be missing out on part one of the networking at Traverse, but with a tasty dinner and intriguing cocktail bar for a surprise birthday bash it was equally hard to turn down.
The ultimate meat feast was enjoyed at The Shed, where we stuffed ourselves with a five course home grown, locally sourced meal at a restaurant run by three rather tasty brothers.
WIN
This was all washed down with some 'suspect' cocktails at Evans & Peel Detective Agency For a different cocktail experience I recommend this secret bar in Kensington, the 1920s décor and grilling from the detective as you enter the dimly lit office before being allowed into the bar certainly beat wrestling for a space at the bar in other places.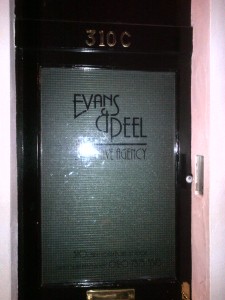 WIN
I think they could have done more to keep the role play alive once you take your seat to make up for the expensive cocktails. Whatever you do, don't order 'Hemingway's Breakfast' the cocktail recipe includes butter!!
FAIL
I do, however, have expensive (and not so tasty) cocktails to thank for my lack of a hangover for the early wake up call for Brighton Saturday morning.
WIN
Arriving at Traverse I was instantly impressed with the professional welcome, organised sign ups for the 10 minute pro bar sessions with some really inspirational people and the free tea and coffee… a wake up sorely needed.
WIN
I went to three sessions over the course of the day, learning lots of new skills and tips and chatting to some equally fascinating people.
First up Frankie's much talked about 'Going Freelance' workshop. Frankie shared her experiences of going freelance 18 months ago, an honest review of what has worked and what hasn't with some great websites and some even better film quotes (see if you can spot them).
Next was Adrian Land's talk on 'Advanced SEO' I certainly learnt a lot about Panda's and Penguins and his talk on Google+ persuaded me that this would be the next social media platform I needed to master. I have since done a little more with my Google+ account so feel free to add me to your circles 🙂
The final training session of the day was by Ruth Haffenden on writing media packs and pitching to PR companies for trips. The important things learnt was that it isn't all about your numbers but real reader engagement and more and more companies are looking for exciting campaigns and additional projects that go beyond just offering blogs in return for free flights, accommodation etc. Think creatively and show how your personal blog and style can bring business to their companies.
WIN WIN WIN 
After a few one on one chats with Matt Preston, Steve Keenan, Jodi Ettenberg and Terri from Google it was time for the best part of the conference… The panel debate, slightly blurred by the easy ordering of #Traversewhitewine #Traverseredwine or #Traversebeer from your seat. A genius idea and one I expect will spread like wild fire and I for one will never give a positive write up to a conference again if this ingenious idea isn't included!
WIN x too many #Traversewhitewines to count
The conference was inspiring, tasty (delicious Thai lunch and dinner), well organised, fun, and informative. It was made even better when I won a weekend in Copenhagen with Go Visit Denmark, along with fellow bloggers Emma from Gohemian Travellers, Macca the Gapper and Marverine from Beer Beauty … cannot wait!
WIN
The weekend ended with a fun (yet hungover) day in the sun in Brighton with my lovely Phil, continuing the winning weekend with an orange starfish and multicoloured kite.
WIN
By the time I got home Sunday I was shattered, but buzzing and I already miss all my amazing travel blogger buddies and can't wait for the next Traverse.
Massive thanks to Michael Ball and Paul Dow and all the amazing speakers, trainers and bloggers who helped make this weekend a 100% WINNER!