Site-seeing in Sydney – The best way!
What are friends for? Well for setting you up on dates with their mates of course! And that is exactly what Sian did for my first night in Sydney. Did she have an ulterior motive, well maybe, she had a date too and needed something/someone to entertain her guest… and entertain me is just what Matt did!
We met in town and instantly hit it off. Being from England too and a well-seasoned traveller like myself we had plenty to keep the conversation flowing all afternoon and evening. It was clear Matt had put time and thought into the date and a mere trip for a pint or two at the pub was (for a very welcome change) not on the cards and the evening was to be filled with seeing the best that Sydney had to offer.
Perhaps with a newbie to a foreign city as his lady to impress he had it easy, compared to taking someone on a date in a city you both know well, but in all honesty guys … take a leaf out of Matt's book … a little effort goes a long way! We have all been 'for a drink date' and they generally aren't anything worth writing home about, do something different and you will be remembered forever as 'the guy that took me on a really awesome date', whether it works out or not.
Matt continued to surprise me with our first stop at the giant Christmas tree in town for compulsory pictures in shorts and T-Shirt (worth writing home about), however sadly Sydney had decided to rain and I was wearing my friend's fur lined coat… I could well have been next to a tree in London. BUT the next stop at the Sydney Opera House reminded me exactly where I was. To get to our next location we took a boat around the harbour, with more compulsory tourist photos under the Harbour Bridge and Lunar Park. The wind was biting and Matt was worried he may have made an error in judgement, but quite the contrary it added a new level of excitement and I had an excuse to put up my big fluffy hood. I have missed the cold!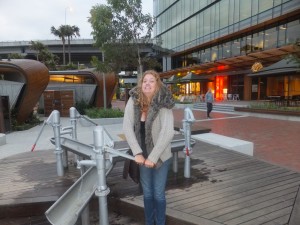 Next stop was 'for a drink' (it's ok to still have this included in planning exotic dates boys ;)) and then to continue the tour on foot through China Town, the world's coolest kids playground (seriously this was a fun stop) and then on for dinner. Again well thought out…I suggested China town but… 'I thought we could go for steak or something equally western as you have just spent several months eating Asian cuisine' … A STEAK date! Now we're talking! This is my kind of guy!
After dinner and a couple more drinks he kindly offered to walk me back to Sian's (a true gentleman) but not before stopping off for a final drink at an English pub for a taste of home and to continue the flowing conversation.
A brilliant evening and I am sure Matt and I will meet again. But sadly the life of a traveller must continue and it is onwards to new cities, new countries … new boys!