Autumn walks through Hill Holt Wood
The last few days have been spent at Hill Holt Wood, as mentioned in Sunday's post, and Autumn only makes it even more beautiful. Spending my days looking out onto the lake while I work is quite the contrast to sitting in a soulless office, as I was just a few weeks ago.
Baxter the Legend has been enjoying many daily walks around the woods, playing in the leaves and sniffing out for any trespassers.
He likes to think he is the only dog allowed at Hill Holt Wood, but as it is open to the public there are occasional 'trespassers' taking walks with their owners in the wood too.
To tell you a bit more about Hill Holt Wood, it is a 34 acre ancient woodland in Lincolnshire, it is open to the public from dawn until dusk 365 days a year. So that's every moment of daylight there is. The woodland is run as an environmental social enterprise and provides education and training to young people age 14 to 19 and runs regular adult training and forestry management courses. Find out more about this award winning woodland.
I have had the privilege of spending much of my childhood growing up here. Paradise found.
I am definitely going to write more about Hill Holt Wood soon. I'm lucky enough to call it home and I believe so much in all the incredible things they do here.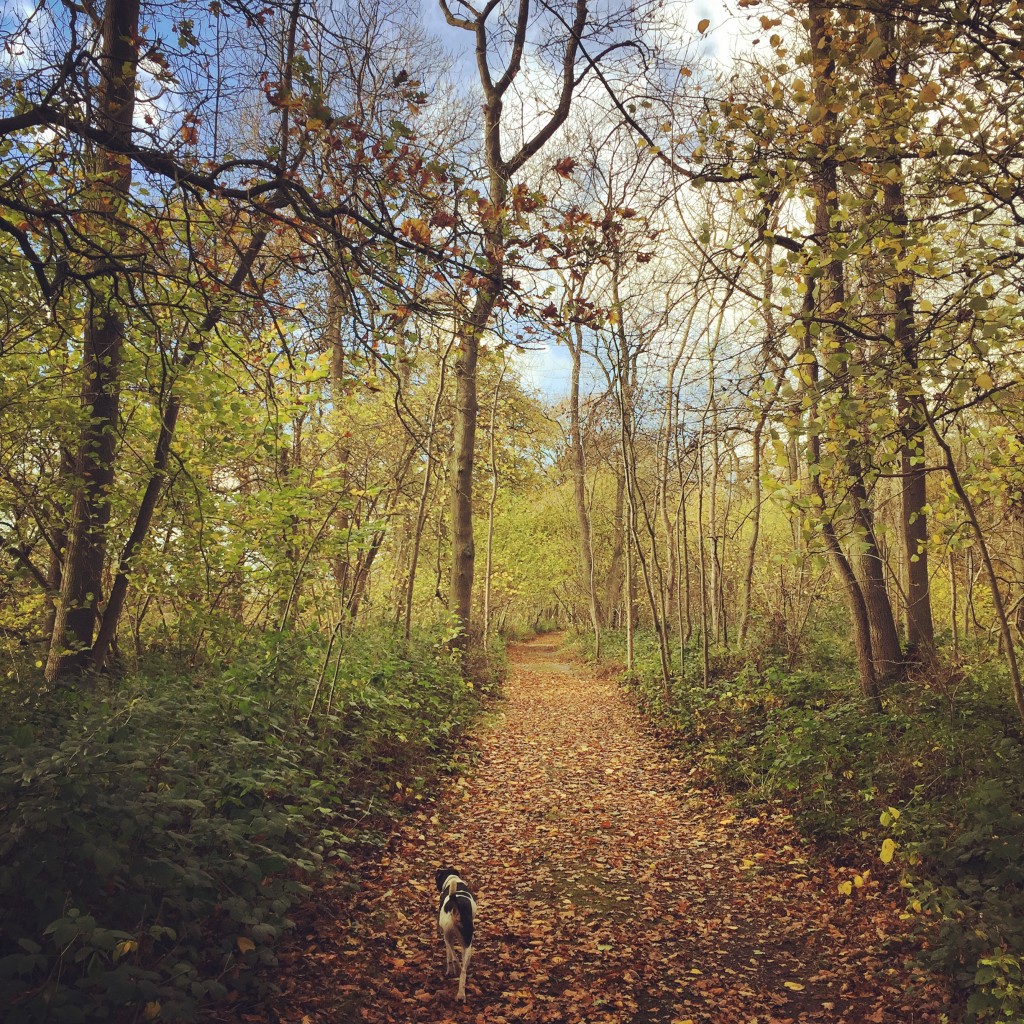 What a beautiful place to be in the Autumn, in the summer, oh and just wait until you see it in Winter!
There is a cafe too called The Hive (only open on Sundays). I was there yesterday tucking into a delicious slice of vanilla cake covered in sprinkles.
On my walks I have been wearing in my new Freet footwear that I was sent to try out last week. They are quite possibly the lightest walking boots I have ever worn. I will be reviewing them properly and offering you guys a fabulous discount very soon, could be a good Christmas present for your outdoorsy friends and family.
Right, back to Baxter, he wants another walk, demanding guy! Time to crunch through more leaves and chase imaginary creatures… and real ones with my pal Baxtie.
Until next time folks x