Filming skills and other tips from #BlogattheBeach
Yesterday was Yorkshire Day and what better way to celebrate than in Yorkshire? It's as if IceLolly had planned their Leeds based event to encourage more people to visit Fabulous Yorkshire for the weekend?
#BlogatTheBeach
Just your average day at the beach?! 'Capture this'? Crazy fun times at #BlogAtTheBeach #BlogAtTheBeachComp pic.twitter.com/hbqI5qx6qn

— She Gets Around (@Jlowthrop) August 1, 2015
The event was kicked off with non alcoholic cocktails, whilst catching up with bloggers old and new. There were a few friendly faces and lots of new faces too. There aren't many travel blogger events up north so it was great to see some of the northern based bloggers I have followed on Twitter but don't often see in real life!
The format was simple, with three training sessions and lots of time for cocktails, food and networking. Each of the speakers taught me something new and had a different style of keeping the audiences attention.
The cocktails from The Alchemist were immense, especially these smoking fruity gin cocktails.
I digress… back to the training…
SEO
Robb Frost from WMG Agency offered lots of top tips from on basic and more complex SEO for your blog, from tagging, headers and keywords to a few great sites to analyse your blog and its ranking, here are a few of my favourites:
And a few simple SEO tips I definitely need to make more use of myself:
guide google to your most important posts by linking to them where relevant in other posts
make sure every post has one 'Header 1' tag that includes at least one of your keywords for the post
your title tag should be 30 – 65 characters
Working with brands whilst keeping your style 
Monica from The Travel Hack never fails to impress with her knowledge of blogging, working with brands and excellent insights into the sector. The top five things she says brands are looking for from bloggers are:
Personality
Trustworthy
Multi skilled bloggers (social media, photography, writing, video, etc)
High stats
A niche
Monica gave lots of other great tips from writing pitches to brands to choosing what brands are the right fit for your blog.
Video editing 
Greg from Travizeo's talk definitely brought about loads of new ideas, his fast paced, engaging talk kept us all on the edge of our seats wanting more information. Greg had asked for questions ahead of time on social media and used this to form his talk. Reading the tweets and firing off his expert advice. Here are just a few of the great tips I learnt from Greg yesterday:
On lighting…
a classic but a goody 'bum to the sun' always use natural light as much as possible when interviewing, filming, photographing, etc
3 points of lighting – key light (main light source), full light (50% intensity of key light to remove dark shadows), back light.
On the future of video…
raw, unedited content is the future
Beme – if you haven't seen it yet, check it out. Caisey Neistat's latest creation for 4 second unedited 'raw' real life footage.
On tools to buy…
there is loads you can do with your iPhone now but if there are a few key bits of equipment you should buy they are; A gimble for steady movement shots to mimic the human eye (Greg recommends the Glidecam HD 2000)
a dishclosh for moving a camera along a table – found in any Pound Stores!
Premiere X or Premiere Pro for top editing software (can pay monthly and get discount if you're a student)
On where to get free/cheap music…
Youtube or Vimeo's video library – loads of free music to choose from
Audio Jungle $20+ per song
Pond 5 – $20+ per song
Audionetwork – $2000 a year for unlimited downloads
And a few extra tips…
attaching an iPhone or GoPro to an egg timer can create a brilliant 350degree time lapse
it's hard to focus on vlogging, blogging and social media in one busy press trip, so if you want to make a video ask for an extra night or two in the destination to provide time for filming
and all round classic tip… Do what you love and you will become an expert and then people will want to hire you!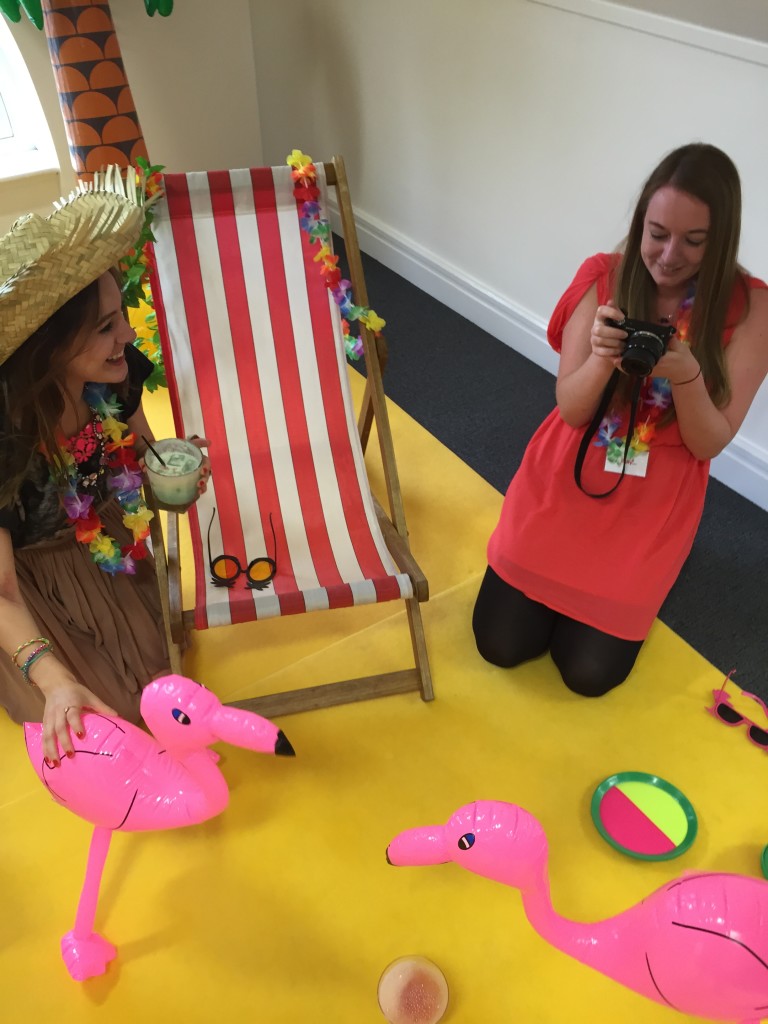 The day was filled with great tips and amazing cocktails, not to mention relaxing on their inner city beach. Thanks to IceLolly for a brilliant day.
To any bloggers I didn't get chance to chat to I was also there for RoomAuction and we are looking for more bloggers to review hotels and the site, so if you want to put your pitching skills to the test get in touch with me at [email protected].