I was brought up with lots of different camping experiences. Wild camping alongside woodland streams after a day's walking, campsite camping in the Lake District, camping at the bottom of mountains, camping at Chatsworth Country Fair… you name it I did it as a young child with my dad. As I grew older I continued to camp where I could, doing the Duke of Edinburgh Award at school, camping parties with friends and weekends away rafting, canoeing and other outdoor adventures.
Though my days of camping are fewer now I am getting 'older' and like a bit of luxury in my life… they are definitely not gone forever! I hope I will still be camping when I'm old and grey, regardless of how rich I MAY be! There is something about sleeping out in the wild, with nothing but a small canvas cover over your head that is special and like nothing else.
When I was asked by Halfords to check out their Ultimate Camping Guide and talk about some of my favourite camping experiences it made me realise it was time to get my tent out of the loft and get back to nature. To inspire me and you, here are my four different camping experiences you must try.
4 different camping experiences to try
Wild camping experience
Nothing but you, your tent, maybe a friend and the wide open world. Whether it is camping in a bivvy bag, camping in the open air with nothing but your sleeping bag, or setting up your tent in a wild open space in the wilderness. You won't find any luxuries you get at camp sites when wild camping. Peeing in the bushes and being woken by the wind or birds is the order of the day… and night.
That said, you can bring a bit of luxury with you. I love camping, but I am not a big fan of sleeping bags. Unless I am hiking a long way with everything on my back I like to take a little luxury with me. Like when I went canoeing in the Lake District. The great thing about canoeing is you don't have to carry things on your back, the canoe does all the hard work for you.
I was recently sent the Night owl washable duvet to try and can confirm I am an absolute convert. It is full fluffy duvet, but the whole thing is washable. So there's no sheets to wash separately or duvet to get stained. You can put the entire thing in the wash.
I was gifted the waffle duvet and a couple of pillow cases and take it everywhere with me. When it isn't on an adventure with me it is by the sofa ready for a cosy a night by the fire. It is soft and squishy and just the right thickness. I recently took it to Centre Parcs with me and it was definitely cosier and comfier than the bedding they provided.
Make sure you leave no trace and take everything with you that you came with and of course no camping on private land.
Fun festival camping
This could be one of my favourites. It isn't so much about being at one with nature, but about fun times with your friends, live music and partying. I went to Glastonbury three years ago and had the best time! I remember the worst part was getting to our camping spot, we had decided to go all out and take pretty much everything but the kitchen sink, so ferrying bags and boxes full of bedding, the tent, bunting (essential), alcohol, food and soo much more across many fields before we found an empty spot was somewhat stressful.
However that stress was definitely worth it for living in the lap of luxury for the 5 nights we were camping at Glastonbury. We brought a large tent which meant we had space, our bunting meant we never lost our tent when stumbling home in the early hours and best of all our blow up mattress and full double duvet and pillows meant going to bed was a dream and I had some of the best night's sleep ever!
I loved Glastonbury and am tempted to try and get tickets for next year. One thing is certain you are never too old for Glastonbury.
Glamping experience
My Glastonbury camping wasn't far off glamping, however having to carry everything myself to the camp site made it not quite the glamping experience you may have elsewhere.
My friend runs a brilliant luxury camping business that is at many festivals in the UK over the summer. The Canvas Co is true glamping at it's best! Power points, king size beds, wooden floors, hampers… you will forget you are in a tent and think you are in a luxury hotel room instead.
Great Glamping places to try in the Peak District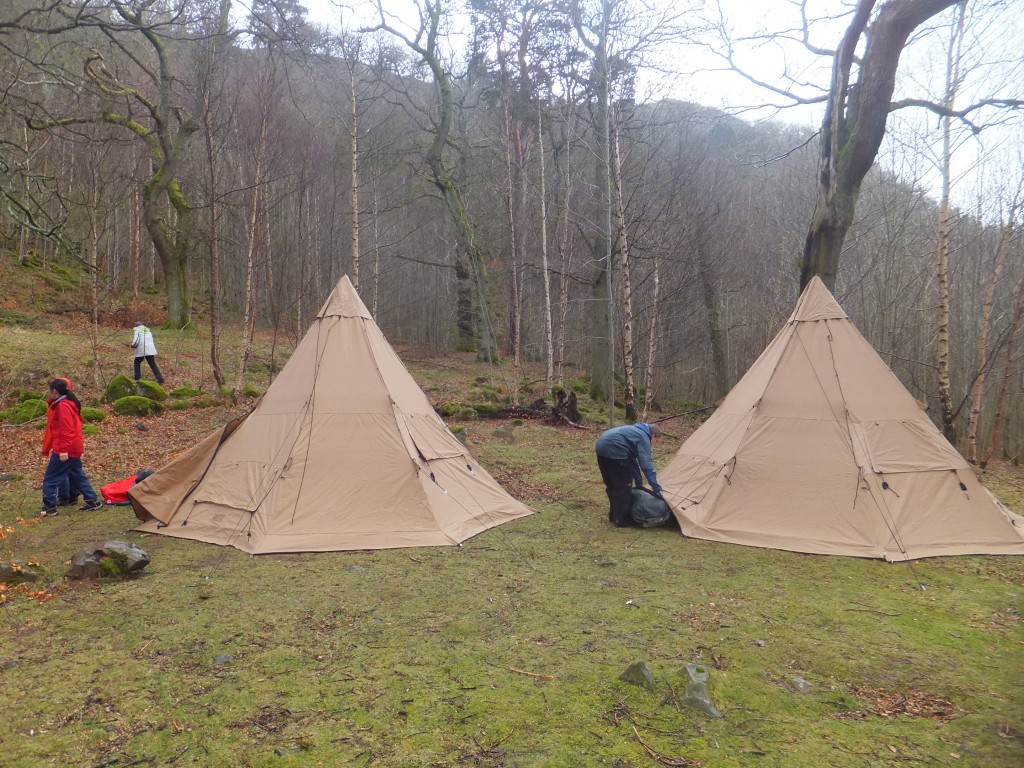 Adventure camping experiences
Adventure camping could mean anything… from camping in a normal camp site after a fun outdoor adventure to wild camping as part of a mountain climbing or canoeing holiday. One of my favourite adventure camping experiences was when I went canoeing around the Lakes with Wilderness Adventures.
Or maybe camping and wild swimming your way around a national park or area of the UK?
We put all our camping gear in the canoes and set off on an adventure. Before the sun set we set up our tipis in the middle of nowhere on the side of the lake, made some of the best camping food I've ever tasted and enjoyed campfire stories and toasted marshmallows.
On the other hand… if you don't feel like camping you can always try a hostel? Backpax Travel have some great options in this blog post.
So have I tempted you? Are you a happy camper? What kind of camping experience do you prefer? Luxury or true wild camping? Halford's guide has loads of tips and information for different camping styles and experiences, from what to take, to where to go. You can download the full guide to take with you on your camping adventure. 
Other blog posts you might like: