Luxury Camping Food – How to Eat like a Queen in the Wild.
When I was informed at the beginning of my canoeing trip in The Lakes that the weekend's food would be vegetarian, gone were my dreams of boil in a bag spaghetti bolognese and chicken curry … and these dreams weren't even particularly exciting dreams, I just thought that was the best it could be cooking in the wild… boy was I wrong. Luxury camping food is a thing. 
My canoe leader Matt had clearly done this before and with little more than some basic knives, pans and a fold up camp fire he cooked us up some delicious meals that left our taste buds both shocked and delighted that such wonders could be made in the wild.
Luxury, easy camping food recipes
Our easy camping lunches
Ok lunch wasn't TOO exotic, smoke salmon and cream cheese or peanut butter and banana bagles were the order of the day, accompanied by mixed fruit and nuts and juice. Certainly fit the bill as it started to rain.
Our easy, luxury camping food Dinner
This is where it gets interesting, a mixed vegetable Moroccan stew with couscous, followed by freshly made apple crumble and cream. Here are the recipes as I remember them…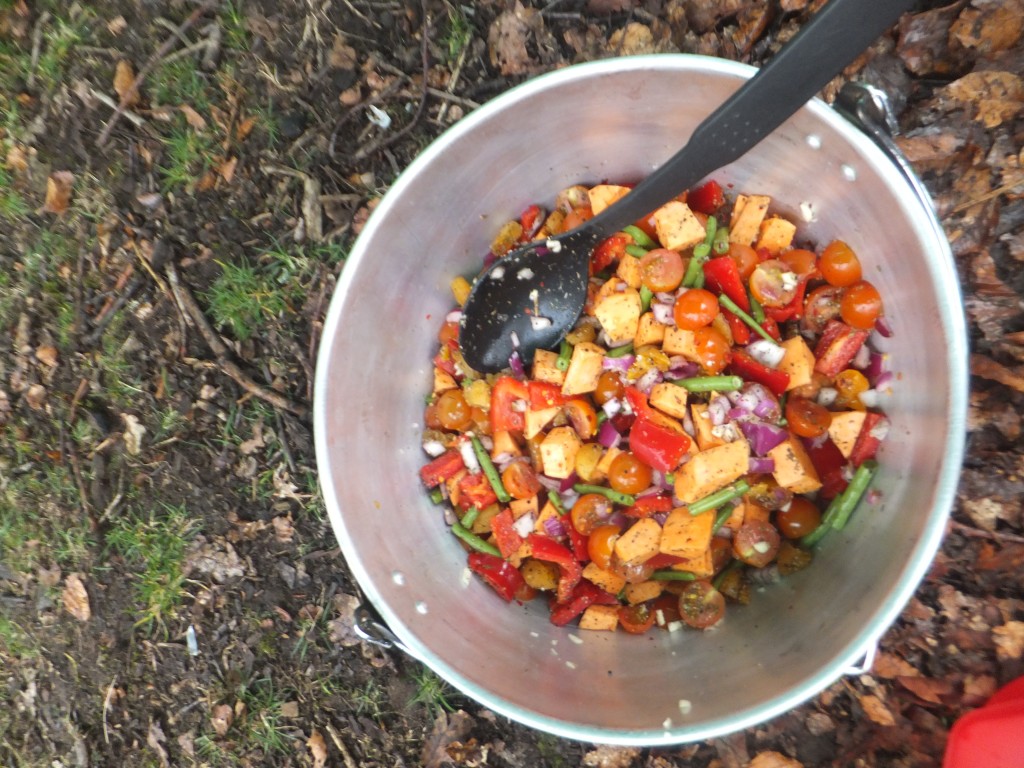 Moroccan Stew
Finely chop peppers, onions, tomatoes, garlic, dried apricots, sweet potato and green beans
put into large pan and add chilli and herbs
add water and stew over camp fire until …erm, until it looks cooked, add chopped almonds (add not long before serving, otherwise they go soggy)
Meanwhile boil water and then take off heat and add couscous, cover and leave for 5-10 minutes until soaked up the water (may need to add more water until cous cous has swelled to twice its size)
Mix stew and cous cous, eat and enjoy.
Easy Outdoor camping Apple Crumble
Peal and chop about 10 apples
Stew in pan, stirring and adding a drop of water
Add in cinnamon or other sweet spices to give flavour
Once cooked add crumble topping (easier to buy ready made topping when camping) and serve with cream.
NB: technically you are meant to cook the crumble topping till crispy but without an oven this wasn't easy. Though mixing it in with the apples worked a treat and was super delish!
Camping Breakfast – Cinnamon Eggy Bread
Cinnamon eggy bread, washed down with hot chocolate… a campers classic.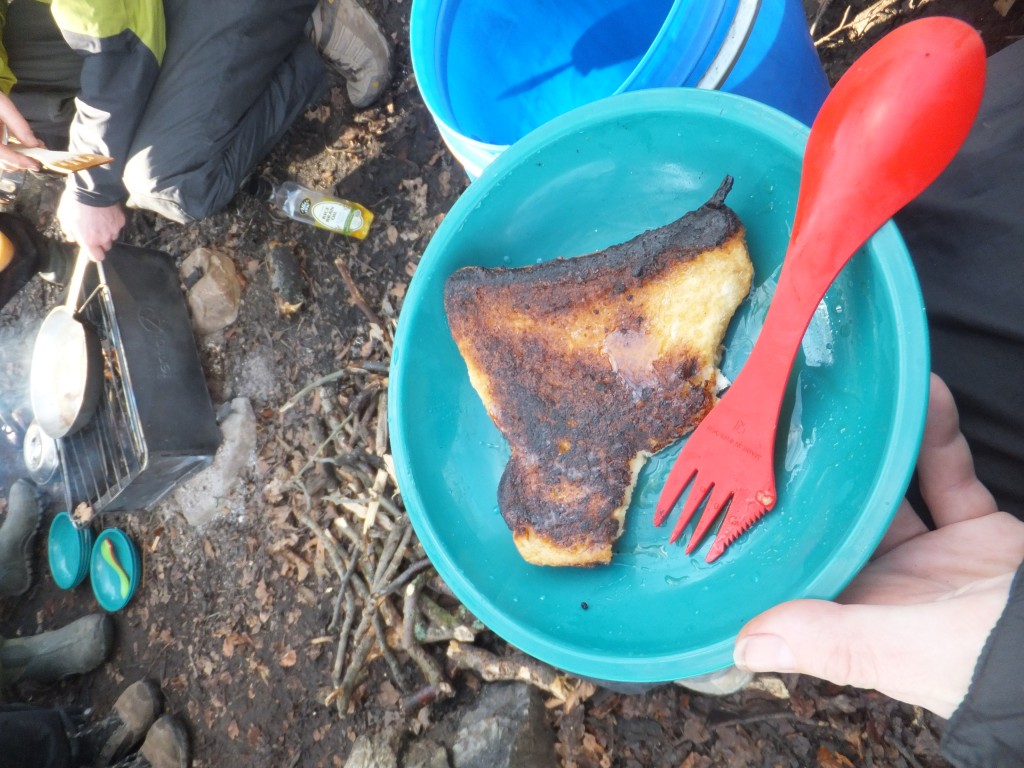 Whisk up some eggs
Add some cinnamon and other spices,
Dip bread into the mixture and fry on the camp fire until egg cooked and golden
Eat with maple syrup
YUM!
I for one hope to be signing up to another canoeing weekend with Wilderness Canoe in the future … though I am not sure which part pulls me in more, the canoeing adventures or the tasty food?!
Other posts you might like