Best dog friendly hotel seahouses – The bamburgh castle Inn
We stayed at Bamburgh Castle Inn, a dog friendly hotel in Seahouses, Northumberland. It was the night before my crazy 10 week 'A Walk in the Parks' adventure began.
I was a bundle of nerves and very stressed as I packed and repacked my bag ensuring I hadn't forgot anything. Also ensuring I wasn't taking any unnecessary weight I didn't need.
We were certainly thankful to arrive to friendly staff and a warm cosy pub after what had been a long journey north.
Cookie, Olly and I were gifted a night at The Bamburgh Castle Inn, by the Inn Collection Group. A perfect hotel by the sea to prepare for 10 weeks of hiking.
The Inn Collection Group specialise in both dog friendly and walker friendly stays. Exactly what I needed when I was with my dog Cookie and we were about to set off on a 10 week hike across all national parks in England.
Best Dog Friendly Hotel in Seahouses, Northumberland
Northumberland National Park was the park I probably knew the least when I started planning our adventure and I was quite sad to discover that it didn't include any of the coast of Northumberland.
If you haven't been to the coast in Northumberland, then I can't recommend a visit enough. Wide sandy beaches travel for miles up to the Scottish border. On a sunny day you wouldn't believe you were on the North East coast of England. The sea may be cold, the weather may often be chilly too, but it is so beautiful. I still have lots more to explore.
So I was glad I got to at least experience a small amount of the coast as part of my adventure, even if it was just a brief walk around the harbour before I hurried back to my room for the final prep.
The Bamburgh Castle Inn overlooks the Seahouses harbour, the boats bobbing up and down and the smell of Seahouses' many fish and chip shops greeting you as you jump out the car. Seahouses is famous for its fish and chips. One restaurant has been listed in the top fish and chips in the UK for the last two years running.
The rooms at The Bamburgh Castle Inn
The rooms at The Bamburgh Castle Inn are clean and cosy with varying sizes and are all en suite. We had a room overlooking the harbour, filled with local framed posters and lots of information on walks and things to do in the area.
They have a large number of dog friendly rooms, with only a £10 additional charge for dogs in rooms. Less than a lot of places I stayed.
The room also has tea making service and biscuits and plenty of space for the many bags I seemed to have accumulated that I had to merge into one 'as small as possible' backpack.
All bookings include breakfast which is great as places generally want to charge extra now. They also do some great dinner, bread and breakfast deals too.
All guests of the hotel get free access to the Ocean Club Health and Leisure complex, complete with heated swimming pool, thermal spas and fitness. I didn't get chance to try it out, but definitely will do next time. It's just across the road from the hotel.
the bamburgh Castle Inn Pub
The pub was buzzing with people when we arrived, the warm orange glow of the light welcoming you alongside the smells of fresh food being carried out from the kitchen.
The Bamburgh Castle menu is filled with pub classics like fish and chips and pie and some more interesting dishes like Thai Mussel Broth or Cauliflower Fritters. The pub is dog friendly with a smaller non dog friendly restaurant area for those who don't want to be around dogs.
As a dog lover and owner I do love the 'dogs as standard' approach and non dog areas being the minority.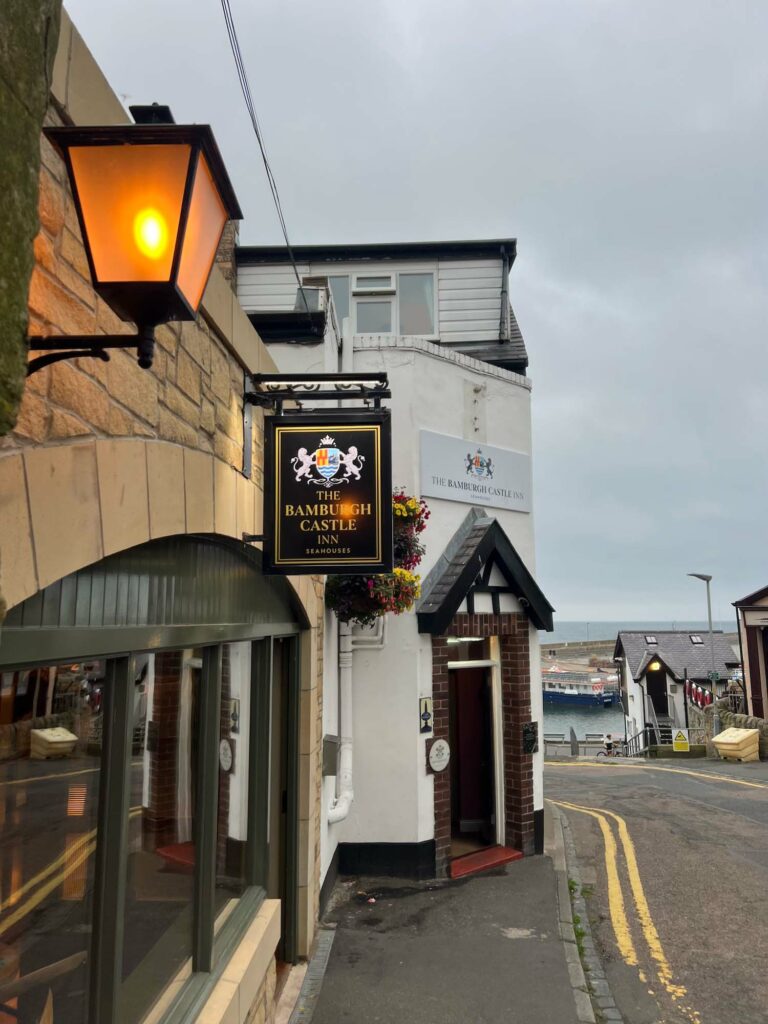 What to do in Seahouses
Whether you're staying for a day or a week there are plenty of things to keep you busy in and around Seahouses. Here are a few of the best things to try.
Visit the Farne Islands – visit the 15+ islands off the coast on a boat trip and enjoy seeing the puffins, bird life and even grey seals
Have a beach day – As mentioned above the beaches along this coast line are absolutely incredible. Whether you're wrapped in scarves and hats and enjoying the sea air, or braving the sea for a dip on a sunny day, a walk along the beach is a must
Go diving – I was surprised when I learnt Seahouses is one of the best places to go diving off the UK coast. It may be cold but the sea is clear and there is lots of underwater life to see.
Visit Bamburgh Castle – It is just up the road from Seahouses. The building and grounds are well worth paying to visit and they have lots of events on throughout the year too
Visit Holy Island of Lindesfarne – there is a road when the tide is down to drive to the island, but make sure you check the tides and don't get stuck there.
Visit the National Park – It's only a 40 minute drive to the edge of the park and there are endless walks to try, including much of the Pennine Way.
Let me know if you decide to visit this dog friendly hotel in Seahouses. It was a perfect stop before the hiking began, I wish I had more time there and will definitely be ticking off more of the things to do in and around Seahouses next time I visit.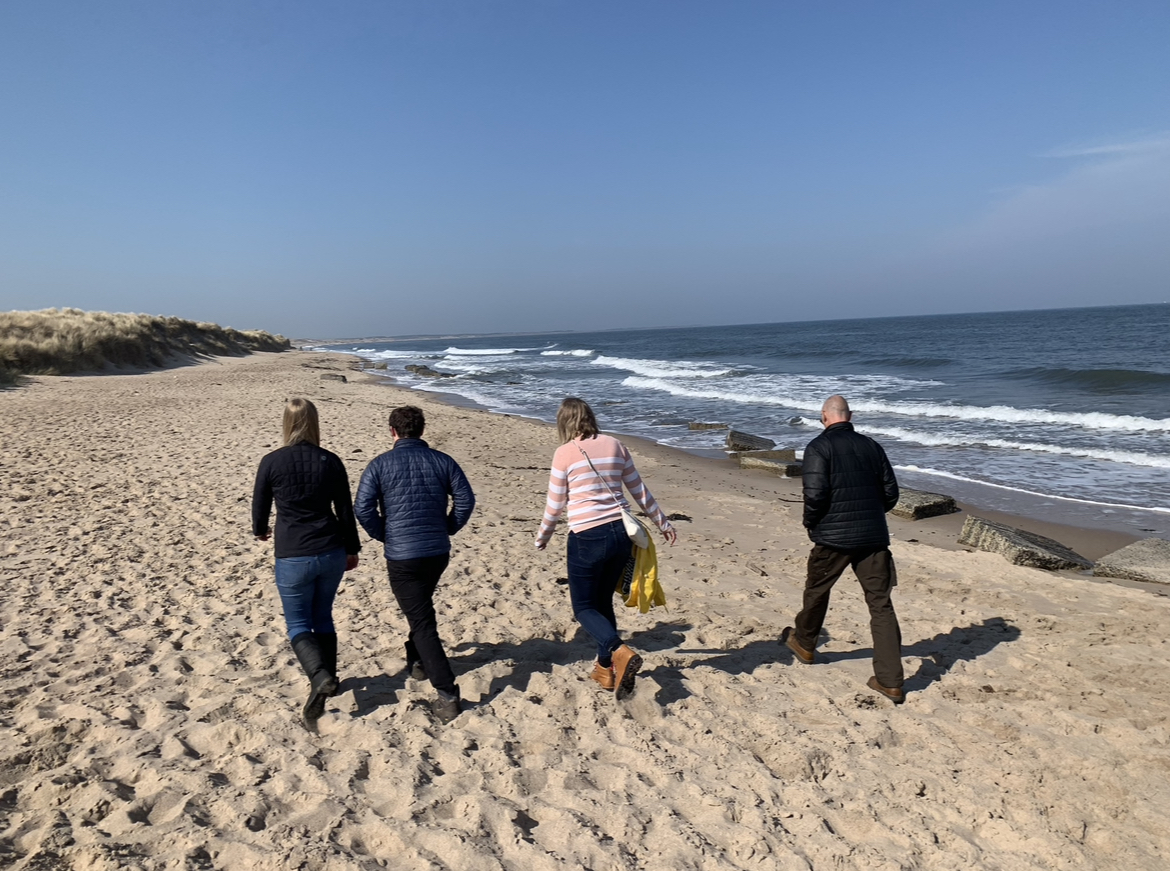 Other posts you might like