The best off-grid cabin retreat in County Durham – Crowdy Hall
Are you looking for somewhere remote, cosy and perfect for an off-grid cabin retreat in County Durham?
I visited Crowdy Hall earlier this year and had a brilliant digital detox retreat. Their off-grid glamping style wooden cabins are set in 200 acres of pasture and denes. We visited the first week of January and it was the perfect way to start the New Year… by switching off from all things digital and enjoying getting close to nature while planning my goals for the year.
Imagine sitting on the comfiest bed you've ever slept in while you sip your first cup of tea of the day, the fire is just warming up as you look out to the endless fields beyond. Such a calming way to start the day.
We arrived to Crowdy Hall as the sun was beginning to set, driving through the fields and parking a short walk from our cabin. The sunset reflected in the windows as we went inside to explore our cabin.
I knew as soon as I arrived, two days wasn't long enough. I needed a week, a month!
ad: I was invited to review Crowdy Hall cabins for my blog, but everything I share is true and honest of our experience.
The best off-grid cabin retreat in County Durham
The off-grid wooden pod style cabins are bespoke and made to feel luxurious, whilst still feeling rugged and welcoming. Crowdy Hall currently has three cabins, each in their own private space, so you could go your whole stay without seeing another soul.
They have decking, with chairs and a fire-pit to enjoy when the weather is good, or if you're there in the winter stay inside and get cosy.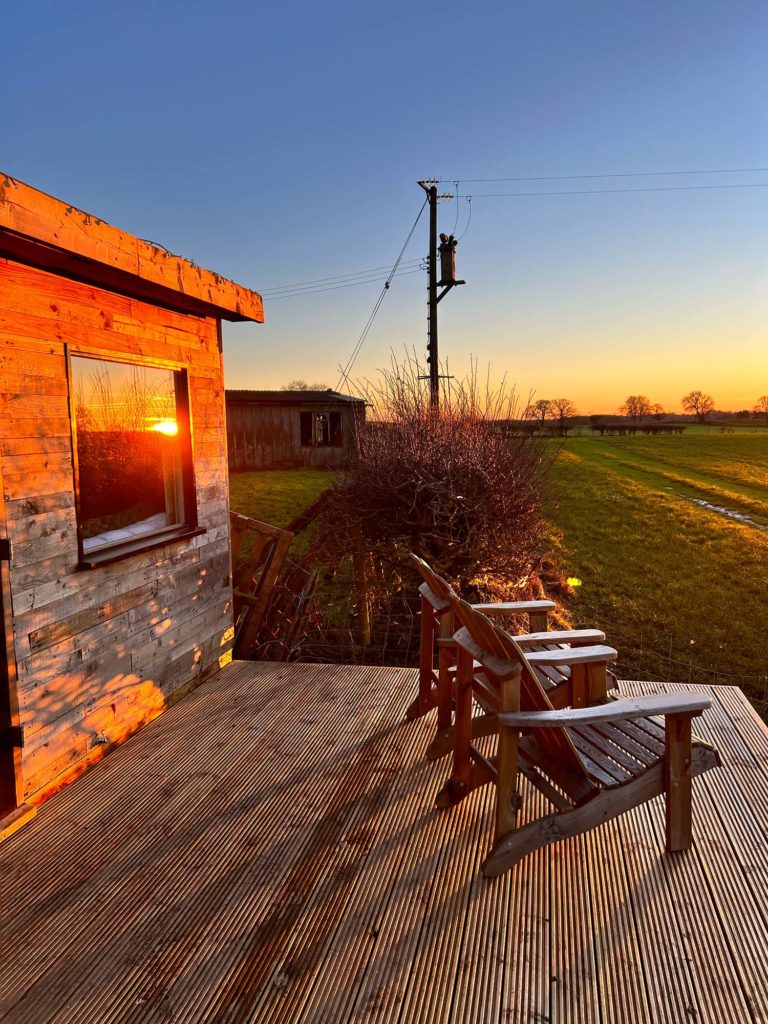 What are the off-grid cabins at Crowdy Hall like?
The cabin felt cosy as soon as we entered, they've thought of all the small details form how the mini kitchen area is laid out, to ensuring the bed is the best possible.
The bed, oh my goodness, I had two of the best night's sleep. It was an incredibly comfortable and cosy mattress, with a big heavy duvet and plenty of pillows. I was in bed heaven.
The first thing we did when we arrived was light the tiny fire, it didn't take long to warm the place up, before cuddling up on the sofa with a good book.
The off-grid cabin includes an en suite bathroom with a hot shower, sink and toilet, and the kitchen area has a gas hob and a sink and draining board made from an old mop bucket. I loved the quirky touches like this that made the stay feel unique and extra special.
The kitchen has everything you need, with plates, glasses, bowls and utensils. There isn't an oven, but you can cook or heat up many things with a couple of gas hobs. We even heated up our pudding we'd brought with us on the fire which worked really well.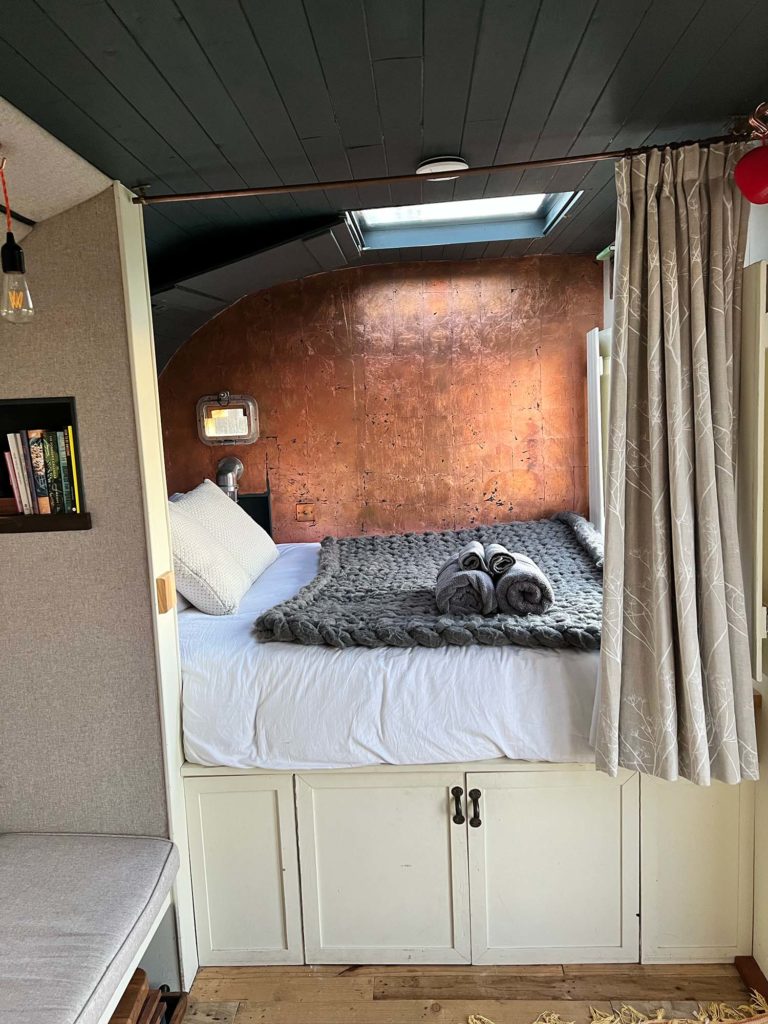 The cabin includes books and games to play, including chess, cards and a notebook and pencils to get creative. There is even a box for you to put your phone in, if you want to go full digital detox.
The cabins are off-grid, meaning the power is supplied through batteries, gas bottles and the fire you have to light yourself for heating. They provide bottled water to drink and then there is plenty of running water for showers, teeth brushing and washing the pots. There's also hot water bottles to keep you warm in bed, but even though we were there in January we didn't need them and the fire gave us plenty of warmth.
The toilet is an incinerator toilet, meaning it basically burns everything. I hadn't seen one before, and other than putting a paper bag in the loo before you go (for 1's and 2's) it was like using a normal toilet.
I loved every moment here, felt so at peace and could've honestly stayed here reading and drinking copious amounts of tea for days. A perfect off-grid cabin retreat.
What is a digital detox?
A digital detox is a chance to turn your phones, laptops and any other digital devices off and see just how well you can manage without. We are constantly available, constantly checking our phones for messages, emails, social media notifications. A full digital detox is a chance to take back control of your time. It isn't easy when you're used to being 'on' all the time, but the benefits are huge.
Alasdair and the team at Crowdy Hall do encourage you to really switch off from the digital world and have a full digital detox, off-grid retreat. I decided to take up the challenge and turned my 4G off for the two nights we were there. I did keep my phone on for the photos, but otherwise I focused on reading, playing board games with Olly and getting my pens and notepad out for new year goal setting.
It took me a while to stop checking my phone every few minutes to see if I had missed any messages, but once I had started to get used to it I realised just how much more time I had.
I read 3 books in 2 days, did some goal setting and still had time to cook, play games and chat to Olly and we had a couple of trips out in the local area.
A digital detox can help you destress, find time to really be present with the people you are with and brings a sharper focus to whatever task you are doing.
I really recommend taking regular time away from your phone and Crowdy Hall cabins are the perfect place for a proper digital detox in nature.
Best things to do near Sedgefield, Durham
Crowdy Hall is a few minutes from the town of Sedgefield, though we spent a lot of our time just relaxing in our cabin, we did head out to explore, so here are a few tips for things to do around Sedgefield.
Walk around Hardwick Park
Hardwick Park is a country park only a few minutes drive from Crowdy Hall. It is free to get in, you just have to pay for parking. There are gentle easy walks around the park and lakes that include different nature trails to follow. The park has a cafe and during school holidays there are events for kids too.
Try a bit of axe throwing
We didn't try this, but about 20 minutes from the cabin is 'The Axe House' if you fancy your hand at a bit of axe throwing. A digital detox and axe throwing is sure to help lower the stress levels!
Visit the city of Durham
Durham is a beautiful city about 25 minutes away and worth a day trip if you're staying for a few days. Incredible architecture, history and places to eat.
Get dinner at the Dun Cow Inn
There are lots of different options for lunch or dinner in Sedgefield if you don't fancy cooking back at your cabin. Though the cabins are dog friendly, many of the restaurants in Sedgefield weren't, so we didn't get to try some of the places we wanted to.
We did eat at the Dun Cow Inn, which had hearty pub food in a large but cosy traditional pub. There was a big menu and friendly staff and we both enjoyed our meal after a day of walking.
Grab a drink at The Impeccable Pig
We had hoped to eat at The Impeccable Pig, who do allow dogs in their bar area, but they weren't serving food the night we were there. Worth a visit though, either just for a drink or full dinner. The decor was great too.
There are lots of other ideas of things to do nearby on the Crowdy Hall website. You're also not too far from the sea for a sea-swim or walk on the beach. We stopped in Staithes on our way home which is a gorgeous seaside town on a hill.
I absolutely loved our stay at Crowdy Hall. It was the perfect way to start the year, space and time to think and plan for the year ahead and just switch off from the constant requests on my phone and laptop. The cabins are luxurious and cosy and have everything you need for a little rural escape. Crowdy Hall really is the best off-grid cabin retreat in County Durham and for miles around.
Other posts you might like