The best luxury beach accommodation on the south coast #ad
If you're looking for something a little different and a literal stone's throw from the beach, then the Beachcroft Hotel really does have the best luxury beach accommodation you can find.
I stayed in one of the Beachcroft Beach Hut suites as part of the Shore to South Downs Activity retreat and honestly can't fault this luscious accommodation.
The Beachcroft Hotel is situated just off the beach in the village of Felpham in West Sussex. The hotel is independently owned and has 37 en suite rooms, plus a penthouse suite and four Beach Hut suites.
The Beach Hut Suites are right on the seafront, I could have quite happily spent a week or more there listening to the waves outside the door, whilst I sipped a chilled glass of rose with my book. Am I tempting you? Read on to find out why this is the perfect place for a luxury UK seaside holiday.
I was staying here as part of a gifted stay and activity retreat, however, as always, all opinions are 100% true and honest.
The best luxury beach accommodation on the South Coast
When I usually think of a beach hut, I think of the colourful wooden huts lining the beaches with little more than space to get changed and store your deck chairs. The Beach Hut Suites are very different to this, from the moment you arrive and put your feet on the heated floor, to every detail inside the suite, there's everything you will need.
I felt like I was living my dream seaside life and the best bit… the beach hut suites are dog friendly, so Cookie was welcome and made to feel at home too.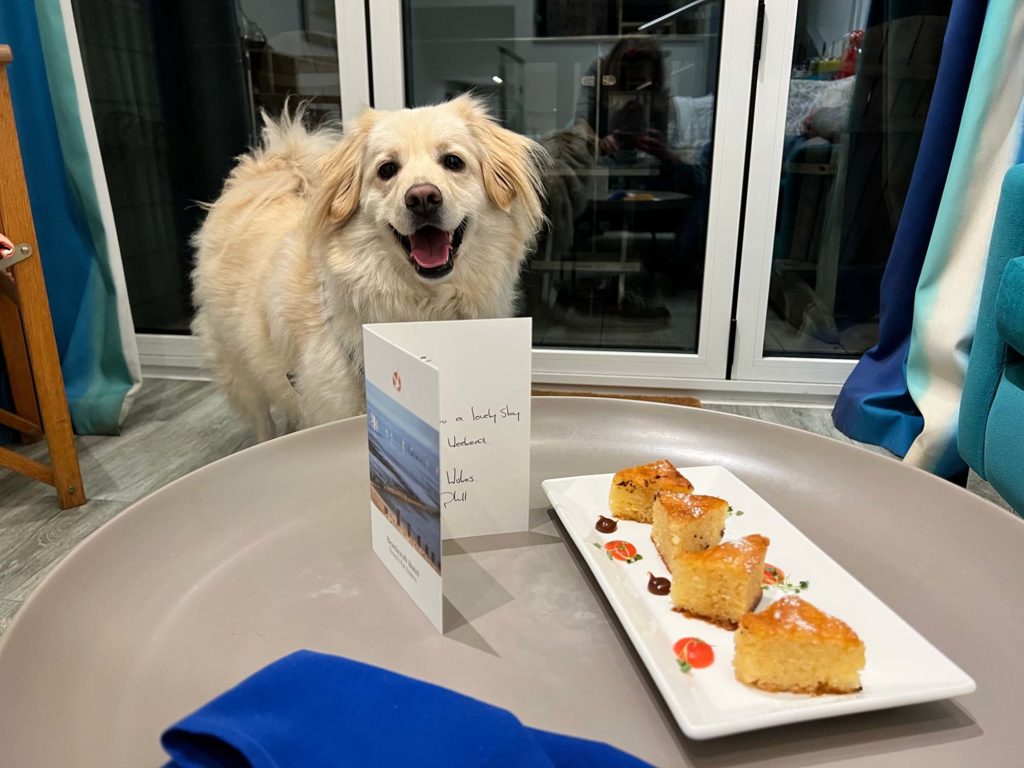 What the Beach Hut Suites are really like
The Beach Hut Suites are modern, whilst still feeling cosy. The underfloor heating and big corner sofa means you can get cosy whatever the weather.
Everything is finished to a high standard, with a Smeg fridge, coffee machine and kettle, to the plush king size bed and fluffy pillows.
As you enter the beach hut from the car park, there is a kid's bunk bed room on the right, next door to the bathroom. With a round porthole window the bunk bed room is fun and perfect for kids (though you could also fit a couple of friends if you wanted).
Up the stairs you come into the large high ceiling main room with a mezzanine bedroom area. There is an in built wardrobe area that includes an ironing board and other useful items should they be needed. There are also two TV's, one by the bed and one in the main area opposite the sofa.
I loved all the seaside themed artwork, it was a colourful happy place to stay and I could easily stay here for a week or two.
There isn't any cooking equipment, but you can order room service to your room, including breakfast! There's also a few takeaways that deliver too.
My favourite part of the beach hut suites was definitely the balcony. It felt like you were sat on the beach, without the annoying pebbles. They left us a bottle of wine in the room and the balcony was a perfect spot for a chilled glass of rose as you watch the sun go down.
Facilities and food at the Beachcroft Hotel
The best thing about the Beach hut suites was that you have your own space, whilst still having hotel facilities. Such as the heated indoor pool, which made a warming change after a cold dip in the sea.
They also have the brilliant Tamarisk restaurant with a changing and varied menu and a great bar area too with a bar menu, pool table and plenty of games to borrow. There's live music too, including jazz Sundays.
In the warmer months they have Blake's beach bar and terrace where you can enjoy cocktails, pizzas or even afternoon tea on the seafront.
Best things to do in and around Felpham
Felpham is just on the edge of Bognor Regis where you can enjoy what the local town has to offer. Here are a few of my favourite things to do near the Beach Hut Suites.
Listen to live music
Alongside the Beachcroft Hotel's live jazz and occasional other live music, there are bars and cafes nearby that often put on a show. We walked along the beach after dinner one evening and heard a fun Indie band playing in a nearby pub and I'm sure whenever you go there will be something fun on to listen to.
The Shore to South Downs Activity Retreat
If you really want to make the most of your visit to Felpham and the beach huts, then sign up to one of their Shore to South Downs activity retreats.
You will enjoy a brilliant few days of adventure, luxury and delicious food and you don't have to plan a thing. It's a perfect way to make the most of a trip away, without any of the stress of planning logistics.
Read my full review of the Shore to South Downs retreat.
Go for a sunrise sea swim
Are you a sea swimmer? I love a cold water swim and when we visited Felpham, even though it was November it was absolutely gorgeous weather.
We were treated to a glorious sunrise on our first morning and though I had said I was having a lie in, I saw the sunrise and knew I had to go for a morning dip.
It's moments like this when you remember just how beautiful our home country is. I generally associate epic sunrises and sunsets with California or Bali, but really we get them all the time right here at home. We just need to get out of bed in time!
Walk to the Beach cafe Littlehampton for lunch
As part of the Shore to South Downs Activity retreat we visited the Beach cafe in Littlehampton and I absolutely loved it. Though we drove there after a morning of cycling with Marmalade MTB, Olly and Cookie walked along the beach from our beach huts. It was about 6 miles, but on a glorious sunny winter's morning it was a lovely walk to lunch.
The Beach cafe has a brilliant selection of foods, cakes and drinks right on, you guessed it, the beach! They do loads of different events and activities, from morning yoga, to art exhibitions and music nights.
They also have a range of water sports you can try including, paddle boarding, kite surfing and wing foil. They really have built a wonderful little community there and I love it.
Head into Arundel for the day
On our final day we headed in Arundel which is about a 15 minute drive away. It is a a gorgeous market town filled with history and incredible buildings. Including the spectacular Arundel Castle you can see from miles away.
There are lots of cafes to enjoy and I made a beeline for the bookshop, obviously!
Our stay at the Beach Hut Suites was everything I had hoped and more, it really is the best luxury beach accommodation on the south coast. They really had thought of all the little touches you want for a brilliant stay, the staff were really friendly and the location right on the beach was absolutely perfect.
Let me know if you decide to stay. More information on the Beachcroft Hotel website.
Other posts you might like