5 Successful Female Entrepreneurs Who Inspire Me
As International Women's Day unfolds, I thought I'd share 5 women who keep inspiring me to be the best I can be, and continue to show me how we can all be successful entrepreneurs, regardless of what life throws at us.
I'm so lucky to have a whole family of entrepreneurial women, and it would be wrong to not have the majority of my top 5 be family members. They constantly inspire me, encourage me and teach me how I too can be successful in business… whilst still doing so many other things.
Here are my top 5 successful female entrepreneurs who inspire me
My mummy – Roma Bothamley
My mum has to be at number one, she may not always know it, but my mum inspires me every day to be the best I can be. Mum has grown over ten deli/cafes, which she has then sold as successful businesses to budding entrepreneurs.
Not only does mum always grow a thriving business, with regular customers, fun events and delicious food, but she also helps build the community around them. Often starting shops in towns that people had given up on and helping develop positive community spirit again. Shop local is a motto I have grown up with and I will always believe in the power of small independent retailers to make a village, town or city unique and successful.
Mum has also brought me up to be an independent woman and that is most definitely what I am! Whether it was making me catch the bus to a friend's party as a teenager, rather than taxiing me around, or buying me a washing machine for my 13th birthday so I can clean my own mess! Mum has trained me well and helped make me the independent strong woman I (mostly) believe I am today. Mum is a strong independent woman, even though she married my wonderful stepdad just two years ago, and she can be confident in knowing that I am too! Thanks mum x
My gran – Iris Bothamley
Grandma is another woman who probably doesn't see herself as an inspiration to me. At the grand age of almost 89, she is most definitely still going strong and the epitome of an independent woman. Until a few weeks ago she was still driving, she lives alone and cooks her own dinners and other than a cleaner once a week and a gardener, grandma is very much self-sufficient. Not bad for nearly 90!
Grandma became an entrepreneur in the days when it was so rare for a woman to be running a business alone, but grandma started her first business in her 20s, a small fish and greengrocers shop in Langley Mill. Grandma often tells me of those brilliant days, where she would wake up at 4am to go to the market and get fresh fish to sell in her shop. The year when she got to upgrade her car three times business was SO good. In fact, it was her success at business and I'm sure her beauty that led my grandpa to show an interest.
After being encouraged by my grandma and her mum to buy the shop next door, they quickly became competitors and not long after husband and wife. If you're interested, remind me to tell you the story about the tomatoes… it cracks me up every time! Oh, the fun they had in business. They went on to set up numerous business together, you can see where mum and Tim get it from!
My step mum – Karen Lowthrop
I've been lucky my parents each chose top partners after they divorced and I love both Karen and Tim dearly and couldn't ask for greater inspirations and step-parents.
Karen is another example of an inspiring entrepreneur, growing Hill Holt Wood, an environmental social enterprise, to amazing heights, helping countless young people along the way.
Karen has been given both an MBE and honorary Doctorate for her contributions to social enterprise, and though she isn't CEO of Hill Holt Wood anymore (after stepping down for new adventures last year), she continues to encourage others to get involved in social enterprise and does a lot of work in the sector. An inspiration to so many.
Monica Stott – The Travel Hack
Moving on from family, my friend and fellow travel blogger Monica is such an inspiration to me and my blogging career. Monica started her blog after me, but after leaving her job to go it alone, she quickly grew her blog to be one of the best in the country.
Mon has had all this success, all whilst having not one but two little boys AND renovating her home. Quite an achievement! And proof you can keep growing your business and being successful when you have kids. I'm not ready for children yet, but I know if/when I do have them I want to do it like Monica (and my mum)!
Alongside her blog Monica started a brilliant blogging course I can't recommend enough (I was one of her guinea pigs), its way cheaper than most of the courses out there but still has all the knowledge you need to grow your blog like Monica has.
Did I mention she also has a dog… a third child! This is Louis.
Carrie Green – founder and author of She Means Business
Carrie is the only one on my list I don't really know personally, though feel like I do. I have met Carrie twice, at a Christmas party and last week at the launch of her awesome book and she certainly seems lovely and is a constant inspiration so I had to include her on here.
Carrie founded The Female Entrepreneur Association, the only online membership organisation I pay for and it's worth every penny. Filled with inspiring women, workbooks and knowledge it is my go-to place for questions on business or a place to share my business wins in a group of supportive women.
Last week Carrie launched her new book 'She Means Business' and I have already almost devoured the whole thing. It is filled with down to earth advice and real-life examples of how to grow a 'wildly successful business' and I highly recommend a read. I feel like I've read all the female entrepreneur books out there (there aren't many), so to get a new one as good as this made my year!
BUY: She Means Business: Turn Your Ideas into Reality and Become a Wildly Successful Entrepreneur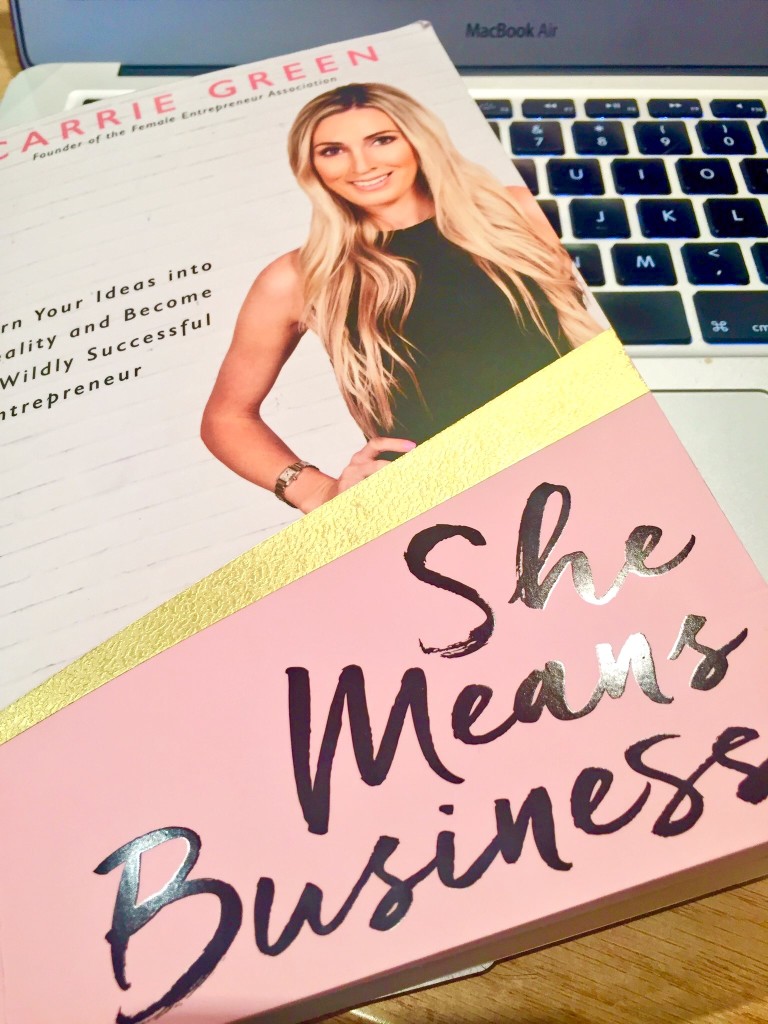 If you're thinking of writing a book as a female entrepreneur… do it! I can assure you I will certainly but a copy!
So there you have it 5 women who inspire me right now. There are so many more, from friends to family to complete strangers who inspire me every day.
Some people ask why we still need a day like 'International Women's Day' and though it is easy to see how far we have come, there is still so so far to go to achieve the true equality we need.
I would love to hear what women inspire you to be the best you can be?