101 Fun Things to Keep the Kids Entertained at Home
Today's guest blog is from the wonderful Carla Dee, sharing her 101 fun things to keep the kids entertained at home. I met Carla at the end of last year at Derby's Happy Cafe where I gave a 'Feel Good Do Good' talk.
Carla is one of life's smiley happy people and lives her pink brand LoveLaLaLand through and through. She is also an amazing artist who creates colourful cards, stationary and personalised portraits over on her Etsy Store.
Carla Dee has two kids and is definitely an expert in FUN for kids (and adults) so what better person to write a follow up to my 100 fun things to do at home post. I certainly wasn't going to be writing about entertaining kids… erm throw them a chocolate bar?!
Carla Dee – Guest Blogger sharing 101 Fun Things to Keep the Kids Entertained at Home.
Stuck indoors and not sure what to do with the kids? I've made a list of 101 fun things to keep the kids entertained (and the big ones!). So we can live our best lockdown life… and stay safe and sane!
Here's a list of our favourites, some good old-fashioned activities and some exciting new things to keep boredom at bay, you will be able to keep the children entertained for hours with this lot.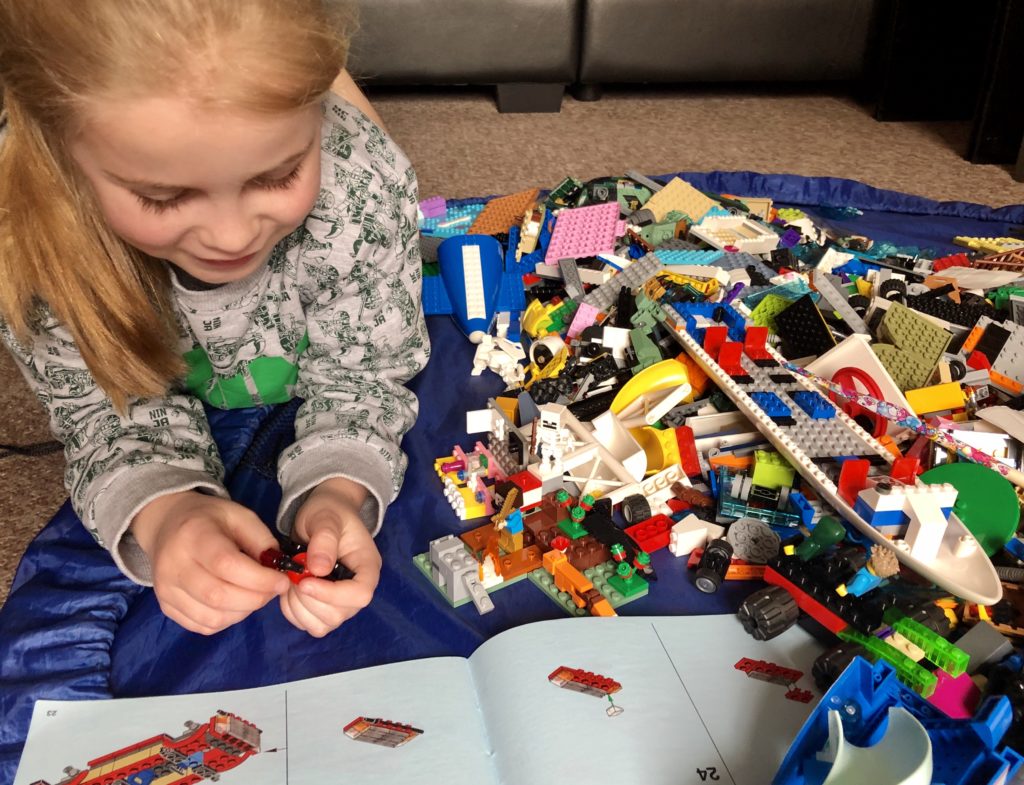 If you've got any more ideas, let me know in the comments!
101 Fun things to keep the kids entertained at home.
Make chalk drawings on the pavement in front of your house or patio
Play charades
Do a puzzle
Play a card game, we have lots of favourites… Patience, Dobble, Uno or Top Trumps
Make an obstacle course, Ninja Warrior style!
Do some finger painting
Have a movie night with popcorn and ice cream
Blow bubbles and chase to pop them
Plant seeds and watch them grow
Get the water pistols out and get soaked
Have a teddy bears picnic
Have a DIY pizza night
Make a wish jar of all the things you want to do but can't at the moment then make it your bucket list after lockdown
Have a kitchen disco with glow sticks
Put a tent in the garden or make a den inside and use a torch
Build a Lego world
Make your own playdoh (salt doh)
Have an Easter egg hunt
Make a movie with your family in it
Visit a virtual zoo or farm online
Make a robot out of cardboard boxes and loo rolls
Make a sock puppet and put on a show
Make a pattern using potato printing
Play balloon volleyball
Make some leaf rubbings
Have a scavenger hunt
Make your own comic book
Have a sports day
Make playdoh shapes with cutters
Have a pamper session, put cucumber on your eyes and paint your nails
Video call the grandparents or other friends and family
Play schools with all your favourite toys as pupils
Bounce on the bed… parental supervision advised!
Make a fortune teller
Do a science experiment
Make paper airplanes and have a competition whose flies the furthest
Play computer games, we like Mario Kart
Make a drum kit out of pot and pans and wooden spoons
Dress up as a princess, pirate, superhero or swap clothes and dress up as each other
Have a pyjama day and snuggle under a blanket
Make a tall tower then knock it down
Paint a family portrait
Make a card and send it to someone special
Make ice lollies from water and squash or real fruit
Play rock, paper, scissors
Have a midnight feast (not really at midnight, it's important to get the pesky kids to bed and enjoy your evening… but as soon as it gets dark!)
Dance while playing musical statues or musical chairs
Play pie face with bubbles in the bath
Play hide and seek
Have a singalong to your favourite songs
Learn origami
Have donkey rides around the house
Play a board game, our favourite is Junior Monopoly
Play marbles
Make a stop frame animation with mini figures
Play blinds man buff
Learn a magic trick
Watch the clouds go by, what shapes can you see?
Make a pirate's treasure map, hide some treasure and then get someone to try and find it
Make a music rice shaker
Play the floor is lava
Pretend to be at the hairdressers (you could colour your hair with tissue paper!)
Make a playlist of your favourite songs
Rewrite a story of an old children's classic
Watch some funny videos on YouTube
Make a collage from magazines
Play shops and be the shop keeper
Make a marble run out of cardboard tubes and tape
Play what time is it Mr. Wolf
Read a joke book
Make a time capsule
Watch a TikTok and learn a dance routine
Play I spy
Make a crown
Have a game of indoor bowling or tin can alley
Make friendship bracelets
Have a pillow fight
Br silly with selfie Instagram filters
Have an indoor PE lesson… we like Mr. Motivator, old skool!
Make (or buy plain) biscuits and decorate them
Race cars down a ramp and see who wins
Play doctors and give someone a check-up with loo roll bandages
Make slime with added glitter and sparkle
Try the bottle flip challenge
Play dominoes at the table and pretend you're in the pub… beers for the grown-ups/pop and salty crisps for the kids!
Make up an invisible friend, the more the merrier, there's room for everyone!
Run a tuck shop
Play spies and sneak around the house, spying on people but don't let them see you
Make a magic potion
Have a wrestle on the bed
Tell a spooky ghost story
Make a big cardboard castle
Play the name game with sticky notes
Make a lucky dip box filled with toys and shredded paper
Have a sleepover in the living room with everyone in your family and pretend you're in a hotel, make sure you have a nice buffet breakfast tin the morning
Plan and hold a party… make invitations, table decorations, prepare the food, play games and enjoy yourselves!
Wash your hands and sing happy birthday!
Phew! Now that is a long list of fun things to keep the kids busy at home, let me know which are your favourites?
There's even more fun activities for kids on The Bristol Brood website too.
Staying in doesn't mean that anyone needs to feel bored any time soon. But most of all don't forget to have fun and keep smiling!
Follow Carla for bright colours, smiles, pink and beautiful art on the links below.
LoveLaLaLand Etsy Shop
Website (undergoing maintenance)
Instagram
Facebook
Twitter
Other posts you might like