Trying out the Official DoubleTree Cookie Recipe
When DoubleTree released their famous Double Tree Cookie recipe last week I was chomping at the bit to try it out.
I am literally obsessed with DoubleTree by Hilton Chocolate Chip Cookies. I worked with DoubleTree by Hilton hotels a long while back on my travel blog She Gets Around and was soon addicted to their incredible warm, chocolatey, gooey cookies!
You get a warm chocolate chip cookie on arrival at any of their hotels. No matter where you are in the world their chocolate chip cookie is the same and you can be certain it will be absolutely delicious.
So when they decided to release their famous DoubleTree Cookie recipe I was jumping up and down with excitement and ready to bring my baking skills back into existence. I had my cookie ingredients list at the ready for my next trip to the shops and away we went!
I'm not sure they are quite as good as the real thing, but after a couple of attempts and baking over 50 cookies on Saturday I don't think they ended up too bad. I gave a lot out to neighbours as a little Easter treat, but we are slowly making our way through the majority of them ourselves! Yum!
DoubleTree Cookie Recipe (with UK Measurements)
Here is the recipe in full, with UK measurements instead of the American 'cups' recipe that DoubleTree released. I've also added a few little pointers I learnt along the way to ensure you make the best DoubleTree cookies possible.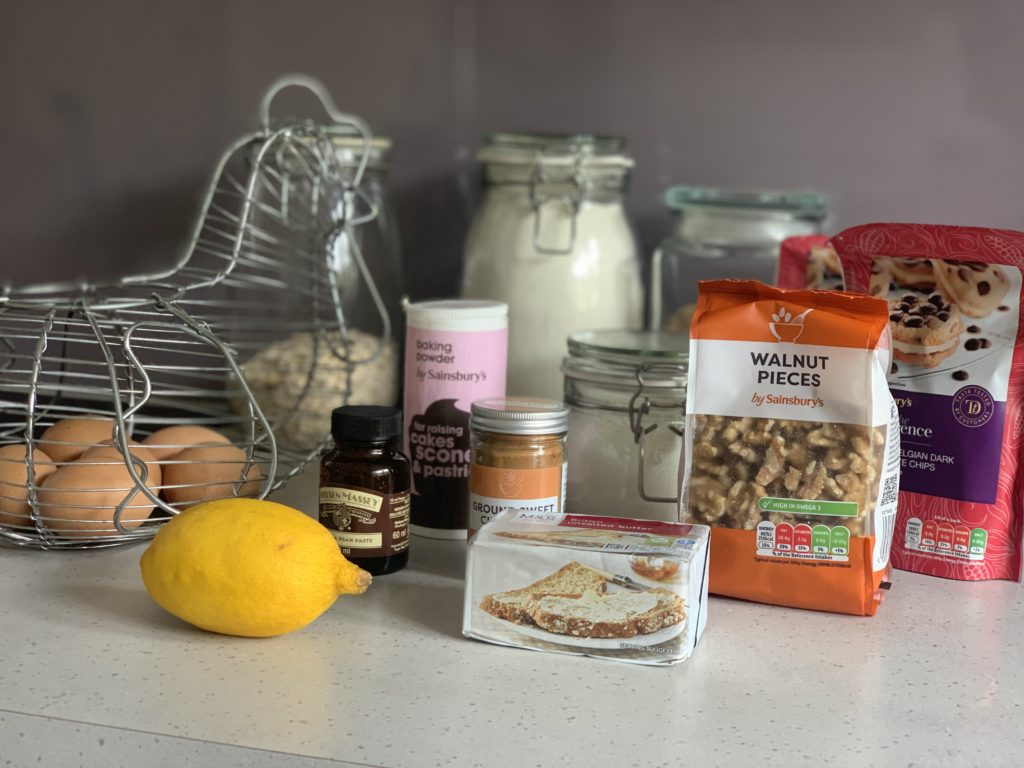 Ingredients
These measurements make approximately 26 DoubleTree Cookies.
250g butter, softened
160g granulated sugar
150g packed light brown sugar
2 large eggs
1 ¼ teaspoons vanilla extract
¼ teaspoon freshly squeezed lemon juice
288g plain flour
50g rolled oats
1 teaspoon baking soda
1 teaspoon salt
Pinch cinnamon
300g chocolate chips (original recipe is more than this, but I only had 300g and that was more than enough)
200g chopped walnuts
I didn't pre plan the English metric weights and so got some of mine a bit wrong. I did notice my first batch were a bit too floury. When switching between cups and grams you have to check the food type as a cup of flour doesn't mean the same weight as a cup of chocolate chips!
Method
I didn't have a proper mixer so just used a whisk for my baking (see video below) which seemed to work quite well. However I recommend watching the 'official' DoubleTree Cookie Recipe video too. Far more professional! 😉
Preheat oven to 150C (300F)
Mix the butter, sugar and brown sugar in the bowl for about 2 minutes
Add eggs, vanilla and lemon juice, blending on low speed for 30 seconds, then medium speed for about 2 minutes, or until light and fluffy.
Start to add flour, oats, baking soda, salt and cinnamon. They say to not overmix and add the flour etc slowly while mixing but I found this hard with a hand whisk so did it in stages. Seemed to work ok to me.
Remove bowl from mixer and stir in chocolate chips and walnuts by hand. There are a lot of chocolate chips and walnuts in these cookies. I didn't quite have enough chocolate chips for the original recipe but feel there was more than enough in the recipe above. First time round I didn't chop my walnuts so the pieces were too big, second time round with actual chopped walnuts was much better!
Portion the dough (about 3 tablespoons, more than you might think these are big cookies!) and put onto baking sheet lined with baking paper leaving about 2 inches between cookies. Press them down slightly so not quite a ball shape.
Bake for 20 – 25 minutes, I found mine needed closer to the 25+ minutes for the edges to be golden brown and centre soft, but will depend on your oven.
Wait for your DoubleTree Cookies to slightly cool…and then… EAT WHEN STILL WARM!!
Whatever you do, don't eat these cookies cold, they are made to be eaten warm with melting chocolate. Mmm! You can easily reheat with just 30-60 seconds in a warm oven or microwave. If you manage to not eat them all straight out the oven!
How to make a DoubleTree Cookie Paper bag
While my cookies were in the oven (I made 2 batches) I made some DoubleTree Cookie lookalike paper bags to deliver them to my neighbours in. A couple of people on Instagram even thought I'd managed to get my hands on the real bags!
What you need to make DoubleTree Cookie Paper Bags
Brown paper
Sellotape or stapler
Sharpies/pens
Scissors
I'd explain to you how to make them, but it's fairly self explanatory if you watch the video below 🙂
Cut, fold, stick, draw, add cookies… done!
Tops tips for baking the DoubleTree Cookies
Make sure you follow the measurements properly (unlike me who got my cups and grams confused first time around
I washed my hands many times during baking and packed my cookies for the neighbours wearing gloves to be extra careful!
Chopped walnuts are a must and much better than larger walnut pieces
You don't need all the chocolate chips suggested in the official recipe… but then there's no harm if you add them all!
Chocolate pieces work well too, I ran out of chocolate chips so used chopped up dark chocolate second time round
Share them out… 26 cookies for any family is quite a lot!
Ensure you eat them WARM!
Did you know that when visiting DoubleTree by Hilton hotels you can ask for more cookies and they are unlikely to say no… don't just have one have 5! hehe.
Let me know how you get on if you decide to give the DoubleTree Cookie Recipe a go and fingers crossed we can travel to get the real thing soon!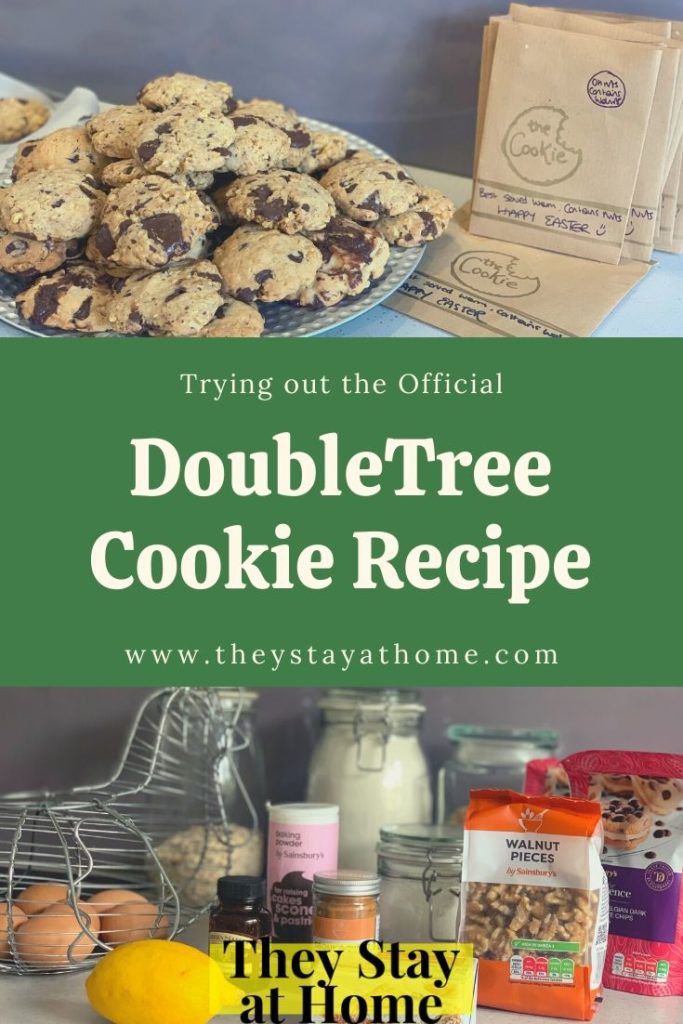 Other posts you might like: