What it's really like in a Belize public hospital
Earlier this week I had an accident… another one.
I seem to be somewhat accident prone and am getting quite the reputation for the number of falls, scrapes, stitches and breaks I have had in my life time.
At times I can be a bit fearless and when zip-lining in Belize this week I may have been paying too much attention to the fun, to realise my breaks weren't quite working as they should!
I smashed my foot full force into a tree, yelped like a baby, yet somehow managed to finish the course.
5 zip lines later my ankle was starting to swell and the park managers were waiting at the end with a big bag of ice. My ankle fast deteriorated from being able to hobble, to only hop, to needing two people to help me get anywhere. Big shout out to all my fellow press trip bloggers, Jess, Scott, Fiona and Emily for looking after me so well.
Sadly it was the last night of my trip with the blogging team as they all departed for home and I stayed on in Belize a few extra days to see more of the beautiful Belize. The next morning I was dropped off at the hotel I had booked in Belize City to rest up and catch up on some work before my friend Nick arrived.
Fast forward 24 hours and things didn't seem to be getting much better so after speaking to my worried parents back home I decided to get it checked out at the hospital. All I really wanted was a crutch, I was pretty sure it wasn't broken, but after asking around it seemed the hospital was my first stop in my search for a crutch.
The hotel taxi driver first dropped me off at a private hospital in town, as soon as I walked in they wanted to whisk me into a consultation room, but $$ signs were whizzing in front of my eyes and I had a feeling if I wasn't careful this could cost me a small fortune. Yes I have insurance but with an excess that I didn't want to pay unless absolutely necessary. The private hospital wanted to charge me $500 Belize dollars which is just under £200 and that was just for the consultation. If I wanted crutches there would be a pharmacist call out fee on top of the cost of the crutches. After much discussion and a few tears I was finally told if I went to the public hospital it would be free!
FREE?! Take me to the private hospital right away!!
Jumping into a taxi I travelled just around the corner to the much larger and a little scarier public hospital. The place was almost deserted. It was a public holiday so the staff were minimal. Everyone in Belize speaks English, though many seem to speak some kind of creole or dialect English where you 'almost' understand what they're saying but something isn't quite right, leaving you very confused. I was definitely left nervous and confused after speaking to the receptionist.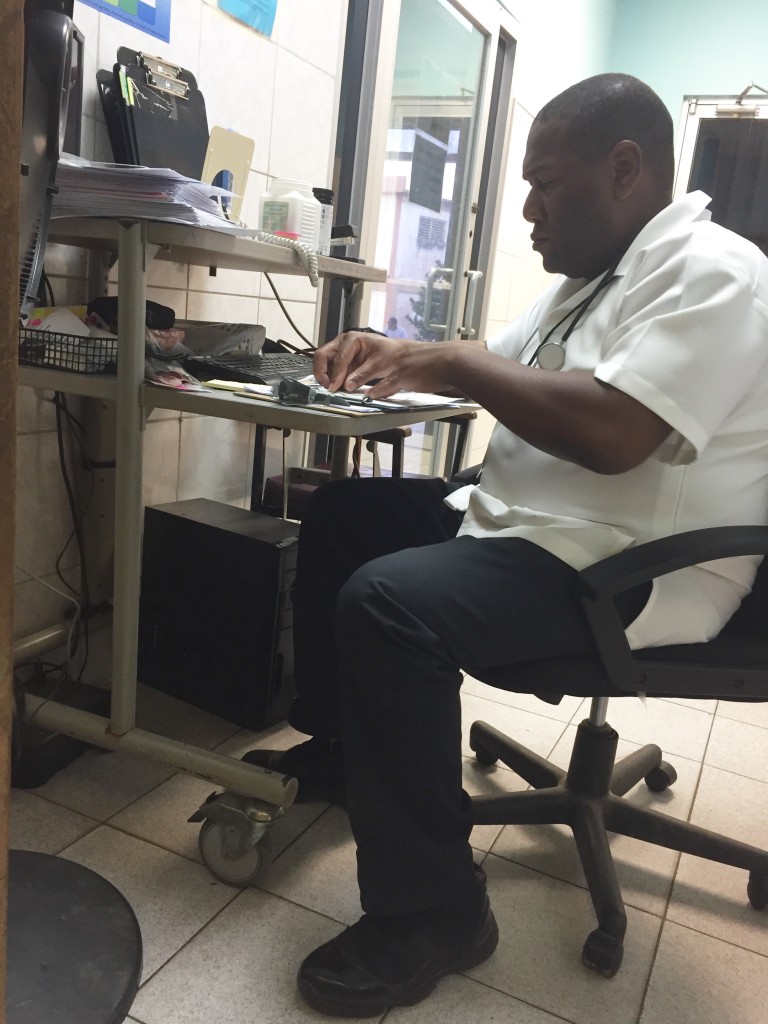 I started my Belize public hospital experience feeling a little scared and lonely. Going to hospital alone is never fun, but add in a foreign country and an empty hospital and you really aren't having the best time. The wheelchair they tried to put me in was broken and it took three people to get it unfolded for me to sit in, I was wheeled away down a long scary corridor and was quickly dumped outside one room and then another with little explanation.
When spelling my name it took about 10 attempts before they got it and despite answering many questions when it came to where I was from they thought I was American… (must stop that intonation at the end of everything I say)
My trip to a Belize hospital was at first scary, but as different Drs and nurses started to help me I realised everyone was in fact very friendly and helpful Though it seemed like chaos being dumped outside one room and then other there was in fact a method to the madness.
'Everyone was in fact very friendly and helpful'
Everything was sorted from my details, to seeing the Dr, to an x-ray, to being strapped up in under an hour and they soon ordered me a taxi and I was sent on my way.
The whole experience cost just $25 Belize dollars, which was the charge for my x-ray. Despite my initial trepidation I left feeling so lucky to have experienced free medical care in a foreign country and proud of our own NHS back home.
'The whole experience cost just $25 Belize (about £8)'
It is the Ministry of Health (MoH) in Belize that is responsible for both public and private health care in Belize and though not everything is free like at home I think £8 vs £100's elsewhere for an x-ray is definitely a reasonable rate, even with the slightly cheaper prices in Belize.
So if you are visiting Belize and have an accident I 'Belize' you would be safe and well looked after in a public hospital.
You can watch my Snapchat of my time in the hospital below… my bum injection face is sure to give you a giggle!
Follow me on Snapchat by adding -> Jlowthrop or scanning the image below. (hopefully there won't be anymore hospital snaps though!)
Have you ever been to a hospital abroad? Was it a good experience? Well as good as it can be?! 
If you liked this post you might also like: