The best luxury cocktail and dining experiences in London
As a travel blogger, I often get invited to wine and dine at luscious restaurants around the globe, from eating El Celler Can Roca's slightly cheaper but equally delicious restaurant in Spain to impeccable dining experiences at St Arlberg in Austria I have been lucky enough to eat some of the best food in the world.
In the last few weeks, I have had a few such delicious experiences here in the UK. Anyone who says England doesn't have good food is sorely mistaken. Our food is quite possibly the most worldly of all, especially in London. Only in London will you get every possible food from across the world. Friends of mine have recently just finished dining at a different worldly cuisine for every letter of the alphabet. Quite a challenge… but imagine the fun!
To share some of my favourite-finds over recent weeks here are my thoughts on three of the best meals and cocktails I've had in a while.
The best Chinese restaurant with a view at Min Jiang
If you are looking for exquisite Chinese that is leaps and bounds beyond what you find in China Town then I cannot recommend Min Jiang at the Royal Garden Hotel enough. YUM! I was in absolute heaven.
They are currently celebrating their 8th anniversary with three new delicious menus to choose from. I and three blogger friends, Vicky, Lucy and Victoria got to try a selection from each of the menus and everything was amazing!
The Min Jiang restaurant is on the tenth floor of the Royal Garden Hotel and has amazing views of Hyde Park. It was a gorgeous sunny evening as we watched people picnicking down below whilst we drank tasty cocktails in the tower.
After sipping a couple of cocktails we started with their dim sum platter, which included prawns, pork and pumpkin steamed dumplings. Next we moved onto their legendary wood fired Beijing Duck, carved at the table and delivered with a selection of sauces to try. The duck skin dipped in sugar was mouthwatering.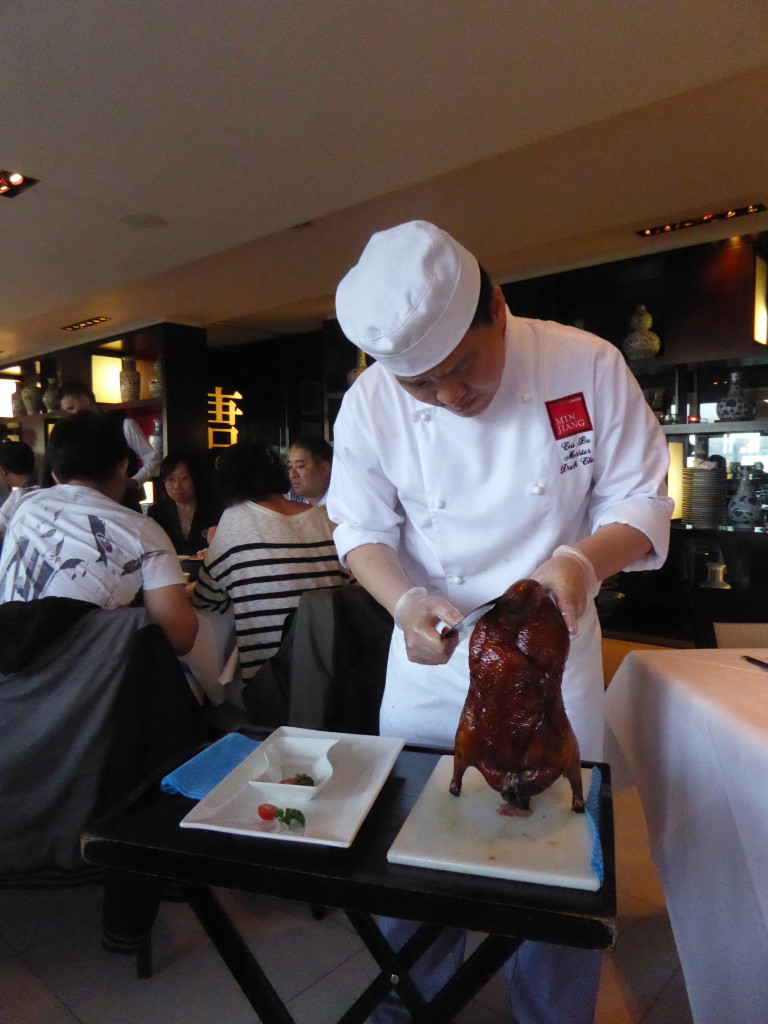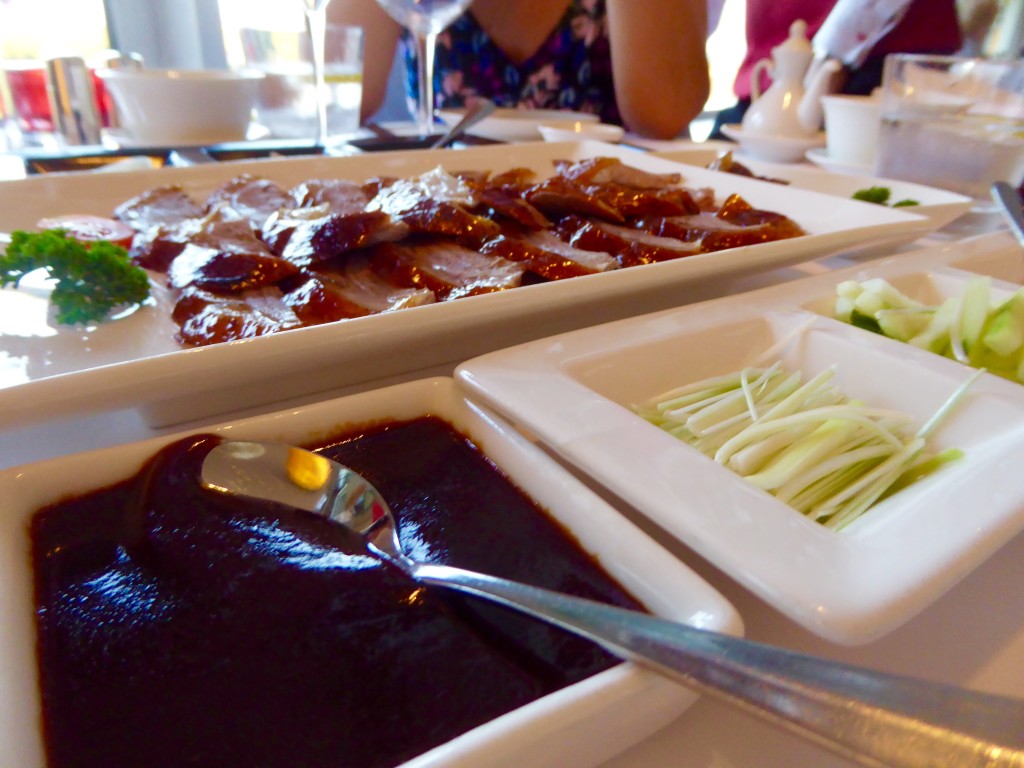 After a double starter it was time to move onto mains. This included diced Rib-eye of beef with a salt and pepper sauce, Seasonal vegetables and Stir fried Tiger Prawns in Spicy Rice Wine Sauce. Each equally as tasty as each other. I definitely ate my fair share of what was on offer. Each of the courses was paired with a wine from their extensive wine selection, including, of course, Champagne to start.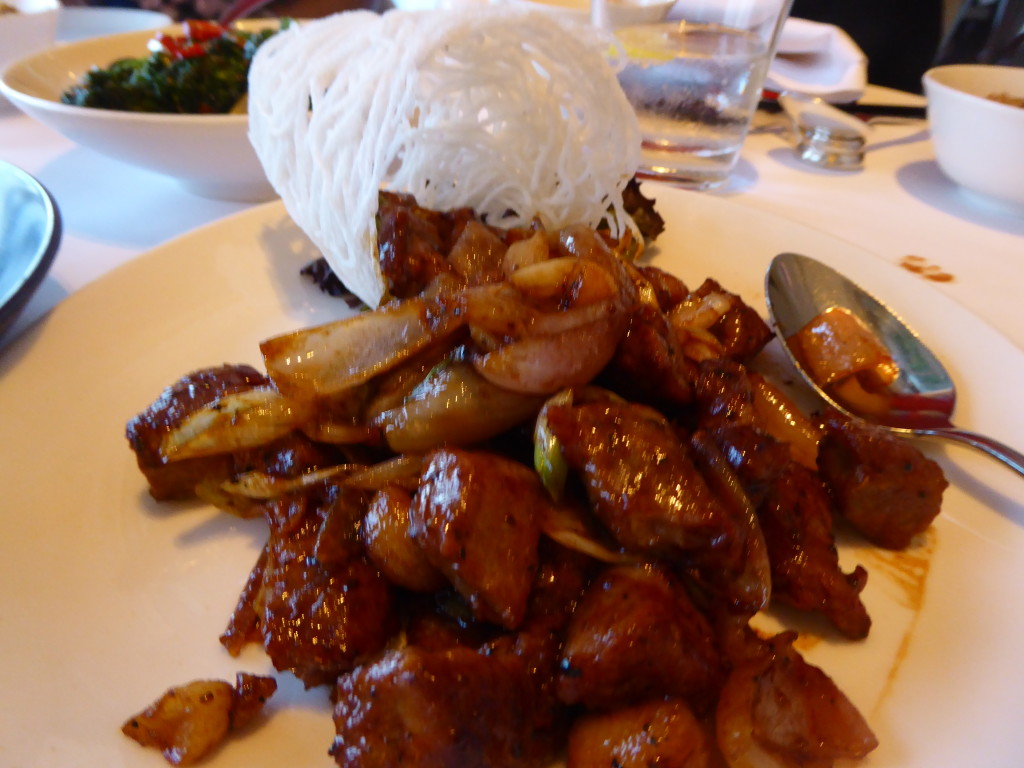 We finished the evening with Min Jiang Sichuan Pancake with Cornish Vanilla Ice Cream, a perfect end to a perfect meal.
I honestly loved every mouthful at Min Jiang, from the cocktails to the desert and will definitely be visiting again. A perfect place for a romantic meal in the sky or a girly dinner with cocktails.
The best Gin cocktails and luxury nibbles at The Polo Bar
When you get to treat one of your best friends to cocktails after work you don't say no. The Polo Bar in Mayfair has recently launched their new cocktail and food menu. They specialise in gin cocktails, amongst many other delicious treats. It is the menu that keeps on giving, I could have sat there all week and still not got through all the cocktails on the list.
The best part of the cocktail tasting? With some of the cocktails you get a mini version of the same cocktail so your friend can try it too. I'm not sure if I was more excited by the idea or just how cute the two cocktails looked next to each other.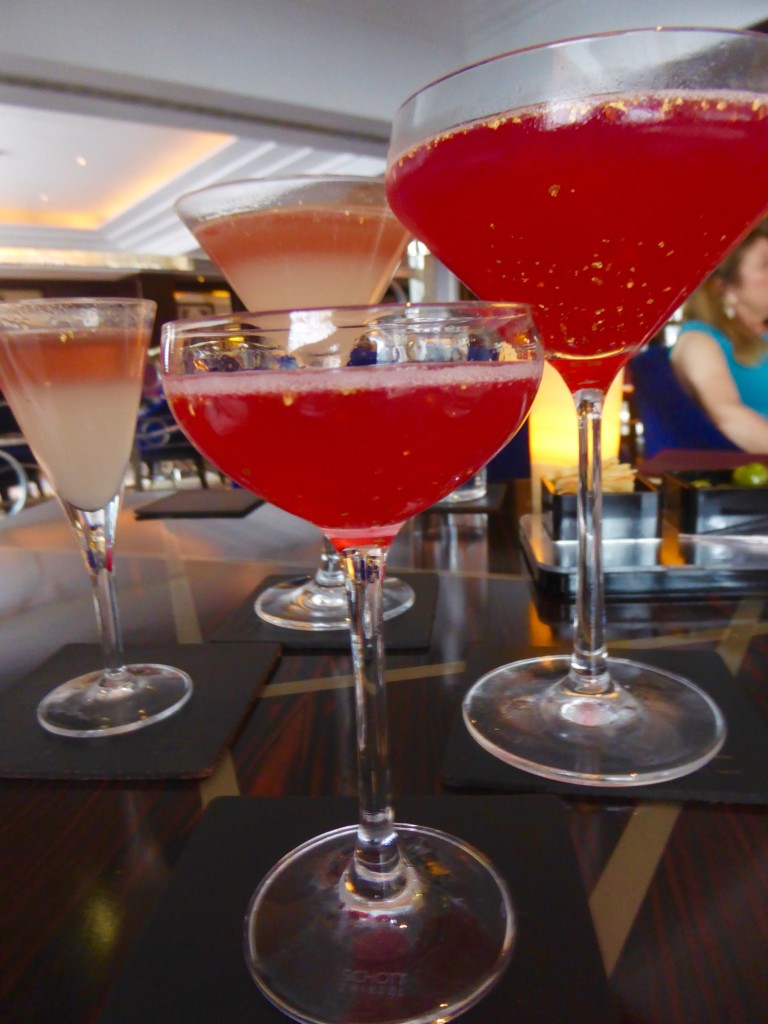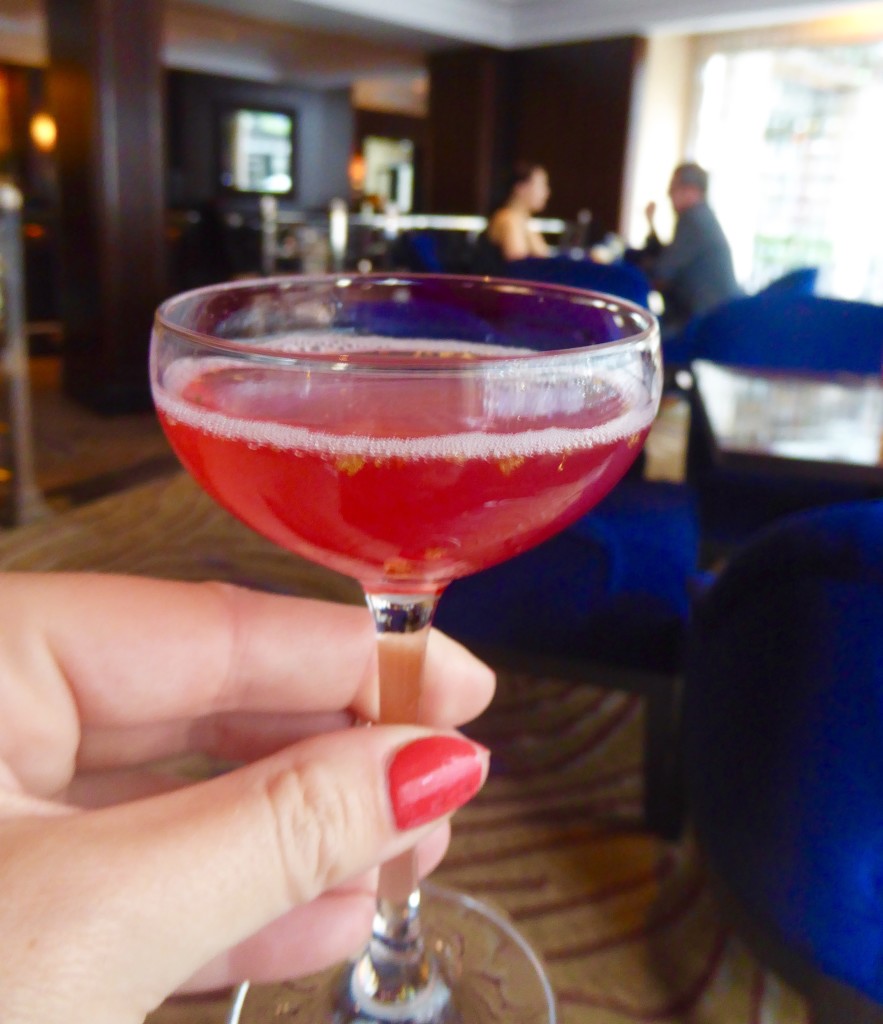 After trying a couple of cocktails we moved on to some nibbles to make sure the drinks didn't have too much of an effect on us. The 'nibble' portions are perfect for sharing between a few people. Naturally we just shared between two, with about 6 Panko Crusted Prawns each and several buttermilk chicken bites. Both equally delicious.
We were consistently plied with top ups of nuts, crisps and olives throughout our visit and just as we thought the evening was coming to an end a tower of lemon meringue cones were delivered to our table. Wowee!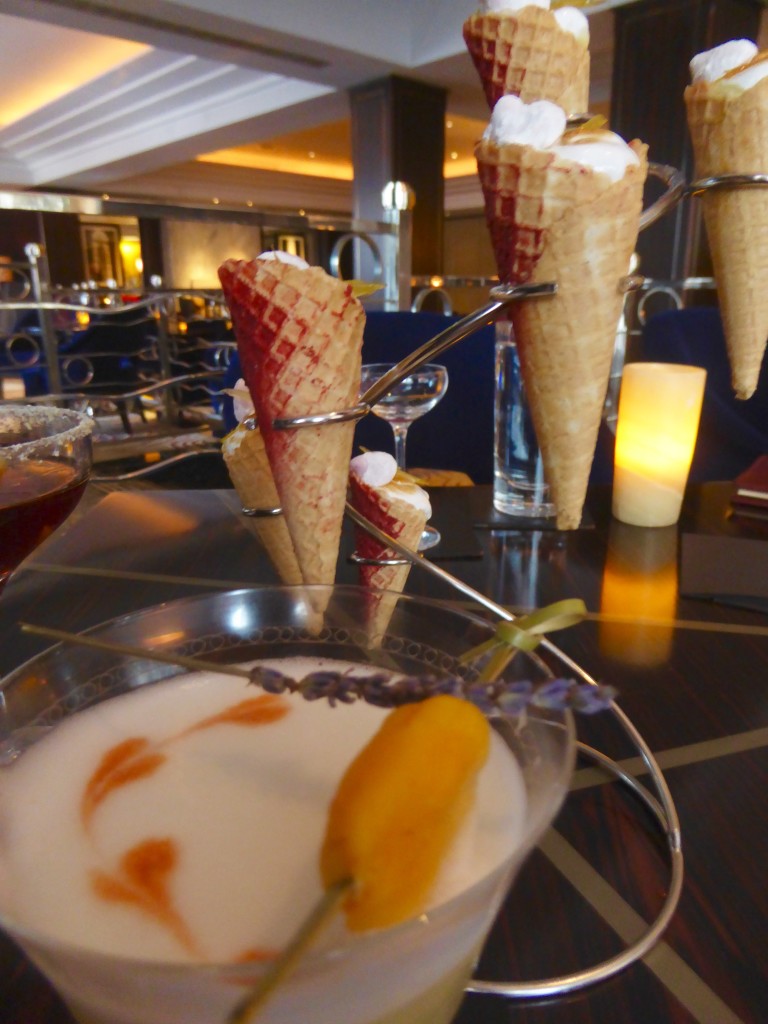 The Pomegranate Deluxe was one of my favourite cocktails of the evening. The Polo Bar at the Westbury Hotel in Mayfair is a perfect spot for after work girly cocktails after a busy day at work.
The best special experience for dining on a ship
Ok so I probably shouldn't be sharing this one with you, as unless you book on for a cruise with Silversea then you won't get to experience their tempting meals.
I had my first experience of Silversea a couple of years ago when I was invited on the Silver Wind and I absolutely loved it. Think 24 hour butler, steak or Champagne delivered to your room whenever the need might arise and one of the best meals of my life in Le Champagne restaurant on board.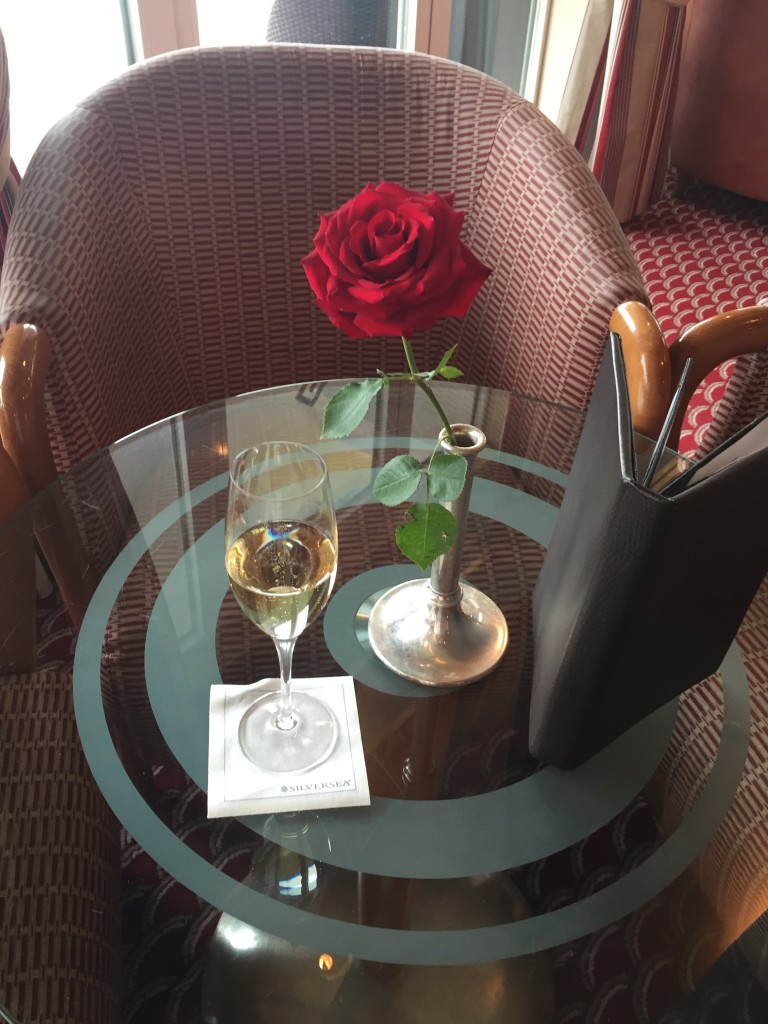 When I was invited back to try their latest menu when the Silver Wind was docked in London before departing on their next adventure I jumped at the chance. There aren't many cruise ships that get to dock right by Tower Bridge in the centre of London.
Of course we started with Champagne, before moving on to lunch in their main restaurant on board. Crab and Avocado, fillet steak with asparagus, white chocolate dessert… everything was heaven and I wolfed it down… alongside much wine.
I absolutely love Silversea cruises. They think of everything, from the food to the 6* service you receive on board. They also visit some awesome destinations. I am already saving up for one of their expedition cruises, perhaps the Silver Galapagos?
What a spoilt little blogger I have been. Certainly beats beans on toast at home as I write this blog, but you know… everything in moderations… variety is the spice of life and all that. Don't you agree?
Which of these would you choose? 
I was invited to try each of these restaurants, but every explanation of how truly delicious it all was is completely true. Believe they didn't put a taste bud out of place! Delicious! 
Other blogs you might like
Love this post? Then Pin It for later!