Perfect skiing at St. Christoph Arlberg 1800 Resort
Last month I was lucky enough to jump on a last minute trip to Austria for a couple of days at St. Christoph, Arlberg 1800 Resort in Austria.
I hadn't thought I would make it skiing this year, my ski holiday with friends fell apart and things just weren't falling into place. So when I was contacted about a last minute press trip to Arlberg 1800 Resort in Austria I jumped at the chance with an instant HELL YES!
The last time I went skiing was two years ago when I had a rather nasty accident on my first day and wasn't able to ski for the rest of the week. I was definitely nervous about getting back on the slopes and so a short trip to Austria was just the ticket to get my ski legs back.
We stayed in the simply divine Arlberg Hospiz Hotel, a hotel currently run by the 5th generation of the Werner family. This locally run hotel and resort has everything you could possibly want for a perfect couple of days (or week) away skiing.
The Arlberg 1800 resort is next door to St Anton, the famous stylish party town. I have always heard great things about St Anton so was excited to be staying in the more stylish, and higher, neighbouring village of St. Christoph. We only had one day on the slopes, but armed with our rental skis, ski pass and salopettes we started out on a day of adventuring.
We were blessed with picture perfect blue skies
Not a cloud in the sky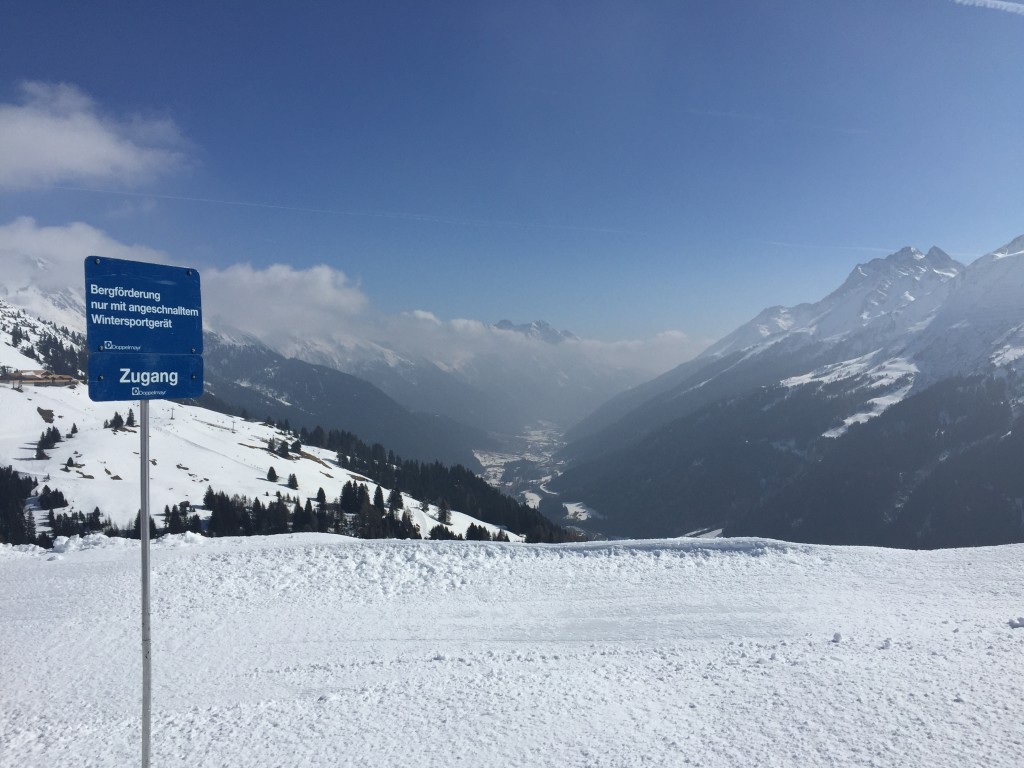 The snow was fluffy, only a few bits of slush when we got closer to St Anton.
The mountains were magnificent, each corner brought a new panoramic view,
Each piste brought a new experience.
There was a variety of very wide blue pistes for mastering your skill and enjoying the ride,
A few slightly scary red pistes,
and I am told, plenty of black runs, but I stayed well clear of those!
After a couple of hours of zipping down mountains, relaxing on chair lifts before zipping back down, we stopped off at the famous Mooserwirt Bar on the mountain for a well deserved Gluhwein.
The Mooserwirt is one of several famous apres ski bars in the St Anton resort. Only a couple of ski lifts and runs away from Arlberg you are close enough to still be able to join in on the apres ski shenanigans before returning to the slightly quieter resort of St Christoph.
After a brief stop it was back on the slopes for another hour of skiing before lunch.
Skiing from Arlberg 1800 Resort
The Arlberg region has 335 miles of ski runs and groomed pistes to choose from. In just a day we barely scratched the service, so there is plenty to keep you busy for a week or more. The region is also famous for all its off piste runs, so there are a multitude of reasons snowboarders and less risk averse skiers will be kept entertained. The region offers a range of beginner, intermediate and advanced slopes, so newbies can feel as comfortable here as those at the top of their game.
Arlberg also has Austria's oldest ski club, founded in 1901, hundreds of people come to St. Christoph every year to learn to be ski instructors. If you are a beginner there will certainly be plenty of instructors to choose from.
Hospiz Alm Restaurant
The Arlberg Hospiz Hotel has five restaurants, four are inside the main hotel building and the fifth, the Hospiz Alm restaurant, is on the slopes. After several hours of skiing we were definitely in need of some energy reinforcements. The Hospiz Alm is in the top 10 skiing restaurants in the world, so it is a stop off for most people when they are visiting the Arlberg region. Believe me, it doesn't disappoint!
The sun shone down, we ordered wine on the restaurants balcony and basked in the glorious weather while we waited for our food. Our starter, a shared platter of scallops, tiger prawns, beef carpaccio, pate and fresh bread could have been more than enough, but alongside skiing food was the focus of this trip so we ordered a selection of mains too… Obviously! Duck, fillet of beef, their famous chicken schnitzel and a selection of sides. All washed down with many glasses of wine, it's a good job the final ski back to the hotel was only a hundred feet or more.
Despite the incredible food, that will leave you feeling gloriously full, the Hospiz Alm is most famed for its route to the toilet! We all know walking down stairs in ski boots is not the easiest task, everyone clinging to the side in the hope of not falling down. Well the Hospiz Alm has you covered with a slide, yes a slide, to the toilet. You can be whisked down to the loos in seconds and have a lot of fun in the process. Needless to say I went to the toilet more than once over lunch and had a great time!
Skiing in Arlberg left me most definitely wanting more. For late in the season the snow was perfect and it was perhaps a little quieter than some of the busier times. The Arlberg Hospiz Hotel offers everything you could possible dream of to create a perfect ski holiday in Austria. More on the hotel coming soon.
I was invited to review the Arlberg 1800 Resort, but as always these views are 100% true of my experiences.